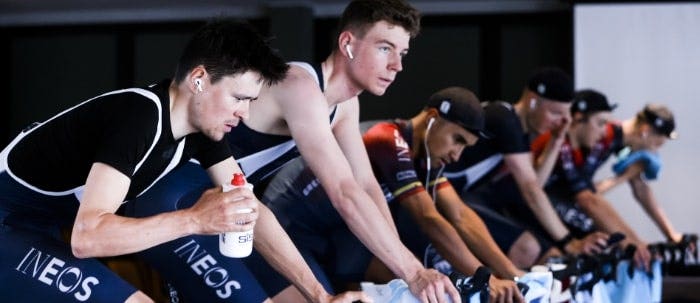 Designed to provide carbohydrate for fast energy and key electrolytes for hydration. GO Energy + Electrolyte gels are particularly effective when exercising in hot conditions causing sweat rates to be high. Available in Lemon & Mint, Salted Caramel or Raspberry flavours, for a fresh or fruity taste.
Read More

Electrolyte Gels
SiS electrolyte gels are a great way to boost your performance and improve endurance, whatever your dietary requirements. This range is gluten-free, nut-free, and suitable for a vegan diet, and is available in a range of flavours. Unlock your full potential and shop SiS electrolyte gels today.
Stay hydrated on the go
These gels are formulated with key electrolytes including sodium, potassium and magnesium to replace those lost through sweat. It's essential to replace these in order to help the body maintain fluid balance, alongside a suitable fluid intake. During extended periods of exercise, the body can lose a considerable amount of electrolytes, so SiS GO Energy and Electrolyte gels are ideal for combating dehydration.
Supporting you to achieve your fitness goals
Here at Science in Sport, we're dedicated to helping you to fulfil your potential through our expertly formulated range of energy supplements. Our electrolyte gels provide a big hit of energy in a small package, with 22g of carbohydrates and 118mg of sodium in every sachet. They are designed to rapidly increase energy levels, raise blood sugar levels, and help to keep muscle fatigue at bay.
Take your endurance to the next level
If you regularly partake in high-endurance exercise such as long distance running or cycling, you know that staying hydrated is key. Our range of hydration supplements includes all of the staple products you'll need for long or warm exercise sessions, allowing you to sustain energy levels for long periods of time.
Shop SiS electrolyte gels
From electrolyte gels to hydro tablets, our range of hydration supplements has been carefully designed to support your training. Whatever the intensity, we've got you covered.
If you're looking to aid recovery and increase your protein intake post-workout, discover our range of muscle recovery supplements, too. Our wide range of sports nutrition products contains everything you need to support your fitness goals.