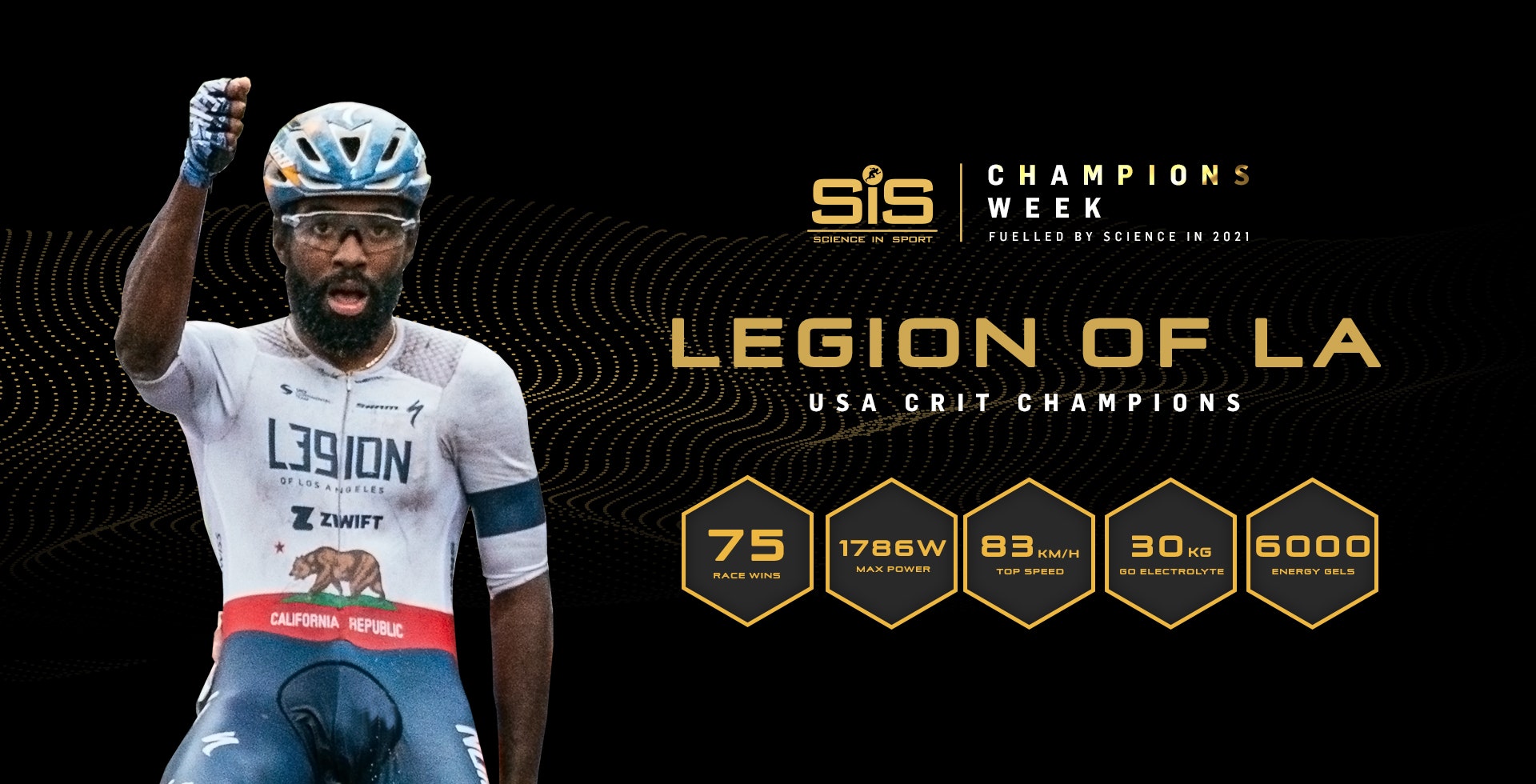 L39ION OF LOS ANGELES 2021 SEASON OVERVIEW
Who are L39ION of Los Angeles?
Legion of Los Angeles is a UCI Continental professional cycling team based in the United States. Founded in 2019 by brothers Justin and Cory Williams, it is dedicated to increasing diversity, encouraging inclusion, and giving supporters access to their favourite athletes.
The team's name is stylised L39ION of Los Angeles to include the number 39, representing 39th Street in Los Angeles where the brothers grew up.
As well as promoting diversity and building community, the team is on a mission to develop a platform for the future of American racing, as expressed by Freddy Ovett, one of L39ION's most significant signings ahead of the 2021 season.
"Not only is the team the coolest and most exciting thing in professional cycling, it's also the most diverse and ground-breaking in terms of breaking down pre-existing barriers and being trailblazers in a sport weighed down by old tradition."
L39ION's two rosters for the 2021 season consisted of a 10-man continental team with riders from the US, Canada, Australia and Mexico backed by an impressive seven-rider co-ed squad that raced on the US domestic scene.
UCI Continental Team:
Alec Cowan (CAN)
Angel Muñoz (USA)
Cory Williams (USA)
Eder Frayre (MEX)
Freddy Ovett (AUS)
Hunter Grove (USA)
Lance Haidet (USA)
Sam Boardman (USA)
Ty Magner (USA)
Tyler Williams (USA)
USA Cycling Domestic Elite Team:
Ama Nsek (USA)
Avry Howes (USA)
Imeh Nsek (USA)
Justin Williams (USA)
Kendall Ryan (USA)
Skylar Schneider (USA)
Isaiah Oliver (USA)
The complete 2021 race calendar included traditional criterium races with trips abroad and online racing.
L39ION OF LOS ANGELES 2021 SEASON VICTORIES
One of L39ION's most recent big-news signings Freddy Ovett began the season in January and February in the Zwift Racing League, taking first place on the Innsbruck's KOM After Party, Watopia's Whole Lotta Lava and Richmond's Libby Hill After Party courses.
With the exception of the three-day Chasing the Wild Boar event claimed by Sam Boardman, April and May was dominated by the Williams name. Cory, Justin and Tyler (unrelated) tag-teamed top spots in:
2021 Chowchilla Criterium
Majestic Crit #1
Rosena Ranch Circuit Race
Adam's Historic Sprinters Challenge #1
Ventana Hills Circuit Race
CBR Dominguez Hills Criterium
Grasshopper Adventure Series
Majestic Crit #2
The Armed Forces Cycling Classic saw the first women's title of the year for L39ION in the Crystal City Cup category claimed by Kendall Ryan. That was followed by Sam Boardman in the same event, taking the Most Heroic Jersey. In the same month, Ama Nsek got in on the title action in the Tour de Murrieta taking the Stage 1 - Grand Prix and Overall Omnium categories respectively.
Mid-June was dominated by Saint Francis Tulsa Tough in Oklahoma, arguably the biggest event in the domestic Crit Racing calendar. After winning the men's and women's pro races at Friday's Blue Dome Criterium, three days of L39ION dominance ended on the Sunday night with Cory Williams and Skylar Schneider winning the men's and women's general classifications at the end of three days of racing.
2021 Tulsa Tough Victories
Blue Dome Criterium Elite Men – Ama Nsek
Blue Dome Criterium Pro Men – Justin Williams
Blue Dome Criterium Pro Women – Skylar Schneider
Arts District Criterium Pro Men – Cory Williams
Arts District Criterium Pro Women – Kendall Ryan
River Parks Criterium Elite Men – Ama Nsek
Overall Omnium Elite Men – Ama Nsek
Overall Omnium Pro Men – Cory Williams
River Parks Criterium Pro Women – Skylar Schneider
Overall Omnium Pro Women – Skylar Schneider
River Parks Criterium Pro Men – Tyler Williams
Skylar Schneider proved her mettle in the Tour of America's Dairyland at the end of June, the largest competitive road cycling series in the United States. Schneider took an incredible five consecutive first place finishes over as many days during 11 days of racing. These were the Tour of Hartland, Otto Wenz Cafe Hollander Downer Classic, Shorewood Criterium Cycling Classic, Highlands Criterium, and the Cafe Hollander Tosa Village Classic.
At the start of July Freddy Ovett finished 2021 as the top ranked Zwift athlete on Zwift Power, while Skylar Schneider, Alec Cowan and Ty Magner took first place finishes in Chicago's 10-day Intelligentsia Cup. Then came the Salt Lake City Criterium in Utah where L39ION swept the podium, going 1-2-3 with Tyler Williams taking top spot followed by Cory Williams and brother Justin in third.
In the penultimate event of the year, the Joe Martin UCI Stage Race in August, Tyler Williams spent two days in the yellow jersey and four days in the green on his way to the overall Pro Men title, while Skylar Schneider spent four days in the pink jersey and four days in green on her way to the Pro Women overall title.
Another typical display of dominance reflected season-long performances when L39ION found themselves on the podium on every day of the final race of 2021. In the Gateway Cup, a four-day criterium race held in St. Louis, Missouri, Skylar Schneider made the podium on all four days of the race with first place finishes on day two and day three. In the Pro Men category, Cory Williams took first place on all four days, taking the overall title. He was supported every day on the podium in second and third place by either Tyler Magner or Justin Williams.
A total of 75 first place finishes marked an exceptional season for the L39ION.
OFFICIAL PERFORMANCE NUTRITION PARTNER
Science in Sport is proud to be the Official Performance Nutrition Partner of the L39ION of Los Angeles professional cycling team. SiS works with some of the world's most elite teams and athletes. The partnership provides L39ION with high quality sports nutrition informed by science to help improve performance and help deliver podium finishes.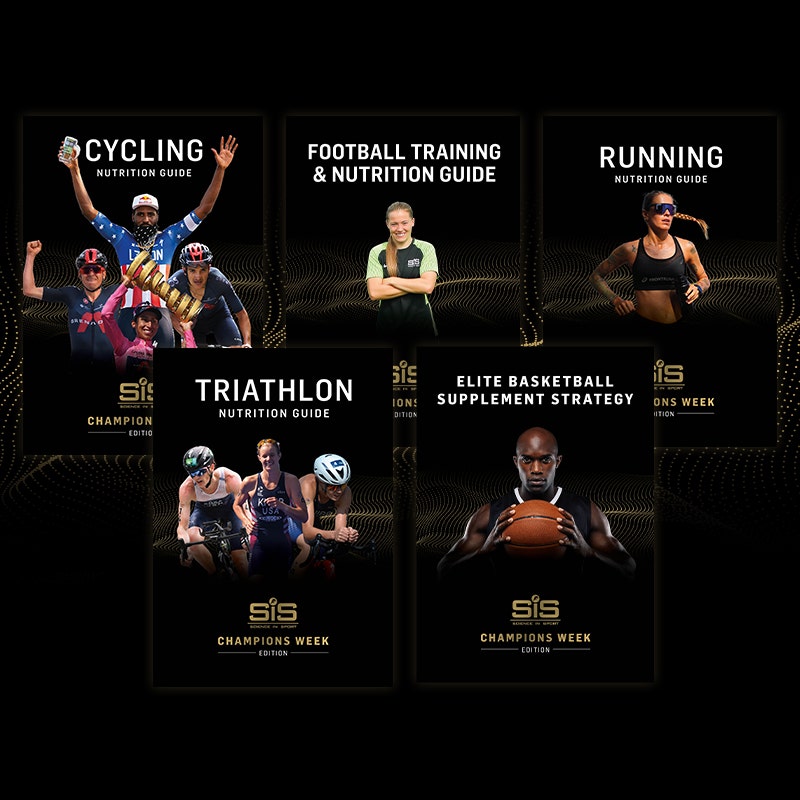 EBOOKS SERIES
FUEL LIKE A CHAMPION
FREE NUTRITION GUIDES
Is nutrition the only reason you don't perform in training and competition? Do you merely survive the swims, the rides and the runs? Or do you outlast them and have enough in the tank to even enjoy the toughest of races or fixtures?
We've compiled all the key nutrition considerations for running, cycling, triathlon, basketball and football into five single eBook resources to help you fuel your next session.
Sign up now and get yours.