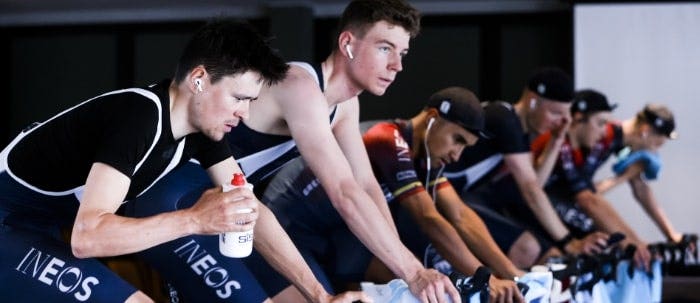 Ever tried to hit the gym after a long day of work? Or needed a vital hit of energy to help you go the distance? Here at Science in Sport, our expertly formulated pre-workout products have been designed to help you achieve your goals, delivering an energy boost at the moment you need it the most.
Read More
Pre Exercise
A boost when you need it most
Designed to help power your training sessions, pre-workout can help to reduce your perceived effort and drive you through the toughest moments. From energy gels for a super-fast dose of carbohydrates during exercise, to pre-workout powder ideal for mixing pre-workout drinks, shakes or energy loading, we offer a versatile range of carbohydrate-packed snacks, specially formulated to help you excel.
Power your training sessions
When you lead a busy lifestyle, it can be tricky to give your body the fuel it needs in-between training sessions. For the perfect pre-exercise kick, simply slip an energy bar into your pocket, and you have a quick carbohydrate boost ready to power you through your high-intensity training session. For a high concentration of carbs alongside a nutritious selection of ingredients, our pre-workout snacks are perfect for any diet-conscious athlete.
Train harder and faster for longer
Ahead of any endurance workout or long distance training session, you want a pre-workout supplement that will prepare your body to go harder and faster for longer. At SiS, our selection of pre-workout products also includes Performance Nitrate pre-workout powders, gels, bars and shots, created to improve your muscle efficiency and reduce the oxygen cost of exercise.
Shop SiS pre workout supplements
From energy gels to electrolyte powder and hydro tablets, our wide variety of pre-workout powders and drinks has been expertly formulated to power your training. For a boost of energy when you need it the most, discover the benefits of SiS pre-workout products today.
Looking to build muscle and increase your protein intake? Our wide range of sports nutrition products also includes protein powders and protein bars to help support muscle growth.
Available in a variety of great-tasting flavours, our pre-workout range is packed with protein to aid post-workout recovery and fuelling carbohydrates. To take your workout to the next level, shop SiS pre-workout today.