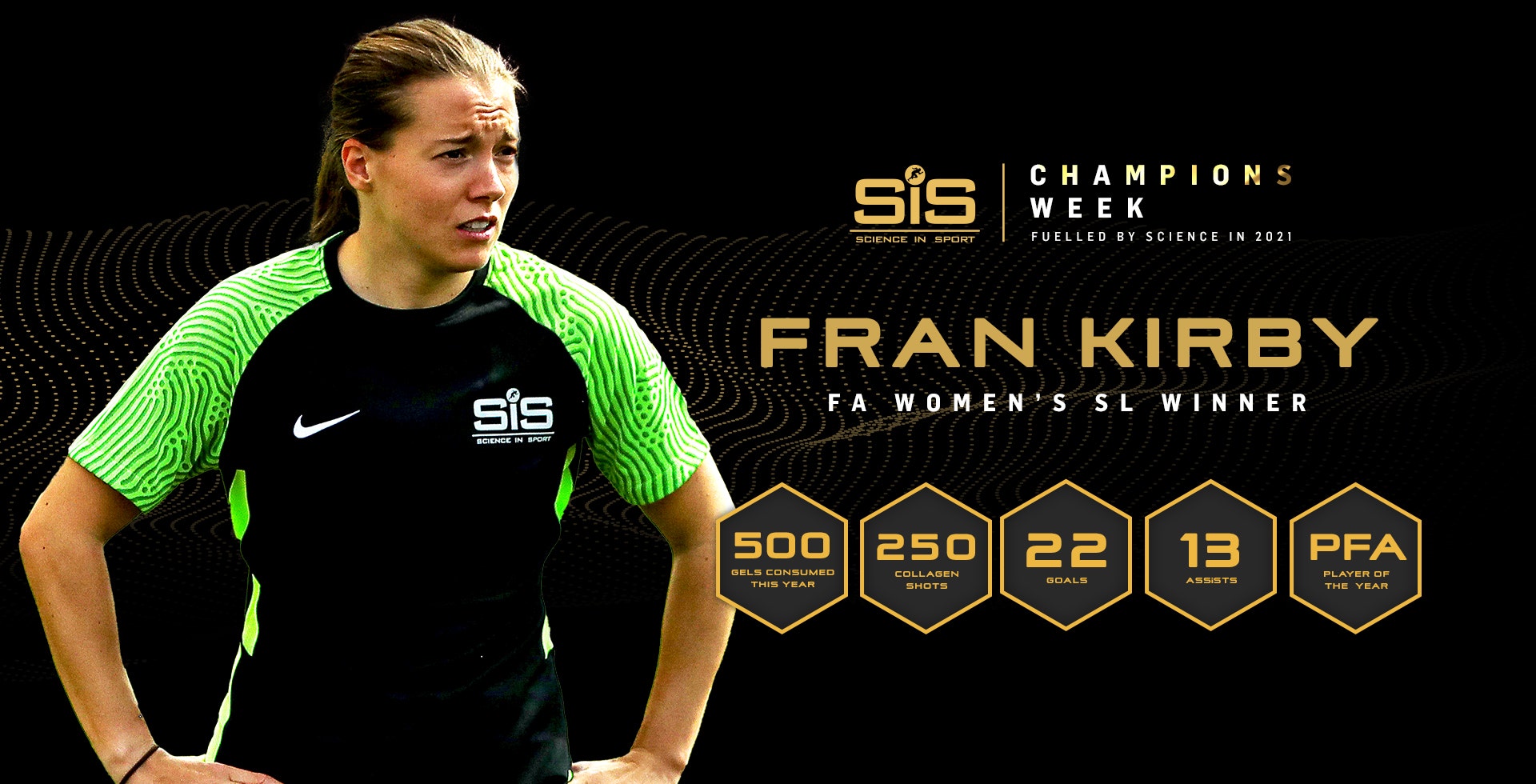 FRAN KIRBY BACK AT THE TOP
HOW FRAN KIRBY FUELS FOR FOOTBALL
Mention to Fran Kirby her second Football Writers' Women's Footballer of the Year award in two years and not only will disbelief be etched on her face, but the 27-year-old striker will likely deflect the praise and redirect it to her teammates and club staff.
It's typical of her humility and authenticity. As we chatted about her nutrition, we too discovered why she's as well-liked by her fellow professionals as she is by those paid to judge her playing performance week-on-week. Throw-in to the mix how she tenaciously fought her way back to fitness after being struck down with a debilitating and career-threatening heart condition, and the value of the award becomes priceless.
Most professional athletes are reluctant role models, self-conscious at the by-product of being in the public eye. But whether Chelsea's leading all-time scorer likes it or not, she's an inspiration and a shining example for the thousands of young girls who dream of playing at the highest level.
Asked if there was anything about nutrition that she wishes she'd known at the start of her career, and she offers some stellar advice for young female and male body-conscious footballers.
"I think fuelling before a game. I think there's always been a thing, especially around females, of not wanting to eat too much because they don't know if they'll burn it off, and I think that's so big in the female mind in terms of weight, and in terms of how they feel on the pitch, do they feel too heavy… I think that was something that I was really cautious of growing up, and now I've just realised that to be able to perform and to be able to play for 90-plus minutes, you have to eat carbs, you have to fuel your body, you have to take the gels, you have to take protein shakes. It's extra calories your body needs. I see young girls looking at what they should eat because they don't want to eat too much of this or too much of that. So that's one thing I wish I'd learned sooner."
It's stellar advice that only comes from experience and self-reflection. It also makes Fran more conscientious and socially aware than she probably cares to acknowledge, particularly when we seem obsessed with being target-driven without realising the detrimental effect it can have on our self-worth if we don't achieve the goals we set ourselves.
"I don't like to put individual goals in. I think that's something [else] I've learned over the last few years. It just adds a lot of pressure to what you're doing because if you don't reach it you're never quite satisfied. So last year I didn't really set myself any individual goals."
Opponents shouldn't be lulled into a false sense of security, though; while her personal ambitions may have taken a back seat, her ferocious competitiveness not only preserves her position at the top of the game, it keeps her accountable to her team and her teammates.
"Team goals I wanted to win everything [last season]. I just hate losing so a massive part of my season was having a winning mentality going into it and I'm going to come with the same attitude [this season]. I'm never quite satisfied as an individual, I always want to push myself more, get better. It's funny, last year I'd come off the pitch sometimes, we'd win, and I'd score a few goals and the girls would be like, 'What's the matter?' and I'd say, 'Because I missed a chance right at the end there, I could have had another goal.' Or my pass to Sam [Kerr] wasn't good enough and she couldn't score. So, I'm quite critical of myself and I want to win more trophies with Chelsea."
HOW FRAN FUELS FOR FOOTBALL
IN THE HOURS BEFORE A MATCH
"Obviously you want to get a good breakfast in, try and fuel up a little bit, and then pre-match will be more carb-driven to get the carbohydrates in. Pregame is more like fast fuel, the likes of the SiS Surge Gels and Hydro tabs just to get in that extra fuel, maybe a banana."
DURING MATCHES
"Half-time will be getting as much fluid in as possible, so Hydro tabs again, probably another gel. I like to go for the caffeine ones just to give myself a little bit more of a hit to get going."
AFTER THE MATCH
"Post-game will be protein shake, creatine, the yogurt patches, just to get that extra fuel in. I find it quite difficult to eat after games, so I try and get it in in different ways rather than just having a big meal."
FUELLING FOR TRAINING
"Training is a bit different as you don't need the full load that you would for a 90-minute game. I mean, training is intense but it's not as intense as covering 11, 12, 13K in a game. You still need to fuel right, you still need to get the carbohydrates in, it's just probably a lower portion or more spread out during the day. I'd probably include a few more snacks during the day as well, so a protein bar or something in between, rice cake or something like that just to keep the hunger away. After training or the gym, a protein shake and creatine is more important."
HOW SHE RECOVERS
"Recovery is one of the things I prioritise straight after training or games, whether it's jumping in an ice bath or getting on the bike and doing a spin. I like to get a massage on matchday minus one [the day before a game] as I like to get everything out of my legs and make sure I'm ready to go on gameday. But it's not just what you do physically but what you do off the pitch, so nutrition, sleep, naps, rest, everything like that. It's also making sure you manage your mind as well."
HOW SHE VIEWS NUTRITION
"My whole feeling towards it has changed. When I was younger I would train and feel like, 'I've trained, so now I can just go and eat what I want like a packet of crisps or a can of coke or something', whereas now I'm a lot more nutrition savvy. I understand it more [now], I understand when to take certain things, when to have a gel, when to have a protein shake, when to have a snack. It's more managed and I need to make sure I've eaten enough carbs three hours before the game. I think it's something that has taken me a couple of years to really understand my body and understand what I need to do to maximise my nutrition."
ON THE IMPORTANCE OF NUTRITION
"You see so many players suffering when it comes to the later stages of games. For me, last season in particular, I felt I could keep going for the whole 90 minutes and I think a lot of my goals came in the last 10 or 15 minutes when maybe my opposition were tiring. I felt towards the end of games was where I felt I really excelled."
HER GO-TO PRODUCTS
"I think in terms of performance I'd say the GO Energy Isotonic Caffeine Gel. I've always been a big fan of caffeine. I don't drink coffee or anything like that, so I don't get a caffeine hit, so the gels are my biggest go-to. Recovery-wise, it's probably the Apple and Raspberry Crumble Whey20, I really like those ones. Protein shakes are really important, and creatine helps me so much as I'm quite an explosive player and creatine helps you to be able to sprint and recover and go again and again and again. So that's a big thing that I include as well."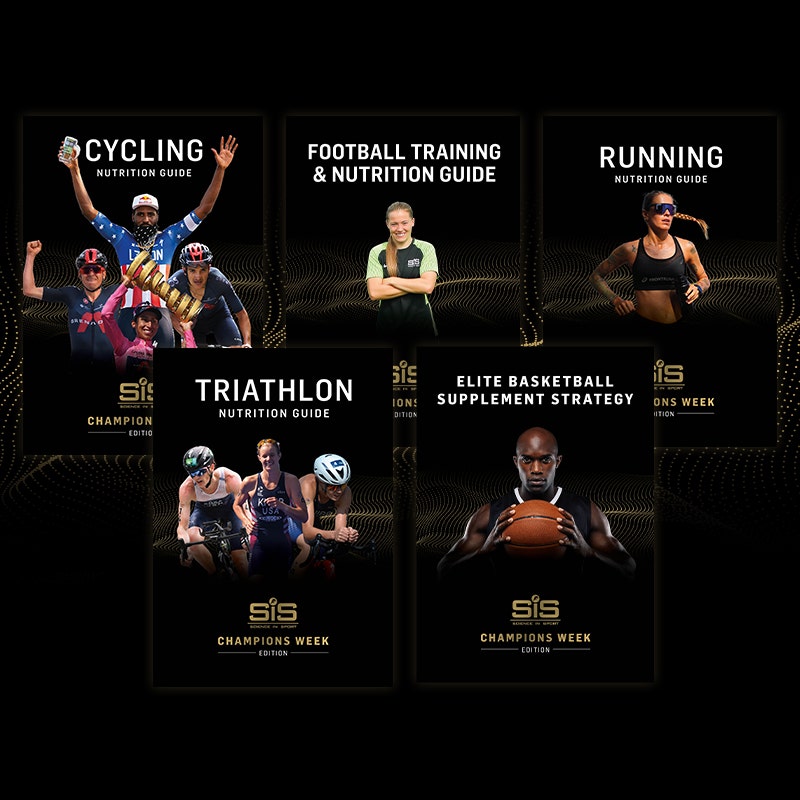 EBOOKS SERIES
FUEL LIKE A CHAMPION
FREE NUTRITION GUIDES
Is nutrition the only reason you don't perform in training and competition? Do you merely survive the swims, the rides and the runs? Or do you outlast them and have enough in the tank to even enjoy the toughest of races or fixtures?
We've compiled all the key nutrition considerations for running, cycling, triathlon, basketball and football into five single eBook resources to help you fuel your next session.
Sign up now and get yours.