Product Code
go-energy-bar-mini-30-pack
SIS GO Energy Bar Mini - 30 Pack
RECEIVE FREE GIFTS IN YOUR BASKET WHEN YOU SPEND OVER €30
Product Information
GO Energy bars are a nutritious, easily digestible and high carbohydrate based snack made from fruits and wholesome ingredients. The reduced size provides a practical and nutritious approach to provide carbohydrate during exercise. Proven by thousands of athletes in the world's toughest races, it meets their demanding energy needs.
GO Energy Mini Bars are high in carbohydrate (26 grams), moderate in protein (4.5 grams) and low in fat (2 grams).
Key Features
• 25 grams of carbohydrate packed into each bar
• Made from natural fruit ingredients
• Convenient size for in‐racing fuelling
• Contents: 30 x 40g Bars
Product Uses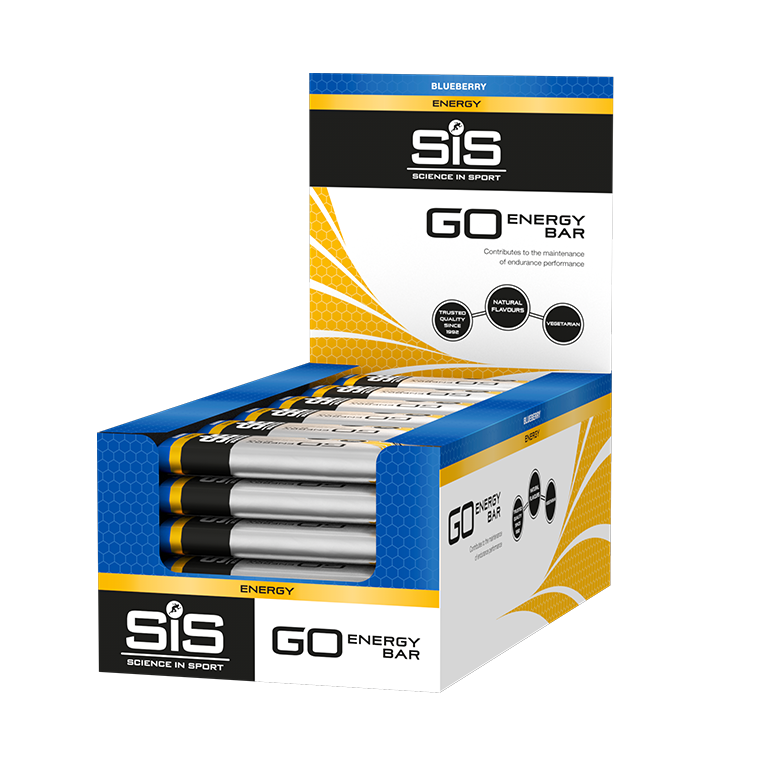 Recommended Usage
Perfect before or during exercise and as an energy loading snack between meals.
Directions for Use
Simply open, eat & enjoy!
Benefits
Depleting your carbohydrate stores during exercise is one of the major causes of fatigue. Delivering additional carbohydrate during exercise is known to improve performance, race times and delay the onset of fatigue.
Informed Sport Registered
Our complete product range is developed using a world-class approach to banned substance testing, providing assurance for athletes. For more information on Informed Sport & our unique world class approach, click here.
Suitable For: Vegetarians, Lactose free, Wheat Free, Nut Free
Flavours:
GO Energy Bar 30 Pack - Blueberry
GO Energy Bar 30 Pack - Chocolate
Nutritional Info
For nutritional information about the individual flavours please contact customer service. Example below is for Banana Fudge flavour.
| Typical Values | Per Serving 40g | Per 100g |
| --- | --- | --- |
| Energy | 587kj/139kcal | 1468kj/347kcal |
| Protein | 4.5g | 11g |
| Carbohydrate | 26g | 64g |
| of which sugars | 12g | 30g |
| Fat | 2.0g | 5.0g |
| of which saturates | 0.3g | 0.7g |
| Fibre | 1.0g | 2.6g |
| Sodium | 0.1g | 0.1g |
Ingredients:
Fruit Juices From Concentrate 31% (Grape, Pineapple), Dried Fruits 26% (Dates, Banana, Apricots), Cereal 18% (Rice & Soy Crisp (Rice Flour, Soy Protein Isolate, Oat Flour, Salt, Vegetable Oil, Lecithin) (Gluten), Oats (Gluten)), Maltodextrin (from Maize), Soy Protein Isolate, Emulsifier (Soy Lecithin), Flavouring, Humectant (Calcium Lactate)
Read More
FAQ's
When should I eat these versus any of the SiS gels?
Containing fast absorbing 25g carbohydrate (per 40g bar), these can be used with or between meals to increase carbohydrate intake as well as a pre exercise snack. During a race, a commonly used strategy is to take on solid foods like SiS GO Energy bars during lesser intense parts because bars require more blood flow to absorb them compared to other energy products.
How often should I eat one whilst exercising?
If you're exercising for over 90 mins you should take on additional carbohydrate. Aim for 1/2 bars per hour, or consume with other products to hit 60g of carbohydrate per hour during exercise e.g 1 x SiS GO Energy Bar Mini and 1 x 500ml GO Electrolyte.
Will they fit in my cycle jersey pocket?
Yes! SiS GO Energy bars are lightweight and compact, designed to fit in jersey pockets, cycle bags and waist packs.
Are these bars gluten free?
SiS GO energy bars are not suitable for coeliacs and gluten free diets due to their oat content.
What is the sugar content in these bars?
A 40g SiS GO energy bar contains 10g of naturally occurring sugars from fruit, with no added sugar.
You may also like
We found other products you might like!
Verified Reviews
Rated

4.8

out of 5 based on

40

Reviews
Love the flavour very tastey and nice soft chewy texture.
I have used this product for years and have even got my wife on to using them. Big problem now is the lack of flavours, i dont think i have had a full range to choose from in at least 6-8 months.
Didn't think this was going to be a good taste....i was wrong....really morish...
The yummiest energy bar ever! Highly recommend!
not that tasty. good energy though.
Yummy and just the right size.
Love it. Good flavour and easy to eat as it is quite soft but sticky enough not to flake away
EASY TO CARRY WHILE CYCLING,EASY TO DIGEST,TASTE IS FINE,NO COMPLAINTS REGARDING THIS ENERGY BAR.
Quick and easy to eat, good taste, nice boost when needed.
does what it say on the tin...........
What can I say half price and my favourite flavour
I've been using these for years. Tasty, full of energy and ideal for long runs. And they don't go off or dry out once opened.
Nice taste, good energy boost
I bought this because it was a great offer. Unfortunately it tastes great and the kids are stealing them for their school lunch pack. I love them on the road. Easy to eat and digest. When these are gone I'll be ordering more.
This is a re-order, they are the same as last time
Not the greatest taste wise but appear to do all they should
Easily digested & taste great
Never tried these before but as they wer on discount i give them a try and ar happy with the taste and texture so will buy again when on offer🤔😉.
Great taste , very chewy. Good midday snack or half hour before a run
Great little energy bar just the right size great taste easy to eat on the go . Good price as well
Delicious and the right size for on-the-go refuelling.
great taste and works for me
Fast delivery - good product
good taste and not too big, i used to love the big bars and snubbed these small ones for a while but actually they are just the right size.
whole family uses these when horse riding, cycling or working in the yard
Great taste... Delicioso chocolate fudge... Oh and easy to digest and carry on riding!
Small but energy packed bar