Out of stock
Product Code
protein20-bar-bundle
Save 50%
Was
€16.00
€8.00
Bundle Information
Giving you a chance to sample our brand new PROTEIN20 bars, each of these handy protein bars act as a wonderfully tasty snack and a source of good quality protein.
PROTEIN20 bars contain a blend of easily digestible proteins (20 grams per bar) in the form of whey, casein and soy protein. It is important to consume protein in close proximity to training sessions (i.e. before or after training) in order to maximize training adaptations.
Protein intake is often overlooked by endurance athletes. Science in Sport PROTEIN20 Bars provide an appropriate quantity of high quality protein for before or immediately post exercise.
Key Features
• High protein formula to promote training, adaptation and recovery
• Each bar contains 20 grams of easily digestible protein and only 2 grams of sugar
• A high quality blend of milk protein, soy protein and collagen peptides
• Promotes the rebuild of muscle following exercise
• Not suitable for vegetarians
Product Uses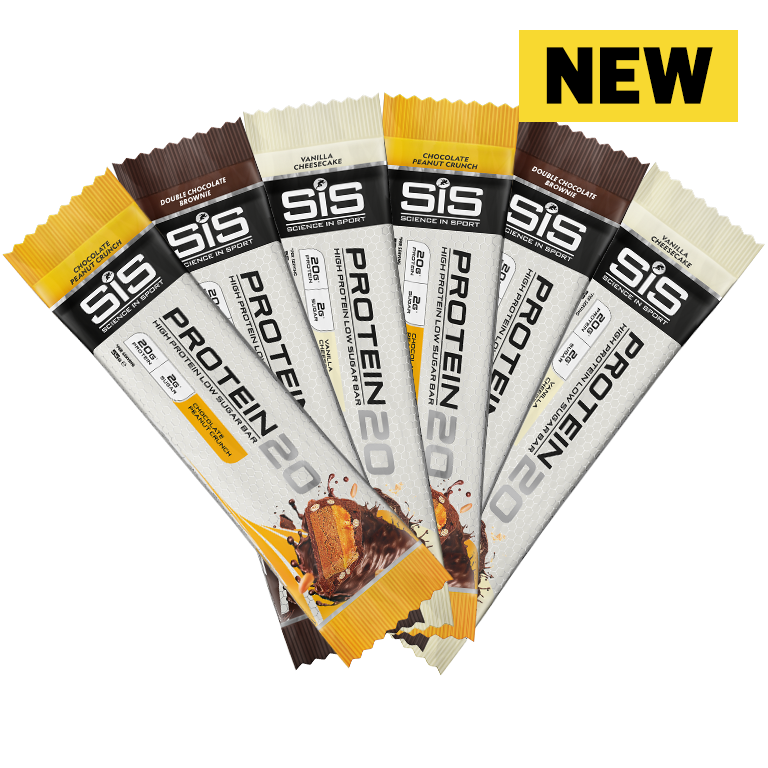 Nutritional Info
For nutritional information about the individual flavours please contact customer service. Example below is for Chocolate Peanut Crunch flavour.
| Typical Values | Per 100g | Per Serving 55g |
| --- | --- | --- |
| Energy | 1640kJ/392kcal | 902kJ/216kcal |
| Fat | 16g | 8.8g |
| of which saturates | 8.9g | 4.9g |
| Carbohydrate | 39g | 22g |
| of which sugars | 3.7g | 2.0g |
| of which polyols | 34g | 19g |
| Fibre | 1.4g | 0.8g |
| Protein | 36g | 20g |
| Salt | 0.87g | 0.48g |
*Reference Intake of an average adult (8,400kJ/2,000kcal).
Ingredients:
Milk Chocolate (30%) (Sweetener: Maltitol, Cocoa Butter, Whole Milk Powder, Cocoa Mass, Emulsifier: Soy Lecithin, Flavouring), Humectant: Glycerol, Soy Protein, Milk Protein, Collagen Peptides, Sweetener: Maltitol, Low Fat Cocoa Powder, Peanuts (1%), Cocoa Butter, Palm Fat, Whole Milk Powder, Emulsifiers: Soy Lecithin, Sunflower Lecithin, Colour: Plain Caramel, Flavouring, Salt, Sweetener: Sucralose.
Read More
FAQ's
Who is PROTEIN20 for?
PROTEIN20 is perfect for anyone looking for a high protein, low sugar snack.
When should I use PROTEIN20?
These bars are great as a day-to-day snack, a convenient on the go protein option or post-exercise.
How does PROTEIN20 differ to the SiS Protein Bar?
Both Science in Sport protein bars have 20 g of protein. The SiS Protein Bar is a more complete recovery option with higher sugar, for use on hard training days or after tough sessions. Whereas PROTEIN20 is a high protein, low sugar protein bar for daily snacking. Ideal for after a gym session, easy spin or recovery run, where a lower carbohydrate intake is required.
Do I need to take whey protein shakes too?
Whey protein shakes provide a high-quality protein serving. In this way, both protein shakes and PROTEIN20 should be viewed as an option for a protein serving. The recommended pattern of protein intake throughout the day would be 20-40 g of protein, every 3-4 hours. Protein shakes and bars can help meet your daily needs.
How can these be used after exercise?
PROTEIN20 can be eaten within 30-60 minutes of finishing a workout, to deliver the protein required to support the process of muscle recovery and rebuild.
Which source of protein is used?
PROTEIN20 uses a combination of milk protein, soy protein and collagen peptides.
Is this a healthy option vs a chocolate bar?
Protein is a highly satiating nutrient, keeping you fuller for longer when compared to carbohydrates and fats. Additionally, protein is a key nutrient for those undertaking exercise, as it supports in a range of health and performance areas. PROTEIN20 can therefore be viewed as a healthier alternative to confectionery.
How does this fit into my daily diet?
Alongside a balanced intake, with a range of foods and nutrients, PROTEIN20 can be used as a healthy, daily snack option.
Are there any allergens?
PROTEIN20 is not suitable for vegans, vegetarians, coeliacs, lactose intolerant or those with nut allergies.
Is it Inform Sport tested?
Yes, Science in Sport PROTEIN20 is tested under the Informed Sport programme.
You may also like
Verified Reviews
Rated

5

out of 5 based on

3

Reviews
Balanced bundle brilliant more I eat this more I love it