GO Energy - 1.6kg (Blackcurrant)
30% Rabatt
Sonderangebot
€ 24,50
War
€ 35,00
KOSTENLOSE LIEFERUNG AB 40€
Produkt informationen
GO Energy (Blackcurrant) provides an easily digestible and quick supply of carbohydrate for energy. Designed to be versatile, this product can be mixed at various concentrations to suit your needs.
GO Energy can be consumed as part of your carbohydrate loading strategy in the days and hours prior to your training or race, with 48 grams of carbohydrate per serving.
Key Features
Approximately 50 grams of carbohydrate per serving
Easy to digest
Ideal as part of your carbohydrate loading regime
Contents: 1.6kg Tub
Produktverwendung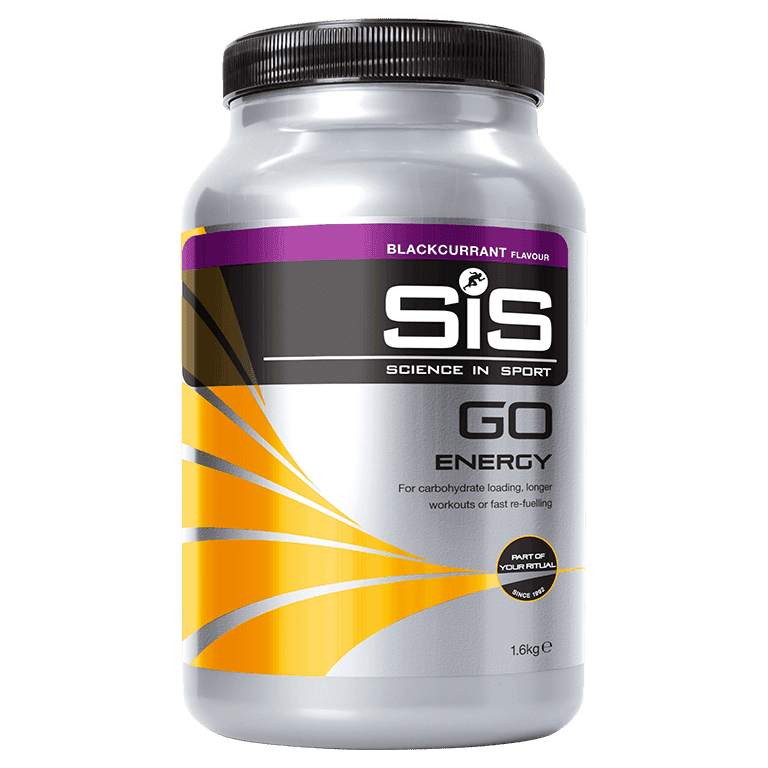 Empfohlene Nutzung
As part of your carbohydrate loading strategy, consume up to 4 servings per day with or between meals to help achieve elevated carbohydrate intake. SiS GO Energy can also be consumed with SiS GO Energy bars to further boost carbohydrate intake.
To provide both optimal energy and hydration during exercise, SiS GO Electrolyte is superior to SiS GO Energy.
Directions for Use
For easy mixing use SiS sports drinks bottles which have markers to indicate the correct level of powder. Or, add 50g of SiS GO Energy (approx. 3 full scoops) to 500ml of water in a bottle & shake well ensuring the lid is firmly closed.
Vorteile
Carbohydrate loading strategies involve an increase in the amount of carbohydrate an athlete consumes in the days leading up to an event in order to increase the store of muscle glycogen.
A major cause of fatigue in endurance exercise is depletion of carbohydrate energy stores. SiS GO Energy provides a practical solution to increase carbohydrate intake to boost our muscle glycogen stores prior to training or competition.
Informed Sport Registered
Our complete product range is developed using a world-class approach to banned substance testing, providing assurance for athletes. For more information on Informed Sport & our unique world class approach, click here.
Suitable For: Vegans, Vegetarians, Lactose free, Gluten Free, Wheat Free, Nut Free, Soya Free
Ernährungs Info
| Typical Values | Per Serving (50g) | Per 100g |
| --- | --- | --- |
| Energy | 804kj/189kcal | 1607kj/378kcal |
| Protein | 0.0g | 0.0g |
| Carbohydrate | 47g | 95g |
| of which sugars | 3.5g | 7.1g |
| Fat | 0.0g | 0.0g |
| of which saturates | 0.0g | 0.0g |
| Fibre | 0.0g | 0.0g |
| Sodium | 0.0g | 0.0g |
Ingredients:
Carbohydrate mix (96%) (Maltodextrin (produced from partial hydrolyses of a special variety of Maize), Fructose), Natural Flavouring, Citric Acid, Sweetener (Aspartame). Contains a source of Phenylalanine.
Lese mehr
FAQ's
When should I use this product?
We recommend that SiS GO Energy is used for carbohydrate loading in the run up to and/or during high intensity endurance exercise for fast energy.
Do I need to preserve this once open? Does it go off?
Once opened, keep the product cool and dry and don't exceed the best before end date.
Can I mix this with SiS GO Electrolyte to get all the benefits?
No, this would increase the carbohydrate concentration and may not sit well in your stomach. SIS GO Energy is designed specifically to meet your energy demands. To hit both energy and hydration goals, use SiS GO Electrolyte.
How many scoops do you need per normal 750ml bottle?
3 scoops of SiS GO Electrolyte will mix well in your 750ml SiS bottle.
Does this product contain Aspartame?
Yes, aspartame is added to make the product more palatable. It is one of the more researched sweeteners and is safe to consume.
You may also like
Wir haben andere Produkte gefunden, die dir gefallen könnten!
Verified Reviews
Rated

5

out of 5 based on

6

Reviews
does as it says on the bottle ,
Superb fuel for my riding.
Amazing flavour and great delivery of energy in a bidon.
is this always and give a good performance
I really like this energy drink and don't find it too sweet. I've tried lots of other equivalents from other brands but always come back to this one.