Product Code
energy-bakes-12-pack
SiS GO Energy Bakes - 12 Pack
Save 40%
Was
£10.80
Was
£18.00
Product Information
About the SiS GO Energy Bake
GO Energy Bake adopts a scientific approach to energy bars, delivering 30 grams of carbohydrate in a soft filled bake. Each bake has a fruit centre providing 10g fructose.
To support performance and meet the demands of exercise, fuelling requirements for long endurance events would be advised as 60-90g of carbohydrate per hour. The Science in Sport GO Energy Bake can be used to meet these demands, alongside other products in the Science in Sport GO Range. The unique, soft baked texture provides an easy to eat option, with all the performance benefits of carbohydrate fuelling.
Depleting your carbohydrate stores during exercise is one of the major causes of fatigue. Delivering additional carbohydrate during exercise is known to improve performance, race times and delay the onset of fatigue. Research has shown that carbohydrate from gels, drinks and bars can all be utilised at similar rates, and as such, SiS GO Energy Bake provides an alternative, easily digestible format of carbohydrate to consume during exercise.
Key Features
• 30g carbohydrate
• 10g fructose
• 2:1 carbohydrate ratio
• Soft filled bake
• Fuelling before or during exercise
• Energy loading snack between meals
• Informed Sport tested
Product Uses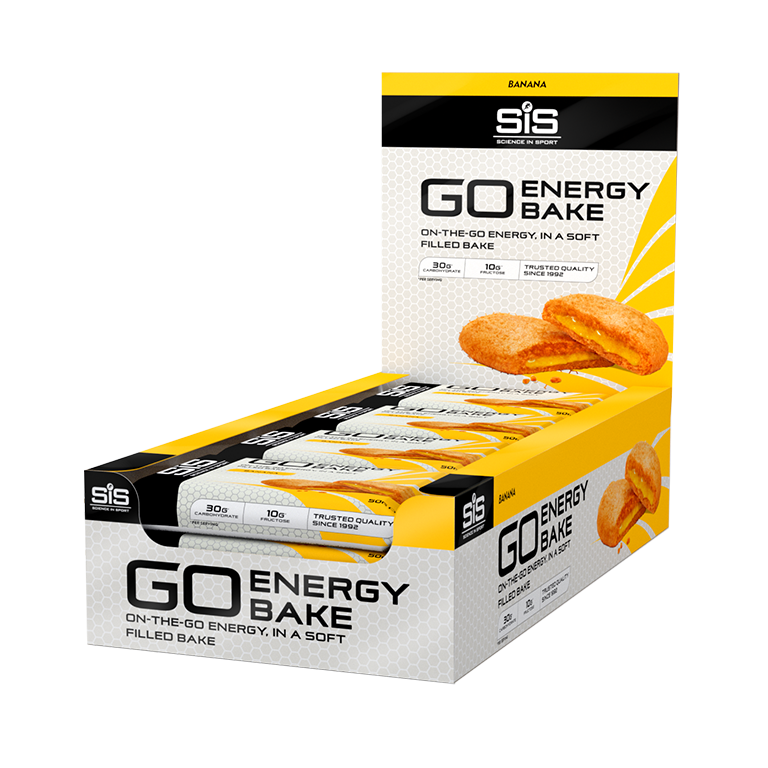 Recommended Usage
Consume 1-2 bars per hour during prolonged exercise. Take with other SiS products to consume 60-90g of carbohydrate per hour during exercise.
Benefits
Depleting your carbohydrate stores during exercise is one of the major causes of fatigue. Delivering additional carbohydrate during exercise is known to improve performance, race times and delay the onset of fatigue.
SiS GO Energy Bakes provide on-the-go energy (30g carbohydrate) in a soft filled bake with a delicious fruity centre (10g fructose). Used effectively the SiS GO Energy Bake can meet the demands and fueling required for long endurance events where it is advised to get an intake of 60-90g of carbohydrates per hour - the unique texture provides a great carbohydrate alternative to consume during exercise, which has the added bonus of being easily digestible
Informed Sport Registered
Our complete product range is developed using a world-class approach to banned substance testing, providing assurance for athletes. For more information on Informed Sport & our unique world class approach, click here.
Suitable For: Vegetarians
Nutritional Info
| Typical Values | Per 100g | Per Serving 50g |
| --- | --- | --- |
| Energy | 1590kJ / 380kcal | 795kJ / 190kcal |
| Protein | 7g | 3.5g |
| Carbohydrate | 62g | 30g |
| of which sugars | 23g | 11g |
| Fat | 10g | 5g |
| of which saturates | 2.7g | 1.4g |
*Reference Intake of an average adult (8,400kJ/2,000kcal).
For full ingredient information please select from the flavours below
Read More
Verified Reviews
Rated

4.8

out of 5 based on

79

Reviews
Very good product and a good price and it works for me
Great taste and easy to eat whilst cycling.
Makes a nice change to have a bake instead of a bar or gel
OK,NOT AS GOOD AS EXPECTED
Super tasty, excellent marathon fuel, both and pre and in race
5 star product for indoor and outdoor long distance cycling training
Easy to digest and very more-ish
Really like these, pleasant taste (Banana) but could be a stronger. What I do like is how easy they are to eat when riding the bike, melt in the mouth almost. No chewing as such as is necessary with the normal energy bars. Bought when on offer so happy with the results.
These help me through longer workouts and rides on the turbo trainer. Great taste, consistency and easy to eat. Not tried them out on the road, so not sure how good they are once warmed in a pocket!
Excellent product, very nice tasting and easy to digest while cycling
Delicious and the perfect size for fuelling mid-ride.
Really yummy and nice as mid ride snack
I found these difficult to get used to, I will try a different filling next time
Really tasty bakes, love them.
Love the new shape and taste
Easy to eat & digest whilst riding with a good range of flavours, of which banana is my current preference. Recommended
I have one of these pre run! Easy to digest & a good taste.
Great tasting energy bake. Easy to eat while on the bike and keeps you going.
THESE WERE THE CANCELLED PART OF MY ORDER
Easily digested and great taste
Tasty (well, as tasty as on-bike snacks can be!) and easy to eat.
These energy cakes are quite nice, haven't tried the other flavours yet.
These Energy Bakes taste delicious. They are very filling and great to eat anytime.
Tasty and easily digested. A little dry so need to take a drink before and after eating if your mouth is dry from exercise (in my case cycling). An alternative to the GO Energy Bars, I tend to take a mixture of bars and bakes with me on a long ride.
The centre has oozed out of a number of these energy bakes. Assuming the centre has a sugar content then part of it is wasted.
Excellent taste and easy to eat
Great product super tasty , resulting in amazing performance, definitely recommend .
Great little energy pack - easy to eat
excellent product service and great taste
Nice refreshing product definite change to usual cereal bar type of energy food although can be a little mushy particularly on a hot day carrying them in a jersey pocket!
Delicious and definitely gives you an energy boost. Would buy again and recommend 100%.
Comes in a wrapping that can stand getting a bit wet in the jersey pocket, they're lightweight so carrying a couple isn't a problem They're not the most delicious 'cookie' I've ever tasted, the filling's a wee bit disappointing... but they work for me on long rides: more fulfilling than a gel and maybe more agreeable too for some. I use them on longer rides, more convenient than a sani.
These are addictive, I do have fluids on hand. great pre-workout snack.
Great for quick food on the bike. Just the right size to pop in the mouth & get back on with riding.
Easy on the stomach and tasty
Great tasting pre training snack could eat them even without a ride or trainer session planned.
Does what it says on the box easy to consume whilst on the bike and great flavour
Quite tasty and not too large
Favourite flavour and great for being out on the road for fuel along with other products .
What a product.. great stuff
Nice and easily digestable
Love these. Super tasty and easy on the stomach.
5star product for both outdoor and indoor long distance cycling
Very tasty, easy to open, nice change from gels. Just need water to wash down
Delicious and a great Emery boost
5 star , great to have in back pocket when out on the road.
Great taste easy to digest
Great intense orange taste. Refreshing change to the usual energy bars.
Amazingly tasty bike fuel. Easy to eat and digest.
Took a bit of getting used to, but tasty and easily digested.
strawberry yum yum the soft centre is soooo good
Easy to eat on the move and might be more palatable than Goos for some. Wrapping keeps the Bake dry in wettish conditions. Again, not the most delightful Bake I've enjoyed but they work for me and are more 'fulfilling' than a Goo alone. I'll buy again.
perfect for hot days and longer rides
I love these! Something different, very easy to eat and don't sit heavy after eating. Seem to provide a good level energy too. Highly recommend.
Very tasty and easy to eat on the go
Not the best tasting product but after 100 miles on my bike during a sportive I'm sure it'll taste better! Decent price at 30% discount but overpriced at full value. Probably won't buy again.
Easy to consume, and tasty.
Got the strawberry, really really nice! Great addition to my rides!
Delicious and tasty does the job.
I like these, I've always found Energy Bars sit heavy after eating. But with these I don't get this problem.
First time of trying these and I like the taste ,have struggled to find a bar i like in the past so very pleased about the bake.
Very nice, but you need a drink to go with them.
Enjoyable snack whilst out riding. I find it's better with some liquid.
Easily fits in pockets and a great tasting snack whilst training or as a healthy snack.
Excellent product, tastes fantastic, great texture and delivers a big hit of energy.
Really good product, I use them in conjunction with gells when running. Taste great and deliver almost immediate boost.