Product Code
energy-bakes-12-pack
SiS GO Energy Bakes - 12 Pack
Save 25%
Was
£13.50
Was
£18.00
FREE DELIVERY ON ORDERS OVER £35
Product Information
About the SiS GO Energy Bake
GO Energy Bake adopts a scientific approach to energy bars, delivering 30 grams of carbohydrate in a soft filled bake. Each bake has a fruit centre providing 10g fructose.
To support performance and meet the demands of exercise, fuelling requirements for long endurance events would be advised as 60-90g of carbohydrate per hour. The Science in Sport GO Energy Bake can be used to meet these demands, alongside other products in the Science in Sport GO Range. The unique, soft baked texture provides an easy to eat option, with all the performance benefits of carbohydrate fuelling.
Depleting your carbohydrate stores during exercise is one of the major causes of fatigue. Delivering additional carbohydrate during exercise is known to improve performance, race times and delay the onset of fatigue. Research has shown that carbohydrate from gels, drinks and bars can all be utilised at similar rates, and as such, SiS GO Energy Bake provides an alternative, easily digestible format of carbohydrate to consume during exercise.
Key Features
• 30g carbohydrate
• 10g fructose
• 2:1 carbohydrate ratio
• Soft filled bake
• Fuelling before or during exercise
• Energy loading snack between meals
• Informed Sport tested
Product Uses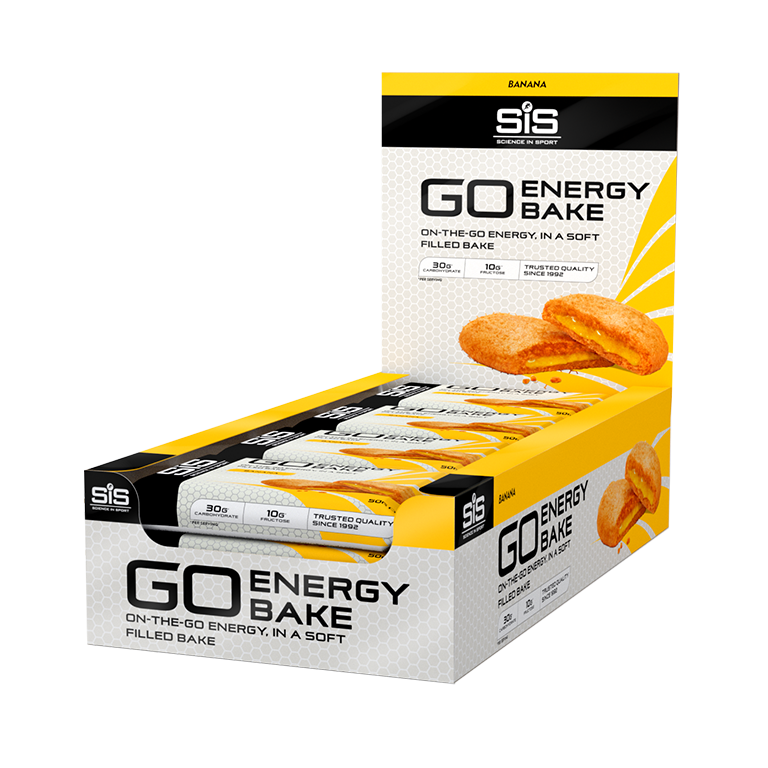 Recommended Usage
Consume 1-2 bars per hour during prolonged exercise. Take with other SiS products to consume 60-90g of carbohydrate per hour during exercise.
Benefits
Depleting your carbohydrate stores during exercise is one of the major causes of fatigue. Delivering additional carbohydrate during exercise is known to improve performance, race times and delay the onset of fatigue.
SiS GO Energy Bakes provide on-the-go energy (30g carbohydrate) in a soft filled bake with a delicious fruity centre (10g fructose). Used effectively the SiS GO Energy Bake can meet the demands and fueling required for long endurance events where it is advised to get an intake of 60-90g of carbohydrates per hour - the unique texture provides a great carbohydrate alternative to consume during exercise, which has the added bonus of being easily digestible
Informed Sport Registered
Our complete product range is developed using a world-class approach to banned substance testing, providing assurance for athletes. For more information on Informed Sport & our unique world class approach, click here.
Suitable For: Vegetarians
Nutritional Info
| Typical Values | Per 100g | Per Serving 50g |
| --- | --- | --- |
| Energy | 1590kJ / 380kcal | 795kJ / 190kcal |
| Protein | 7g | 3.5g |
| Carbohydrate | 62g | 30g |
| of which sugars | 23g | 11g |
| Fat | 10g | 5g |
| of which saturates | 2.7g | 1.4g |
*Reference Intake of an average adult (8,400kJ/2,000kcal).
For full ingredient information please select from the flavours below
Read More
Verified Reviews
Rated

4.6

out of 5 based on

21

Reviews
Product that meets all the requirements when it's needed most.
The banana bakes are good. But they aren't great. The banana flavour is liken to that, of the old penny banana sweets you had as a kid. Whilst thats a fond memory, the bake itself left my mouth really dry. So having them in the back pocket whilst riding didn't work for me, as i would want a drink immediately after. Maybe best suited with a coffee post ride maybe.
Strong flavour, be nice with a coffee. Filling though, good on the longer rides. Looking forward to trying other flavours
Perfect mid ride carb top up. Tastes great and easy to eat without getting stuck in the throat.
Very tasty. Not stodgy or too dry. A nice change from the energy bars. Will order more.
Has the stodginess of protein bars, which I'm not a massive fan of. Prefer the lightness of rice cakes.
Dry, difficult to eat, made me feel heavy afterwards, won't use again
Easy to digest and a great burst of energy.
Easily fits in pockets and a great tasting snack whilst training or as a healthy snack.
Great taste, a nice change from a normal energy product!
Great value, great taste as well
Good flavour. Easy to open and about the right quantity. The bake is quite soft and I find it a little difficult to swallow on the move
I like these, I've always found Energy Bars sit heavy after eating. But with these I don't get this problem.
First time of trying these and I like the taste ,have struggled to find a bar i like in the past so very pleased about the bake.
Very nice, but you need a drink to go with them.
Enjoyable snack whilst out riding. I find it's better with some liquid.
Excellent product, tastes fantastic, great texture and delivers a big hit of energy.
Really good product, I use them in conjunction with gells when running. Taste great and deliver almost immediate boost.