In stock
Product Code
usa-gel-bundle
Product Code
Please choose from below options for a total of 12 gels:
6 x GO Isotonic Energy Gels - Choice of Flavor
6 x GO Energy + Caffeine Gels - Choice of Flavor
1 X GO Isotonic Energy Gel Assorted 6 Pack
What do you use it for?

GO Isotonic Energy Gels deliver a fast supply of carbohydrates for energy, with no need for water GO Isotonic Energy + Caffeine Gels offer a quick mental and physical boost.
Add an extra $10 to your cart as well as this free product and receive free shipping:
Product is free after signing up to the promotion & applying the discount code received by email in accordance with the promotion terms & conditions. Discount applied when code is entered in the cart. Max 1 order per address.
Hurry, while supplies last!
Bundle Information
Free Energy Gel Bundle includes 2 x Energy Gel 6 Packs (12 Gels in total) MSRP: $26

Choose 2 of the below flavor options:
Cherry, Vanilla, Tutti Frutti, Chocolate, Lemon Lime, Orange, Tropical, Apple, Berry (Caffeine), Isotonic Variety Pack, Caffeine Variety Pack.

Free Bundle does not include shipping ($7.99). Spend an additional $15* to qualify for free shipping with this product only. 

Key Features: GO Isotonic Energy Gel

Truly isotonic formulation - no need for water
Fast, easily digested energy
22 grams of rapidly absorbed carbohydrate per gel
Convenient easy-to-take format
Suitable for Vegans 
Caffeine options contain 75mg of caffeine (150mg in Double Espresso)

*Purchase any of these additional items to qualify for free shipping:

Terms & Conditions apply. Free product limited to 1 per household. 
Product Uses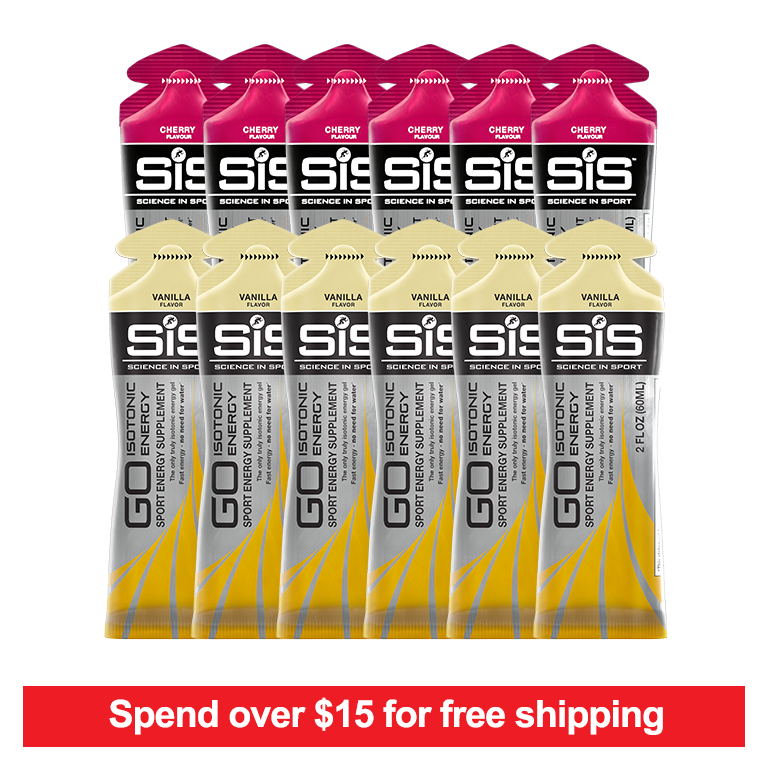 Verified Reviews
Rated

4.9

out of 5 based on

20

Reviews
I have not had the ones with caffeine
The flavors of the gels are good, and they aren't thick. They ate very easy to get down, and you don't need to chase it with any liquid, but do be sure to hydrate! They do exactly what they're supposed to do. I use them on long runs or cold/hot runs, and I never cramp up from them. One time I had a really bad side stitch because I hadn't consumed enough carbs before getting halfway into my run. I took one SiS gel and it went away pretty quickly (5 or so minutes), so I was able to finish my run.
Great promotional trial and an inexpensive way to sample SiS products. I recommend these for anyone looking for a gel that is not overly sweet and is easy to use while riding.
Always enjoy the variety packs. I try to grab a couple whenever they go on sale as it gives me the opportunity to try different flavors. And the ones I least like, I can trade with others in my training group.
Excellent. Easy to carry and take on the run. Great taste and no need for water.
I enjoyed having the option of caffeine or not, depending on the days workout.
Awesome taste. I did not need water. Very easy to digest.
Great pack. I got this pack to try both the caffeinated and non-caffeinated gels. Definitely worth it. I use a caffeinated one prior to the race and then supplement the others as I go through the mountain bike miles. Definite worth buying.
I like the combo because it gives you a little bit of both options.
Great taste and good amount of energy. Not too slow not overly done. Enjoy it and it picks me up when I need it.
Taste like cough medicine, but it seems to work well enough
I like to try different flavors and I love taste of its variety. Awesome!!!
I like the variety pack because you can reorder only the flavors you like.
Great combo, able to mix caffeine and non caffeinated
Great tasting, easy to digest
Top notch product exactly what I needed for my rides
I really like the consistency of these gels. Flavor is tasty without being overpowering. Much easier to eat on the run than gu gels.
Tastes good and truly does not need to be taken with water--amazing! The only complaints I have are the full price ($$) and the difficulty to open the packs while running. If my hands are a bit sweaty, it is very hard to open the energy gel pack.
Great during riding or running. Just what I need to get through some longer workouts!
Just did a solo century ride (105 miles) with over 5,000ft of climbing. The Caffeinated Berry flavor was key to a strong finish with out a doubt. Ran out of light instead of strength which helps now but also give you confidence into your next training session. Bottom line is that they work and work well.