In stock
Product Code
starter-pack-usa
Save 50%
Was
$19.79
$9.90
Product Code
Includes
: 6 x GO Isotonic Energy Gels + SiS GO Hydro Tube
To help you discover our range, we currently have some incredible offers, including:
Hydro Bundle: Only $25.49 (Save 40%)
GO Energy Gel 6 Packs: 3 for $20 (Save 33%)
Please Note:
There is a delivery charge of $5.99 if you just want to claim the Pack. However, if you spend just $20 whilst claiming you qualify for free shipping.
Click
HERE
to see all our offers
Limited stock available, flavors subject to change without notice depending on availability.
Bundle Information
SiS GO Isotonic Energy Gels

About GO Isotonic Energy Gels:
The SiS GO Isotonic Gel was the world's first isotonic gel effectively delivering an easily digestible and quick supply of carbohydrate for energy during exercise. SiS GO Isotonic Gels are designed to be consumed without water meaning that you can ensure rapid delivery of carbohydrate to your muscles without the feelings of being bloated that can sometimes occur with over-drinking.
Why should I take this gel?
Depleting your carbohydrate stores during exercise is one of the major causes of fatigue. In addition to ensuring optimal carbohydrate stores before exercise, delivering additional carbohydrate during exercise is known to improve performance, race times and delay the onset of fatigue. As such, SiS GO Isotonic Gels represent a highly practical solution to your in-training and competition fuelling strategy by providing you with a quick supply of 22 grams of carbohydrate per gel. Gels can easily be carried in your pocket or your race belt without the requirement for bulky bottles.
Recommended useage:
Consume 1-3 gels per hour to deliver approximately 60 grams of carbohydrate and maximize carbohydrate utilization rates. Where hydration is also important, SiS GO Isotonic Gels can also be consumed with SiS GO Hydro or with SiS GO Electrolyte to ensure a combination of both energy and fluid delivery during exercise.

SiS GO Hydro
About GO Hydro
SiS GO Hydro is designed to ensure you are effectively hydrated to produce your best performance. As an effervescent tablet that readily dissolves in plain water, it represents a highly practical approach (simply drop one tablet in your 500 ml water bottle) without the calories.
Benefits of the SiS GO Hydro
During moderate to intense exercise, we can produce up to 2 litres of sweat per hour depending on the environmental conditions. Sweat contains vital electrolytes, including sodium. Sodium is the most important electrolyte as it helps to stimulate thirst, improve taste and promote absorption and retention.
If fluid and electrolyte losses are not replaced, dehydration occurs which is a major cause of fatigue. Once dehydrated, our body temperature rises; our heart rate increases; we deplete carbohydrate stores quicker and we perceive the exercise to be more intense. SiS GO Hydro can help prevent this, with the aim not to lose more than 2% of our body mass.
Lemon flavoured electrolyte mix with natural green tea extract and added sweetener.
Informed Sport Registered: Our complete product range is developed using a world-class approach to banned substance testing, providing assurance for athletes. For more information on Informed Sport & our unique world class approach, click here.
Product Uses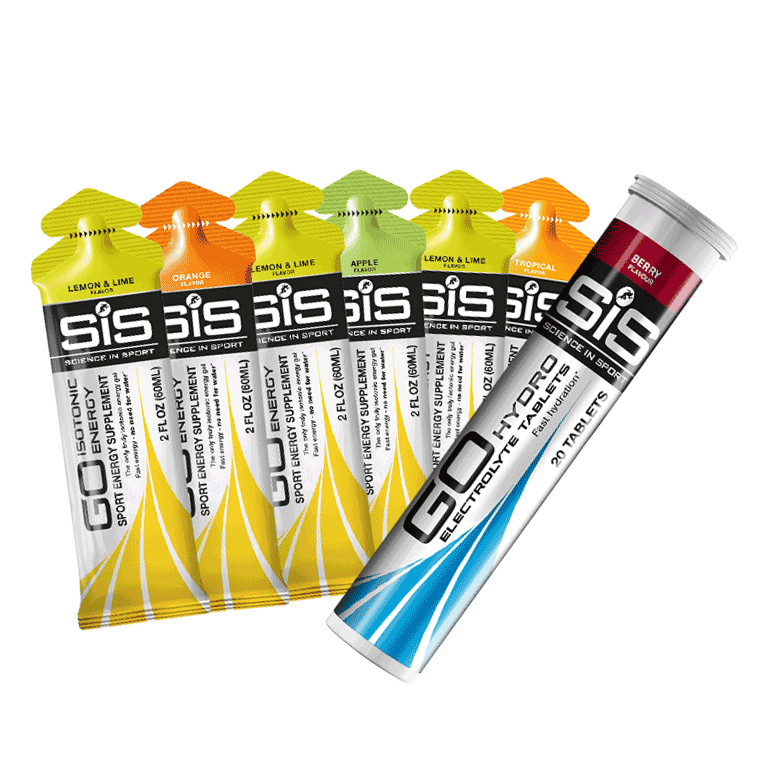 Verified Reviews
Rated

0

out of 5 based on

0

Reviews