Save 50%
Special Price
$10.00
Was
$20.00
Product Code
Ideal for intense activity with higher sweat rates & a need for energy
22 grams of carbohydrates per gel
Extra 10% off all orders with code: CYBER
Product Information
This variety pack contains the following flavors: GO Isotonic Orange, Tropical, Cherry,Tutti Frutti, Apple, Lemon Lime; GO Energy + Caffeine Berry, Citrus, Double Espresso; GO Energy + Electrolyte Raspberry, Lemon Mint. 
Sample all of our famous GO Isotonic Energy Gel Flavors in this Mixed Gel Bundle. Used by the likes of USA Cycling, USA Triathlon and Rock 'n' Roll Marathon runners, find out which one is your favorite.
Details:
SiS GO Isotonic Energy Gels - the world's first isotonic gel effectively delivering an easily digestible and quick supply of carbohydrates for energy during exercise. They are designed to be consumed without water, minimizing the risk of being bloated that can sometimes occur with over-drinking. Provides you with 22 grams of carbohydrates per gel.
Benefits: Depleting your carbohydrate stores during exercise is one of the major causes of fatigue. Delivering additional carbohydrates during exercise is known to improve performance, race times and delay the onset of fatigue.
SiS GO Energy  + Electrolyte Gels -deliver not only a rapid supply of easily digestible carbohydrates (22 grams) for energy, but also provides 118mg sodium, 9.5mg potassium and 1.5mg magnesium per gel.
Benefits: Electrolytes including sodium, potassium and magnesium are lost through sweat and need to be replaced in order to help the body maintain fluid balance, alongside an appropriate fluid intake.
SiS GO Energy + Caffeine Gels - Caffeine has been repeatedly shown to improve performance by lowering your perception of effort by providing a boost just when you need it. GO Energy+Caffeine Gel provides a high dose of caffeine for high intensity races and long, tough days on the road.
Benefits: When pushing yourself hard, your brain controls how fatigued you feel. Caffeine acts as a stimulant on the brain to lower your perception of effort, allowing you to keep pushing and maybe stretch yourself a little further.
Best By Date: Refer to individual date on packaging.
Informed Sport Registered: Our complete product range is developed using a world-class approach to banned substance testing, providing assurance for athletes. For more information on Informed Sport & our unique world class approach, click here.
Product Uses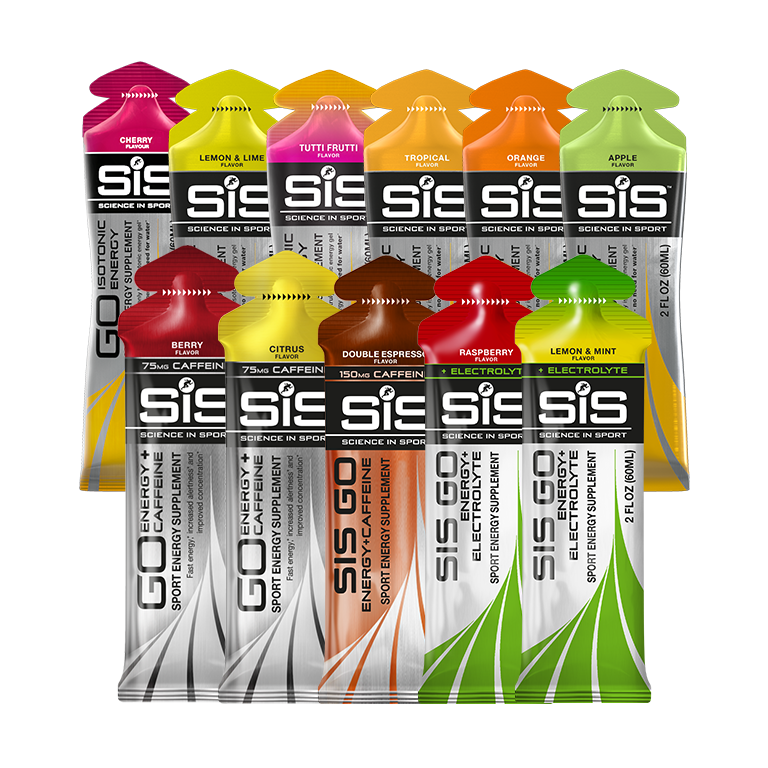 Nutritional Info
Electrolyte Gels
| Typical Values | Per 100ml | Per Serving 60ml |
| --- | --- | --- |
| Energy | 612kj/143kcal | 367kj/86kcal |
| Fat | 0.0g | 0.0g |
| Saturated Fats  | 0.0g | 0.0g |
| Carbohydrates | 36g | 22g |
| Sugars  | 1.2g | 0.7g |
| Protein | 0.0g | 0.0g |
| Fiber | 0.0g | 0.0g |
| Sodium | 0.5g | 0.3g |
Ingredients:
Water, Maltodextrin (From Maize), Natural Flavor, Salt, Gelling Agents (Gellan Gum, Xanthan Gum), Acidity Regulators (Citric Acid, Sodium Citrate, Malic Acid), Sweeteners (Acesulfame K, Sucralose), Preservatives (Potassium Sorbate, Sodium Benzoate), Potassium Chloride, Magnesium Citrate
Read More
FAQ's
When should I have this versus your other gels?
Aim for 1 x SIS GO Isotonic Energy Gel and 2 x SiS GO Isotonic Energy Gels per hour during exercise lasting over 90 minutes. 1 x SiS GO Energy + Electrolyte Gel can also be consumed before exercise to ensure electrolytes are available for fluid absorption.
Why do I need to have electrolytes?
During exercise, electrolytes are lost through sweating and must be replaced in order to maintain fluid balance and prevent dehydration.
Do they taste salty?
The gels do not taste salty and are available in refreshing raspberry and lemon & mint flavors.
Are these gels Isotonic?
The SiS GO Energy + Electrolyte Gel is not isotonic as the additional of electrolytes increases the concentration.
Are these 'natural'?
SiS GO Energy + Electrolyte Gel contains natural flavorings.
Do these contain aspartame?
No, SiS Gels do not contain aspartame.
Will they fit in my cycle jersey pocket?
Yes! All SiS GO Gels are lightweight, compact and designed to fit in jersey pockets, cycle bags and waist packs. They are pressure tested, so don't worry about the packaging tearing or bursting during exercise.
You may also like
Verified Reviews
Rated

4.6

out of 5 based on

14

Reviews
Tried it at the Rock n Roll Marathon Expo. I like that I don't need as much water when I use it.
Great selection, so far I like all of them.
I haven't gone through all of the variety pack but they taste better and are easier to drink while running than other gel packs are. I wish there were smaller volume options but otherwise very pleased with this product
Change is good Always enjoy a good variety of different flavors and intensities
Ones with caffeine taste horrible
Great taste, easy to consume during runs and rides.
Provided a good variety for me to determine which works best for me
I like the variety included in this pack. Allows me to try several flavors and the caffeine and electrolyte gels.
Have tried the Berry caffeine,couldn't tolerate more then 3 sips ,the citrus caffeinated was better ,the lemon lime and apple were better but I put them in about 8 oz of water , that made taste easier to tolerate,don't think I will be purchasing any more
Works well for long runs and marathons.
Introduced to me at Seattle RnR 2018. Great product.
Very tasty and loved the selection.
Nothing too crazy in here, but a good mix of flavors for someone looking to try out.
Provides energy boost when needed. Variety pack provides different taste.