Advanced Isolate + 2.2lb - Mint Chocolate
Product Code
Promotes the growth & maintenance of lean muscle mass
31 grams of protein isolate including 9g of BCAAs
Low carbohydrates and low fat
FREE Shipping with order $49
Product Information
About SiS Advanced Isolate + (Mint Chocolate)
SiS Advanced Isolate + contains 100% pure whey protein isolate with added leucine. This low carbohydrates and low fat protein shake contains 4.7g of Leucine, 2.4g of Isoleucine & 1.9g Valine per serving to stimulate and support the growth of lean muscle mass to maximize training gains. Each serving contains 31g of protein with only 1.7g of carbohydrates and 1g of fat.
Benefits of SiS Advanced Isolate + (Mint Chocolate)
Whey protein isolate has one of the highest-known protein digestion rates, and has a high BCAA content. BCAAs make up 35% of lean muscle mass; therefore they are an essential element to include in your diet when building lean muscle is the training focus.
Additional leucine has been included as it is an amino acid which serves not only as a building block for new muscle protein, but also increases the rate of muscle protein synthesis.
Key Features
Contains 31 grams of rapidly digestible whey protein isolate per serving
High amount of protein without additional calories
9g of BCAAs and 4.7g of Leucine per serving
Best If Used By: Refer to individual date on packaging
Informed Sport Registered: Our complete product range is developed using a world-class approach to banned substance testing, providing assurance for athletes. For more information on Informed Sport & our unique world class approach, click here.


Product Uses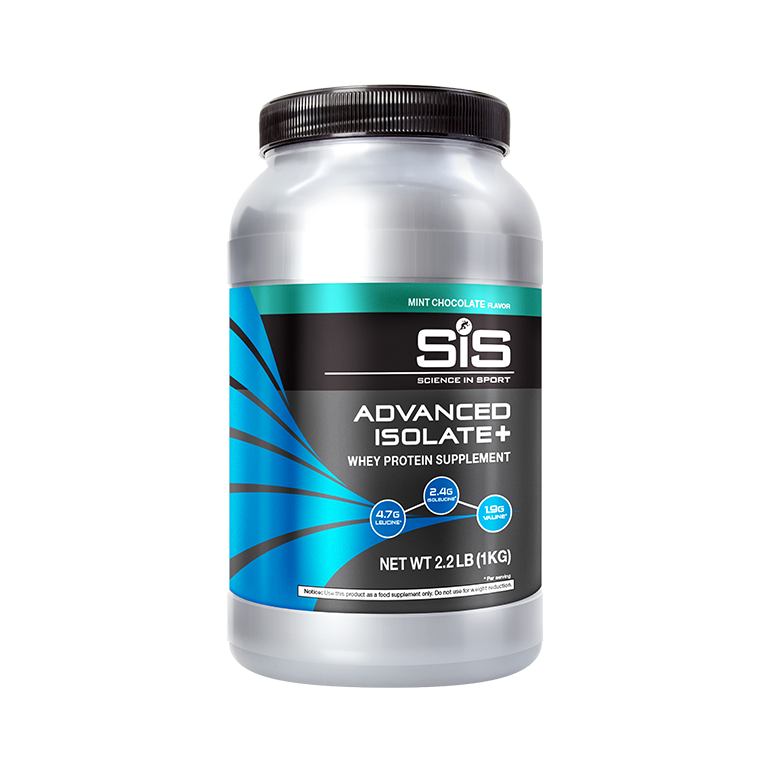 Nutritional Info
| Typical Values | Per 100g | Per Serving 40g |
| --- | --- | --- |
| Energy | 1518kj/358kcal | 607kj/143kcal |
| Protein | 79g | 31g |
| Carbohydrates | 4.0g | 1.7g |
| Sugars  | 1.5g | 0.6g |
| Fat | 2.6g | 1.0g |
| Saturated Fat  | 0.9g | 0.4g |
| Fiber | 4.3g | 1.7g |
| Salt | 0.5g | 0.2g |
Ingredients:
Whey Protein Isolate (Milk), Fat Reduced Cocoa Powder, L-Leucine, Thickener (Xanthan Gum), Natural Flavours, Emulsifier (Soy Lecithin), Sweetener (Sucralose)
For allergens, please see ingredients in bold
Read More
FAQ's
What is the difference between this and SiS Whey Protein?
SiS Advanced Isolate+ has one of the highest known digestion rates and a higher BCAA content. The addition of 9g of BCAA's and 4.7g leucine help stimulate and support the growth of lean muscle mass. SiS Advanced Isolate+ is more purified, providing a higher protein content (31g) and lower levels of carbohydrate and fat.
When should I have this versus SiS Whey Protein and SiS REGO Rapid Recovery?
This is ideal for individuals looking for minimal carbohydrate and fat intake, while maintaining and building lean muscle mass. SiS Advanced Isolate+ can be consumed with or between meals to hit the recommended protein intake of 20-15g every 3-4 hours. Consume immediately post exercise, particularly after strength and conditioning sessions.
Why is it more expensive than SiS Whey Protein?
SiS Advanced Isolate+ is a purified version of whey concentrate with additional leucine, which increases protein content with minimal carbohydrate and fat. Whey protein isolate is digested and absorbed quicker than whey concentrate.
How many scoops per serving?
Add approximately 4 scoops to 250ml of water and mix well.
How much protein is there per serving?
SiS Advanced Isolate+ contains 31g of protein per serving.
You may also like
Verified Reviews
Rated

4

out of 5 based on

2

Reviews
Slightly too artificial flavor, and not the easiest thing to digest.
Delicious, filling without all the carbs and sugar, and has done wonders for my recovery, whether it be after lifting, riding, or racing.