GO Energy + Electrolyte Gel - 6 Pack (Raspberry)
Save 30%
Special Price
$8.40
Was
$12.00
Product Code
Ideal for intense activity with higher sweat rates & a need for energy
22 grams of carbohydrates per gel
0.3g of salt per gel to replace key electrolytes lost through sweat
FREE Shipping with order $49
Product Information
Raspberry flavor energy gels with added electrolytes to aid hydration - 6 pack.
About SiS GO Energy + Electrolyte Gel - Raspberry
The SiS GO Energy + Electrolyte gel builds on the established science of the SiS GO Isotonic Energy gel, the world's first and only truly isotonic energy gel.
The gel not only delivers a rapid supply of easily digestible carbohydrates (22 grams) for energy, but also provides 118mg sodium, 9.5mg potassium and 1.5mg magnesium per gel.
Benefits of SiS GO Energy + Electrolyte Gel - Raspberry
Electrolytes including sodium, potassium and magnesium are lost through sweat and need to be replaced in order to help the body maintain fluid balance, alongside an appropriate fluid intake.
Key Features
22 grams of carbohydrates per gel
Formulation delivering energy fast and effectively
0.3g salt per gel to replace key electrolytes lost through sweat
Best If Used By: Refer to individual date on packaging
Informed Sport Registered: Our complete product range is developed using a world-class approach to banned substance testing, providing assurance for athletes. For more information on Informed Sport & our unique world class approach, click here.
Product Uses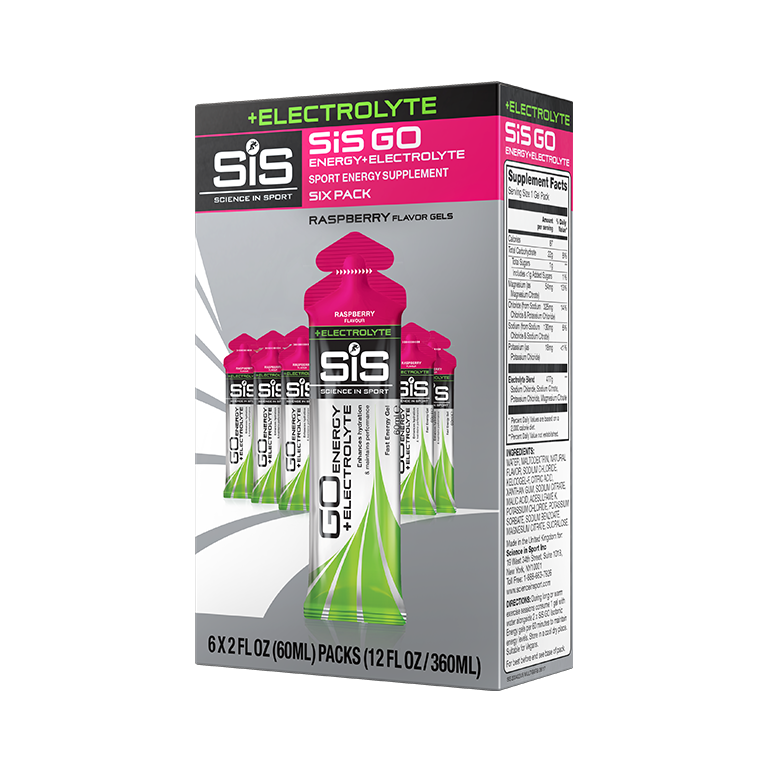 Nutritional Info
| Typical Values | Per 100ml | Per Serving 60ml |
| --- | --- | --- |
| Energy | 617kj/145kcal | 370kj/87kcal |
| Fat | 0.0g | 0.0g |
| Saturated Fats  | 0.0g | 0.0g |
| Carbohydrates | 36g | 22g |
| Sugars  | 1.2g | 0.7g |
| Protein | 0.0g | 0.0g |
| Fiber | 0.0g | 0.0g |
| Sodium | 0.5g | 0.3g |
Ingredients:
Water, Maltodextrin (From Maize), Natural Flavour, Salt, Gelling Agents (Gellan Gum, Xanthan Gum), Acidity Regulators (Citric Acid, Sodium Citrate, Malic Acid), Sweeteners (Acesulfame K, Sucralose), Preservatives (Potassium Sorbate, Sodium Benzoate), Potassium Chloride, Magnesium Citrate
Read More
FAQ's
When should I have this versus your other gels?
Aim for 1 x SIS GO Isotonic Energy Gel and 2 x SiS GO Isotonic Energy Gels per hour during exercise lasting over 90 minutes. 1 x SiS GO Energy + Electrolyte Gel can also be consumed before exercise to ensure electrolytes are available for fluid absorption.
Why do I need to have electrolytes?
During exercise, electrolytes are lost through sweating and must be replaced in order to maintain fluid balance and prevent dehydration.
Do they taste salty?
The gels do not taste salty and are available in refreshing raspberry and lemon & mint flavours.
Are these gels Isotonic?
The SiS GO Energy + Electrolyte Gel is not isotonic as the additional of electrolytes increases the concentration.
Are these 'natural'?
SiS GO Energy + Electrolyte Gel contains natural flavourings.
Do these contain aspartame?
No, SiS Gels do not contain aspartame.
Will they fit in my cycle jersey pocket?
Yes! All SiS GO Gels are lightweight, compact and designed to fit in jersey pockets, cycle bags and waist packs. They are pressure tested, so don't worry about the packaging tearing or bursting during exercise.
You may also like
We found other products you might like!
Verified Reviews
Rated

4.7

out of 5 based on

14

Reviews
My favorite so far, best tasting of the bunch.
This really seems to help on those days I am sweating heavy. Nice complement to what ever I am drinking.
Great taste and good amount of energy. Not too slow not overly done. Not good tasting hot, best cold.
Smooth texture and consistency makes these easy to drink/eat while on a run or bike ride. Flavor is good too!
THIS stuff is the real deal!
Provides boost of sustained energy
Easy to get from your rear pocket and rapid digestion with no discomfort. Great balance of caffeine and important nutrients to replenish while exercising.
Works well, great pick-me-up for my morning run. My new favorite flavor!
The SiS gels are great. I like how they don't give a peak of blood sugar with its consequent drop, but lacking fructose or glucose in the mixture with maltodextrin provides a lower oxidation rate of only ~1 g/min instead of ~1,5 g/min. Also, I miss having more electrolytes in these gels. I know there is a "+electrolyte" type, but I wish I could also have it for the caffeinated ones. On the other hand, I guess there are not that much to keep the isotonic properties, right? Even so, I will stick to these SiS gels, because I love the science behind the sports nutrition!
It's amazing. Way better than all other gels I have used for races.
Provides energy boost as advertised
I like the flavor you can use it with or without water
Great taste as far as gels go, it also was able to be consumed with out chasing it down with water
Didn't expect the salty taste but still very good.