Out of stock
Product Code
rnr-pack-usa
Rock 'n' Roll USA Gel Pack
Product Code
Get your exclusive Rock 'n' Roll Trial Pack to fuel your training and race days. Each pack contains:
2 x Lemon & Lime GO Isotonic Gels
2 x Chocolate GO Isotonic Gels
2 x Cherry GO Isotonic Gels
1 Orange GO Isotonic Gels
800ml Water Bottle
What do you use it for?
GO Isotonic Energy Gels deliver a fast supply of carbohydrates for energy, with no need for water GO Isotonic Energy offer a quick mental and physical boost.
Add an extra $10 to your cart as well as this free product and receive free shipping
:
Check out our Best Sellers under $20.
Save up to 33% in our Special Offers!
Product is free after signing up to the promotion & applying the discount code received by email in accordance with the promotion terms & conditions. Discount applied when code is entered in the cart. Max 1 order per address. Hurry, while supplies last!
Bundle Information
Each Rock 'n' Roll Gel Pack contains:
7x GO Isotonic Energy gels & a 800ml Science in Sport Water Bottle
Flavors include:
2 x Lemon & Lime
2 x Chocolate
2 x Cherry
1 x Orange
About GO Isotonic Energy Gels
The GO Isotonic Energy Gel was the world's first isotonic gel effectively delivering an easily digestible and quick supply of carbohydrates for energy during exercise.
They are designed to be consumed without water, minimizing the risk of being bloated that can sometimes occur with over-drinking.
Provides you with 22 grams of carbohydrates per gel.
Benefits of GO Isotonic Energy Gels
Depleting your carbohydrate stores during exercise is one of the major causes of fatigue. Delivering additional carbohydrates during exercise is known to improve performance, race times and delay the onset of fatigue.
The Isotonic formula allows the gel to empty from the stomach quickly as no fluid needs to be drawn into your stomach to dilute the gel, providing fast energy. GO Isotonic Energy Gels are highly practical and can easily be carried without the requirement for bulky bottles.
Key Features
Truly isotonic formulation - no need for water
22 grams of rapidly absorbed carbohydrates per gel
Convenient easy-open packaging
Suitable For Vegans.
Best If Used By: 6 Months After Purchase
Product Uses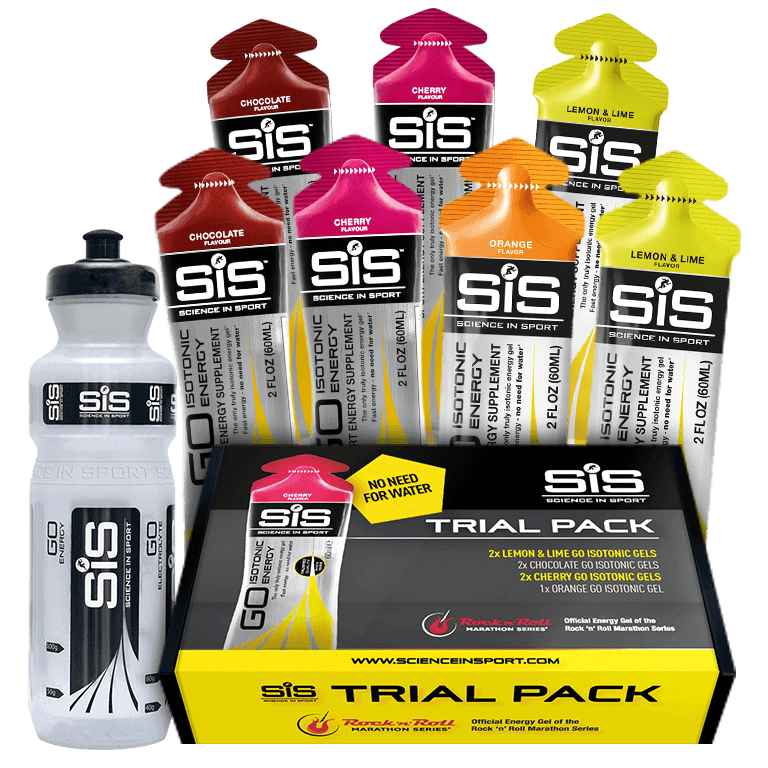 Verified Reviews
Rated

4.4

out of 5 based on

16

Reviews
The lemon lime flavor is great, and the product definitely gives me a kick when I need it deep into my run. I'm not as sure about the other flavors, but I would definitely purchase more of the lemon lime!
Nice combo pack for RnR runners.
I like that you get to try out the various flavors and pick out which ones you can live with for the long haul.
Great choice of flavors to try and a nice bottle to use
I used the coupon for this. I like the bottle. I've only used one gel. It's a litte pricey if you're buying without a coupon.
Top of the line products that melt in your mouth. You do need water with them. They do not cramp up your stomach either.
The gels were weird but I liked the taste and the result.
My favorite is the chocolate. It seems to be more watery than the others. My least favorite was the lemon lime. My stomach handled it well. I'll be ordering more.
I felt like the amount was too much to take in during a run and I t was way too sweet. I was only able to use about 1/2 the packet but it was enough to give me the energy I needed to finish my run.
Love the free trial pack with the free water bottle!
The chocolate flavor is really gross, but everything else was great!
Love it! So easy to eat and without having to have a drink along with it. Thank you! PS. I had a little trouble opening the pack - had to use my teeth!
Favorite flavor is lemon and lime.
disappointed to get these in september to see all expire in Jan 2019....won't get to use all of them as running season is winding down for me
Tastes great and gives a boost and can instantly feel the hydration
This is a great way to get customers to try your product. I had tried one flavor before, but this gives me the opportunity to try all flavors before I make another purchase.