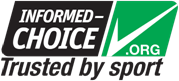 Science in Sport's World Class Approach to Banned Substance Testing
SiS is trusted by professional and Olympic athletes in a range of sports, across the world. A key component of this trust is our approach to preventing banned substances entering our supply chain and finished products. We do this by ensuring:
Every single batch of finished product which leaves our factory is screened against the 2017 World Anti-Doping Agency (WADA) list. Banned substances, including steroids, are tested to the level of 10 Nanograms per gram, and stimulants to 100 Nanograms per gram
Batches (sampled at the beginning, during and end of each product batch) receive the recognised and respected Informed Sport* certificate, which we provide as documentation to athletes upon request
The above standard of testing is carried out by only a handful of companies in the sports nutrition industry. In addition to this, we also:
Carry out pre-production testing of ingredients based on Risk Based Evaluation, to the same standard as finished product batches
Maintains full trace management of all raw materials from raw material base and manufacturing supplier, through to finished goods manufactured per production batch
Implements rigorous screening of all ingredient suppliers, including annual auditing
Screens its production facility in Nelson, Lancashire, including swab testing and third-party inspections, throughout the year
*Informed Sport (Informed Choice in the USA) is a globally-recognised quality assurance programme for sports nutrition products, suppliers to the sports nutrition industry, and supplement manufacturing facilities.