Informed Sport Registered
The Science in Sport brand is trusted by professional and Olympic athletes in a range of sports, across the world. A key component of this trust is our approach to preventing banned substances entering its supply chain and finished products. Each year an internal review of the banned substance prevention regime takes place, and from January 2018 an upgraded system has been implemented. The regime is built on the following pillars:
• Are the only brand globally to hold both Informed Sport Site Certification and Informed Sport Product Certification.
• Every single batch of Science in Sport finished product which leaves the Company's factory is screened against the 2018 World Anti-Doping Agency (WADA) list. Banned substances including steroids are tested to the level of 10 Nanograms per gram, and stimulants to 100 Nanograms per gram. Equivalent to finding a $1 bill in a pile of $1bn of $1 bills.
• Batches (sampled at the beginning, during and end of each product batch) receive the recognized and respected Informed Sport certificate. Finished product testing is the final and most effective step that we have to ensure product assurance.
The above standard of testing is carried out by a very small number in the sports nutrition industry and no other brand globally holds both the Informed Sport Site Certification and Informed Sport Product Certification. In addition to this, we also:
• Carry out raw material batch testing as well as finished goods testing for anything deemed 'high-risk'
• Maintain full trace management of all raw materials from raw material base and manufacturing supplier, through to finished goods manufactured per production batch. This allows us to demonstrate to athletes the source of their ingredients and all parties involved in the manufacturing process.
• Implement rigorous screening of all ingredient suppliers, including annual auditing. All suppliers are required to be certified to a recognized Quality Management system that is approved by The Global Food Safety Initiative.
• Screen our production facility in Nelson, Lancashire, including swab testing for banned substances and conduct surprise third-party inspections throughout the year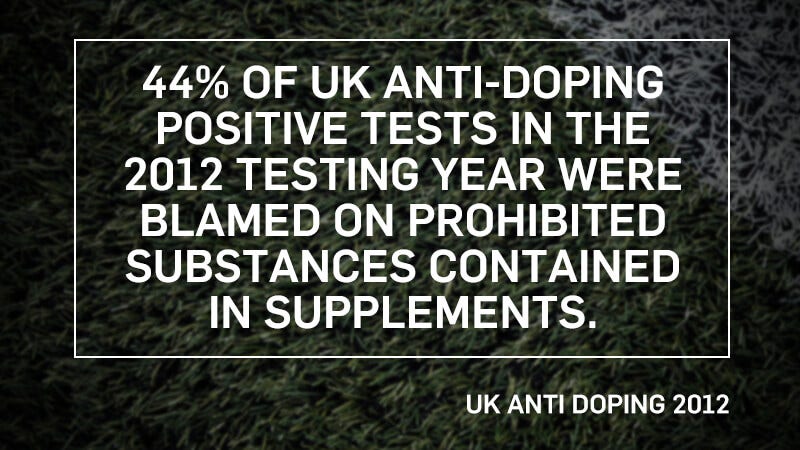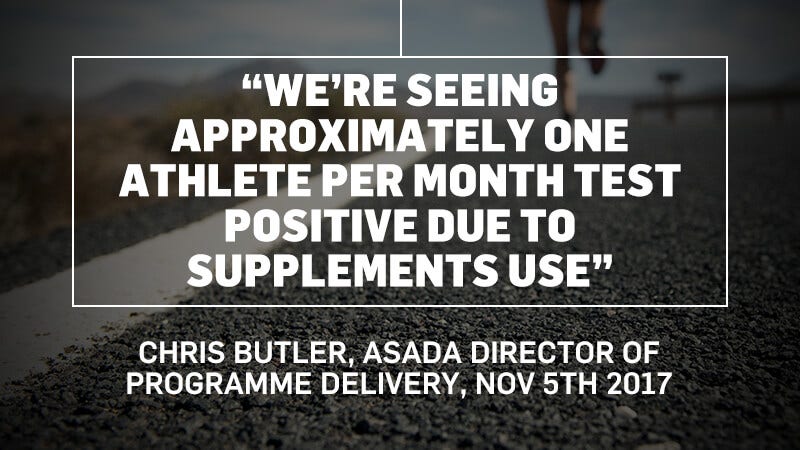 THIS IS JUST SCARE TACTICS & SURELY THIS IS ONLY FOR PROFESSIONAL ATHLETES?
Not every athlete is tested as part of their training & competition routine. However, we don't support the approach of having one rule for professionals and one rule for amateur athletes and instead offer our world class assurance program to everyone. While not all amateur athletes aren't tested formally for banned substances we recognize the growing importance of giving quality assurance to everyone that our product is certified to be free of banned substances.
We commit that what we make available to the general public is absolutely the same as what is used at the elite level.
OUR CLAIMS AROUND BANNED SUBSTANCES. HAVE REAL SUBSTANCE.
Science in Sport over the last 25 years have developed a reputation at the highest level of international sport and a supporting element is our approach to banned substances. We were in fact the first nutrition brand in the world to be awarded the Informed Sport Evolved Accreditation designation. To reach this point we have significantly invested into our process, each year looking for opportunities to drive improvements. Not all of our competitors can say the same and instead use misleading messaging in their marketing. For example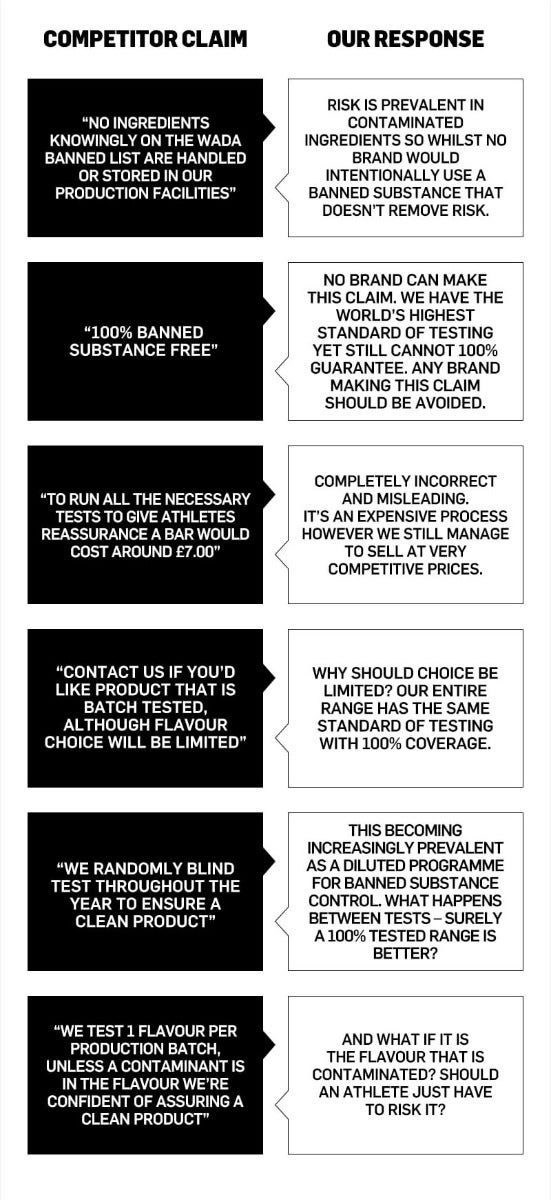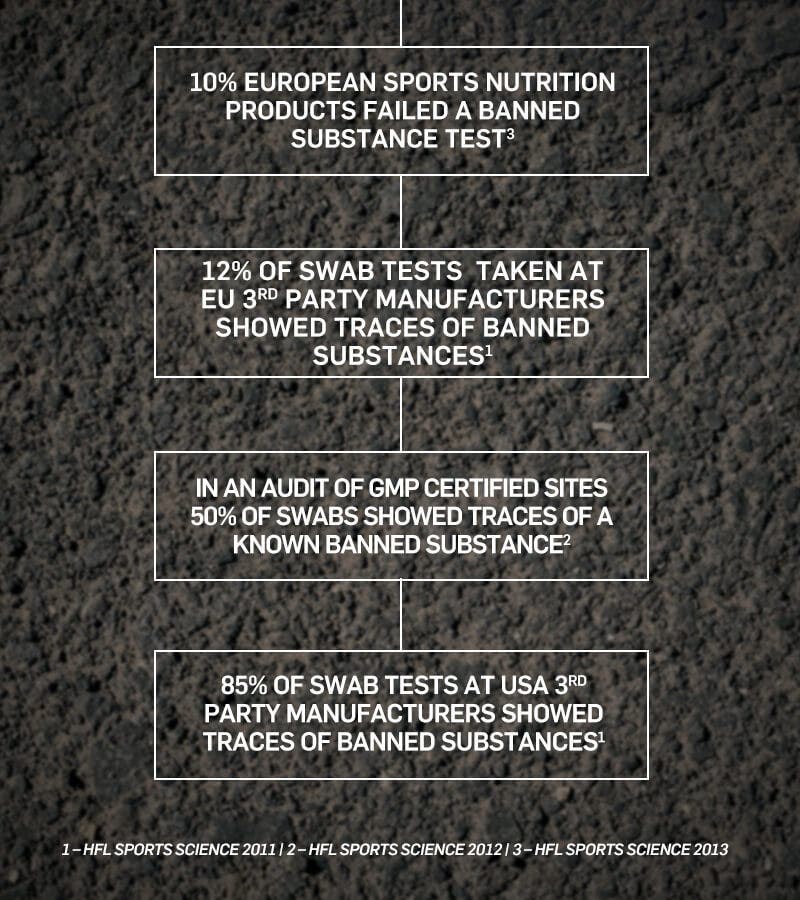 An independent European study analyzed 5009 supplement samples and found that 10% tested positive for substances listed on the WADA banned substances list. A recent report in the Netherlands has shown the risk to be as high as 38% amongst what is deemed as high risk product categories.
There are two main sources of contamination
1) Contaminated ingredient used in the production process
2) Cross contamination in the manufacturing process.
Cross contamination in the manufacturing process is becoming increasingly prevalent as multiple sports nutrition brands use a 3rd party manufacturer rather than manage their own production. In 2011 HFL Sport Science swabbed & audited 4 manufacturing facilities and through that process found at two of the EU facilities 12% swabs contained a banned substance. In the USA the issue was significantly higher with 85% swabs showing contamination. The independent report commented that the contamination likely entered through contaminated ingredients rather than any intentional spiking of products.
A large number of sports nutrition brands rely on the claim that their GMP (Good Manufacturing Practice) means they can offer a clean product range. That's not the case and in fact it is possible for a manufacturer to be GMP certified AND handle prohibited substances. In a 2012 study of GMP certified sites, over 50% swabs taken contained trace elements of methylexonomine, a substance listed on the WADA registry.
In summary
1) Independent studies show the risk of contamination is as high as 38% for European athletes
2) Brands utilizing 3rd party manufacturing facilities used by multiple brands offer high risk
3) Good Manufacturing Practice isn't sufficient for a banned substance policy. It's a contributing factor but absolutely not sufficient.
BUT DON'T JUST TAKE OUR WORD FOR IT...
WHAT IS INFORMED SPORT?
Informed-Sport is a quality assurance program for sports nutrition products, suppliers to the sports nutrition industry, and supplement manufacturing facilities. The program certifies that all nutritional supplements and/or ingredients that bear the Informed-Sport logo have been tested for banned substances by the world class sports anti-doping laboratory, LGC.
It's important to always check the logo is on the packaging. A number of brands only test a very small number of product lines in their range but still utilize the Informed-Sport logo throughout their website offering risk to athletes. Always double check your product is registered at www.informed-sport.com
WHAT ARE BANNED SUBSTANCES?
• WADA (World Anti-Doping Agency) Prohibited List identifies the substances and methods prohibited in- and out- of competition
• The List is updated annually and was first published in 2004
• The List is categorized into prohibited steroids, stimulant and methods (e.g. intravenous infusions)
STEROIDS
Mimic certain natural hormones that regulate how the body works, feels and develops. Anabolic steroids tend to be misused because of similarity to testosterone. They can improve endurance performance and stimulate muscle growth. Examples are DHEA, androstenedione
STIMULANTS
Alter brain and organ function to impact effort perception, activity level and mood. Used for temporary relief of shortness of breath, chest tightness and wheezing. Can help weight making by suppressing your appetite. Examples are: ephedrine, cocaine
METHODS
Manipulation of blood and blood components, tampering with doping samples, (Re)introduction of blood or red blood cell products into the circulatory system. Some methods can artificially enhance the uptake & transport of delivery of oxygen.