Out of stock
Product Code
sis-home-workout-bundle-us
Save 30%
Was
$97.00
$67.90
Bundle Information
The new Home Workout Bundle contains all the fundamental products to support your indoor workout, including carbohydrates, protein, and hydration.
GO Energy + Protein Bars are a nutritious, easily digestible high carbohydrate and protein based snack; made from fruits, wholesome ingredients and soy protein isolate. Delivering additional carbohydrates during exercise is known to improve performance, race times and delay the onset of fatigue; while protein contributes to the growth and maintenance of muscle mass.
GO Hydro is designed to ensure you are effectively hydrated to produce your best performance. As an effervescent tablet that readily dissolves in plain water, it represents a highly practical approach (simply drop one tablet in your 500 ml water bottle) without the calories.
SiS Whey Protein contains 23g of high quality whey protein, providing a source of rapidly digesting protein.  It contains a high amino acid profile which supports lean muscle growth and maintenance, with at least 5g of BCAAs per serving, including 2.4g - 2.5g of leucine which increases the rate of muscle protein synthesis. Each serving contains 23g of protein.

Bundle Contains:
GO Energy + Protein Bars (24 pack)
GO Hydro 2 x20 tablets
Whey Protein 1kg
1 bottle
Nutritional Information:
For nutritional information, please follow the links below:
Product Uses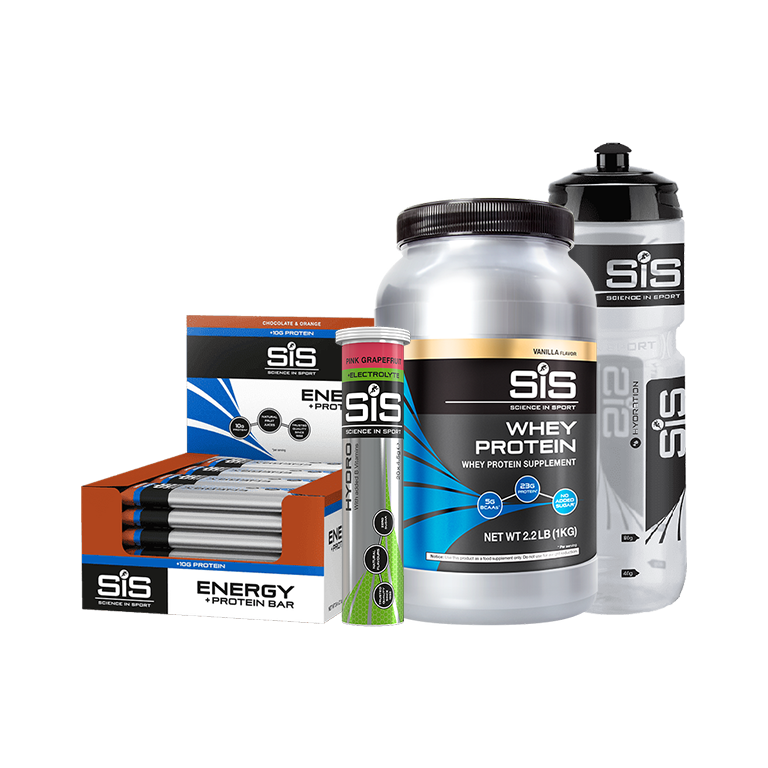 Verified Reviews
Rated

0

out of 5 based on

0

Reviews