GO Energy + Caffeine Gel 60ml 6 Pack - Berry
Product Code
Fast energy with 75mg Caffeine for a mental & physical boost.
Berry flavored energy gel in easy to open packaging, perfect for when you're on the move.
Free cycling bottle on orders over $50
Product Information
Berry flavored energy gel with added caffeine (75mg) for a mental & physical boost - 6 pack.
About SiS GO Energy + Caffeine Gel
The SiS GO Energy + Caffeine Gel 75mg builds on the established science of the SiS GO Isotonic Energy gel, the world's first and only truly isotonic energy gel.
This product provides 22g of carbohydrates and 75mg of caffeine per gel (Berry flavor). Ideal for high intensity races and long, tough days on the road. Caffeine has been repeatedly shown to improve performance by lowering your perception of effort by providing a boost just when you need it.
SiS GO Energy + Caffeine is clean in the mouth and easy to digest. For when you want an energy boost, but want the benefits of caffeine too. Use before or during sport for added physical and mental focus when you want to get an edge.
Benefits of SiS GO Energy + Caffeine Gel
Key Features
75mg of caffeine per gel
22 grams of carbohydrates per gel
Formulation delivering energy fast and effectively
Contents: 6 x 60ml gels per pack
Suitable for: Vegetarians; Vegans; Coeliacs; Lactose Free; Gluten Free; Wheat Free; Nut Free
Best If Used By: Refer to individual date on packaging
Informed Sport Registered: Our complete product range is developed using a world-class approach to banned substance testing, providing assurance for athletes. For more information on Informed Sport & our unique world class approach, click here.
Product Uses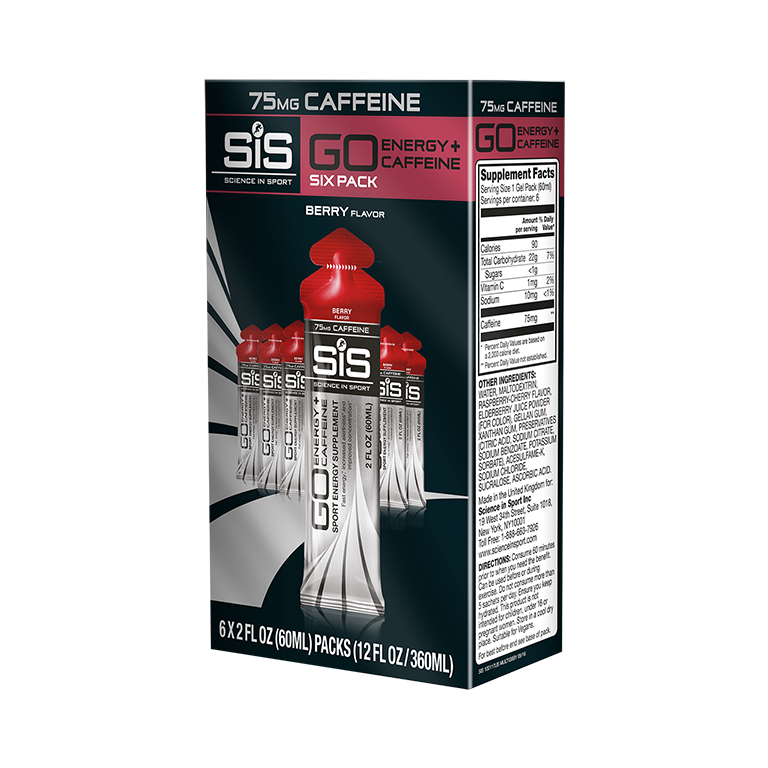 Nutritional Info
| Typical Values | Per 100ml | Per Serving 60ml |
| --- | --- | --- |
| Energy | 627kj/148kcal | 376kj/90kcal |
| Protein | 0.0g | 0.0g |
| Carbohydrate | 37g | 22g |
| Sugars  | 1.3g | 0.8g |
| Fat | 0.0g | 0.0g |
| Saturated Fats  | 0.0g | 0.0g |
| Salt | 0.1g | 0.04g |
| Caffeine | 125mg | 75mg |
Ingredients:
Water, Maltodextrin (from Maize) (33%), Natural Flavouring, Gelling Agents (Gellan Gum, Xanthan Gum), Acidity Regulators (Citric Acid, Sodium Citrate), Caffeine (150mg), Preservatives (Sodium Benzoate, Potassium Sorbate), Sweeteners (Acesulfame K, Sucralose), Sodium Chloride, Antioxidant (Ascorbic Acid)
Read More
FAQ's
What is the recommended frequency of consumption?
We don't recommend that you consume more than 4 x SiS GO energy + 75mg gels per day.
When is the best time to consume the SiS GO Energy + caffeine Gel?
Have 1 gel 30 minutes before short, intense exercise to provide mental stimulation for the race ahead. Have 1?2 gels towards the end of long, endurance exercise to improve alertness and concentration.
What are the benefits of caffeine?
Caffeine has been shown to increase endurance performance by providing a mental boost, improving alertness and concentration
Are these gels isotonic?
Yes.
Will these upset my stomach?
75mg of caffeine is the equivalent to one cup of coffee or one can of energy drink. However, individuals tolerate caffeine consumption differently to others, so make sure you try it out in training, before use in competition.
Will they fit in my cycle jersey pocket?
Yes! All SiS GO Gels are lightweight, compact and designed to fit in jersey pockets, cycle bags and waist packs. They are pressure tested, so don't worry about the packaging tearing or bursting during exercise.
You may also like
We found other products you might like!
Verified Reviews
Rated

4.7

out of 5 based on

20

Reviews
It tastes like Robitussin cough medicine, but it gives me that boost I need around mile 8.
Easy to use while running. A bit tart but still great tasting. No jitters which is so nice compared to other energy products.
The flavors of the gels are good, and they aren't thick. They ate very easy to get down, and you don't need to chase it with any liquid, but do be sure to hydrate! They do exactly what they're supposed to do. I use them on long runs or cold/hot runs, and I never cramp up from them. One time I had a really bad side stitch because I hadn't consumed enough carbs before getting halfway into my run. I took one SiS gel and it went away pretty quickly (5 or so minutes), so I was able to finish my run.
Great product for a long ride or race. No stomach issues and the easy to use on the bike. Will order more of these after my trial.
This gels are absolutely amazing. Love everything about them. The flavors, the liquid texture to them and the best part, that they do not cause GI distress under any circumstances. I've used them in training and during racing and no problems whatsoever. And this ones with caffeine are the best because they give a noticeable kick with no jitters.
Tastes great and works as advertised
On my long rides these have helps battle some of the mental fatigue that creeps in. Very nice flavor too.
Excellent. Easy to carry and take on the run. Great taste and no need for water.
Love the texture of the energy gel packets. They are not gel like and easy to get down. Energy wise, worked really well during Ironman World Championships 70.3. I took one right when I got on the bike, and then right before I got on the run, and it gave me the energy I needed to feel consistent with pacing and everything. Very solid product, interested in see what else your company can provide to get me to that next stage.
Definitely great tasting and I nice steady jolt of energy. Nothing too crazy. Will order again for sure.
The gel was easy to swallow, tasted good and seemed to keep my energy up until after I had eaten all that I had brought with me on a long ride in the mountains. Would have been nice to have had at least one more gel by the end of the ride.
Taste like cough medicine, but it seems to work well enough
Product is amazing, great pack, works as advertised, like it and use it for rides of over 2hours
Great tasting gel that keeps my energy up throughout my ride
Smooth texture and consistency makes these easy to drink/eat while on a run or bike ride. Flavor is good too!
First off 5 starts for product performance. The SIS gels are fantastic and easy to consume even while running. Normally I am plagued with cramps when I try and nutrition while running, but the SIS gels have worked great during my training for my next 70.3 distance tri. The 2 star rating is for flavor. The caffeine berry taste quite bad, reminds me of cherry medicine as a kid. I would suggest a different flavor.
Was hoping for something with a little more caffeine but it gets the job done. Not quite enough to give you the shakes but will spike your energy a little.
Provides boost of sustained energy
I am not crazy about the taste but it works well.
Easy to get from your rear pocket and rapid digestion with no discomfort. Great balance of caffeine and important nutrients to replenish while exercising.