GO Energy Bar Variety Pack
Save 50%
Special Price
$5.00
Was
$10.00
Product Code
Pack includes:
GO Energy Bar 40g Apple & Blackcurrant x1
GO Energy Bar 40g Chocolate Fudge x1
GO Energy Bar 40g Red Berry x1
GO Energy Bar 40g Banana Fudge x1
GO Energy Bar 40g Blueberry x1
FREE Shipping with order $49
Product Information
When you want a nutritious snack that gives you energy fast. SiS GO Energy Bar combines a scientific approach with real fruits and wholesome ingredients. Proven by thousands of athletes in the world's toughest races, it meets their demanding energy needs. SiS GO Energy Bar is moist, delicious and easy to digest. Perfect before or during exercise and as an energy loading snack between meals.
Pack includes:
SiS GO Energy Bar 40g Apple & Blackcurrant x1
SiS GO Energy Bar 40g Chocolate Fudge x1
SiS GO Energy Bar 40g Red Berry x1
SiS GO Energy Bar 40g Banana Fudge x1
SiS GO Energy Bar 40g Blueberry x1
Key Features:
25-27 grams of carbohydrates packed into each bar
Made from natural fruit ingredients
Convenient size for fueling during training or racing
Informed Sport Registered: Our complete product range is developed using a world-class approach to banned substance testing, providing assurance for athletes. For more information on Informed Sport & our unique world class approach, 
click here
.
Product Uses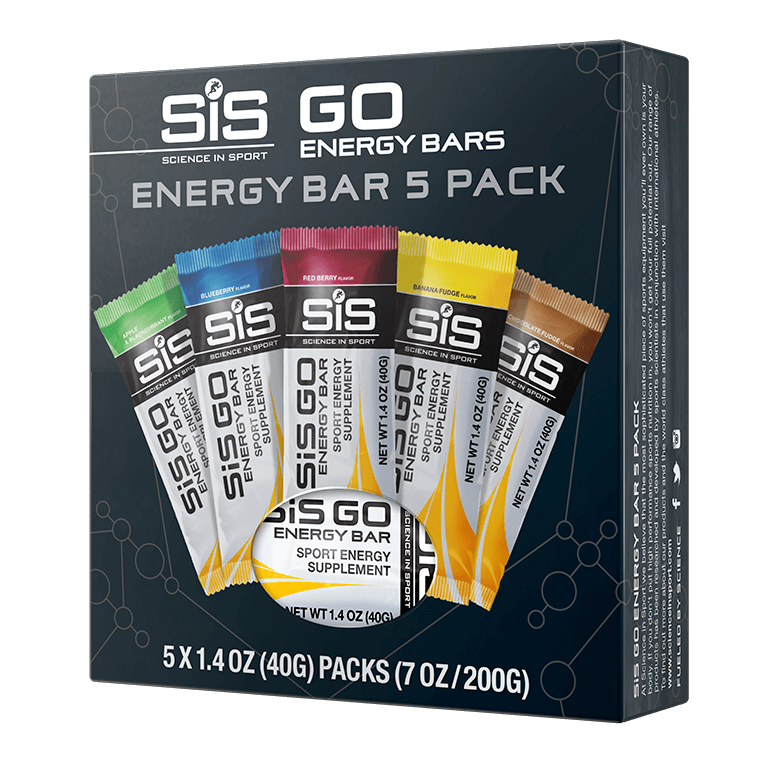 Nutritional Info
For nutitional information about the individual products within this pack, please see the relevant product page for each product.
Read More
FAQ's
When should I eat these versus any of the SiS gels?
Containing fast absorbing carbohydrates, these can be used with or between meals to increase carbohydrate intake as well as a pre exercise snack. During a race, a commonly used strategy is to take on solid foods like SiS GO Energy bars during lesser intense parts because bars require more blood flow to absorb them compared to other energy products.
How often should I eat one while exercising?
If you're exercising for over 90 mins you should take on additional carbohydrates. Aim for 1 or 2 bars per hour, or consume with other products to hit 60g of carbohydrates per hour during exercise e.g 1 x SiS GO Energy Bar Mini and 1 x 500ml GO Electrolyte.
Will they fit in my cycle jersey pocket?
Yes! SiS GO Energy Bars are lightweight and compact, designed to fit in jersey pockets, cycle bags and waist packs.
Are these bars gluten free?
SiS GO Energy Bars are not suitable for vegan, coeliac and gluten free diets due to their oat content.
What is the sugar content in these bars?
A 40g SiS GO Energy Bar contains 10g of naturally occurring sugars from fruit, with no added sugar.
You may also like
We found other products you might like!
Verified Reviews
Rated

4.6

out of 5 based on

20

Reviews
I love this bars, not too dry, not soft ad well. I find that during long rides the heats up in my back jersey pocket to body temperature. This makes it easier to chew and swallow.
I have enjoyed the flavours.
Go bars are compact and good to chew on during a race- feel more substantial than just using gels
Great bars. Good range of flavours
Energy bars are a good pick me up, and are very convenient.
easy digestable and perfect for cycling
Great combinations of flavors, great taste.
Another great bundle to purchase. I really like the bars and I have tried many of the energy bars out there. Most of them either give me GI Issues or cause bloating and indigestion. But these are easy to eat and digest and taste great too. They are smaller than other bars but pack as big if not bigger amount of nutrition. I even keep some of these in my car in case I need a healthy snack.
..........................................................................................
These bars taste fine, but the are hard to chew. Not good if you are trying to consume on the bike. I wouldn't eat them off bike either. Not really enjoyable. I prefer Fig Bars.
I haven't used any yet. I plan to use for upcoming training but have not used the bars yet.
The one version I have tried so far was very tasty. Perhaps a little sweet, but that made it more like a treat mid ride.
Loved these suckers! Small, handy and full of flavor.
Great way to test flavors...
Taste good. Nice energy boost.
Those taste great! Easy on the stomach
Did like chocolate flavor.
I am satisfied. Banana is by far the best flavor.
Nice alternative to gels, something to actually chew on. Tasty, nice fuel.