In stock
Product Code
sis-bundle-11n
Save 30%
Was
$71.09
$49.76
Product Code
This pack contains everything you might require to fuel those extra miles complete with products for before, during and after training! Includes:
REGO Rapid Recovery 500g
GO Electrolyte 500g
GO Isotonic Energy Gel 6 Pack
GO Energy + Caffeine Gel 6 Pack
GO Hydro Tube
800ml Pro Yellow Bottle
Bundle Information
GO Isotonic Energy Gels:
Flavored carbohydrate gel with added sweetener. SiS designed the world's first isotonic energy gel to be clean in the mouth and easy to digest. Our patented product means it delivers energy fast without the need for extra water for when you need a fast, convenient energy boost. Winner of the Queens award for enterprise, this innovative product continues to be seen at the forefront by endurance athletes. Use during endurance sessions and events to help avoid crashing.
Key Features:
Fast acting energy gel.

No need for additional water.

Informed Sport tested.
GO + Caffeine Energy Gels:
Our award winning gel technology delivers fast energy with a caffeine boost that's easy to take. SiS GO + Caffeine is clean in the mouth and easy to digest. When you want an energy boost, but want the benefits of caffeine too. Use before or during an activity for added physical and mental focus when you want to get an edge.
Key Features:
Flavored maltodextrin gel with caffeine and added sweeteners.

High caffeine content: 75mg.

Award winning gel technology delivers energy fast.

Clean in the mouth and easy to digest.
GO Electrolyte 500g Tub:
SiS GO Electrolyte gives you energy fast and contains balanced electrolytes to enhance your body's ability to absorb water, maintain endurance performance and protect against cramps.
Key Features:
As easy to drink as water, SiS GO Electrolyte puts back what you sweat out.

Ideal for indoor workouts, exercise in the heat or any time when you are sweating heavily or dehydrating.

Fast hydration plus sustained energy for before and during exercise.

When you want a balance of energy and hydration.

It is light on the stomach.

Use before to prepare and during an activity when you are sweating heavily.

Available in Lemon & Lime, Blackcurrant, Tropical Fruit 1.6kg Tubs.
About SiS GO Hydro
SiS GO Hydro meets your sodium requirements at a specific concentration (30mmol/L) that is scientifically proven to produce superior hydration compared with water alone. It was developed to keep the British Sailing team optimally hydrated at the 2008 Beijing Olympics. Simply drop a tablet into water for effective hydration, with virtually no calories, before and during sports.
Benefits of the SiS GO Hydro
During moderate to intense exercise, we can produce up to 2 liters of sweat per hour depending on the environmental conditions. Sweat contains vital electrolytes, including sodium. Sodium is the most important electrolyte as it helps to stimulate thirst, improve taste and promote absorption and retention.
If fluid and electrolyte losses are not replaced, dehydration occurs which is a major cause of fatigue. Once dehydrated, our body temperature rises; our heart rate increases; we deplete carbohydrate stores quicker and we perceive the exercise to be more intense. SiS GO Hydro can help prevent this, with the aim not to lose more than 2% of our body mass.
Berry flavored electrolyte mix with natural elderberry extract and added sweetener in 20 tablet pack.
Directions For Use:
Add 1 SiS GO Hydro tablet to 500ml of water and let it dissolve. Once prepared consume within 24 hours. Do not consume more than 4 tablets per day.
Recommended Usage:
Consume 500ml of SiS GO Hydro 3-4 hours prior to your event with a further 250-500ml in the hours before starting. During exercise of a shorter length where carbohydrate intake is not necessary, consume 500 ml of SiS GO Hydro per hour. If aiming to combine hydration and energy delivery, consume SiS GO Electrolyte with the SiS GO Gel range.
Key Features
Simply drop in water to provide a high electrolyte drink

High in sodium to help promote hydration

When hydration is required without the added calories

Contents: 20 x 4.3g Tablets

Suitable For Vegans.

Best If Used By: 6 Months After Purchase
REGO Rapid Recovery Drink Powder - 500g Tub:
Providing rapidly digestible protein also provides amino acids to support muscle protein synthesis for growth and rebuild. Soy has a complete amino acid profile to which we have added additional leucine to make the formulation even more effective. Leucine is an amino acid which is known to switch on the signalling for muscle protein synthesis, amplifying the affect.
Key Features:
To recover, rebuild and support the body's adaptation to training.

When you are in a training program and need your body to adapt to increasing demands.

A full spectrum recovery product for periods of intense training.

Developed with feedback from the Olympic cyclist Chris Boardman, it helps your muscles to recover and rebuild.

Use immediately after exercise to help your body adapt to increased training demands to become stronger as quickly as possible.

Easy on the stomach, so it can be taken after hard exercise.
Informed Sport Registered: Our complete product range is developed using a world-class approach to banned substance testing, providing assurance for athletes. For more information on Informed Sport & our unique world class approach, click here.
Product Uses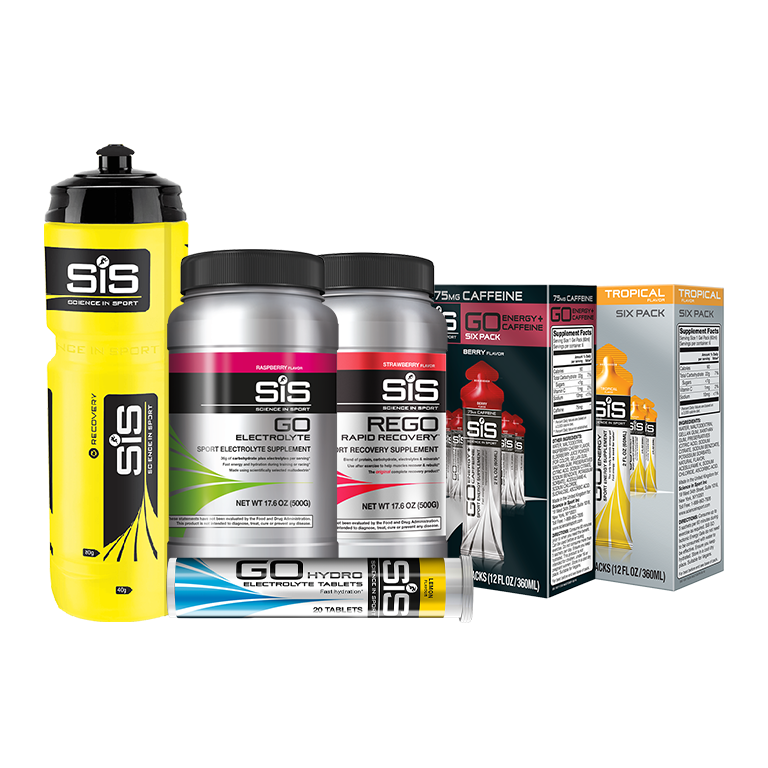 Verified Reviews
Rated

4.8

out of 5 based on

6

Reviews
you will save some $ on the bundle
Taste is key, and SiS has the key!
Value for money,I suggest it with no second word!
Great product. Gems are awesome!
Nice variety, recovery mix, and a good bottle.
Everything you need. Great products, good flavors, fair prices.