Injuries are an inevitable part of training and competition but there are ways of reducing your risk of suffering muscle strains, tears and broken bones.
Stretching can prime the body prior to performance, while consistent quality sleep and nutrition will ensure your body recovers between sessions.
Nutrition is particularly important. Your muscles, joints and ligaments need certain vitamins and minerals to protect them so that they can withstand wear and tear well into later life.
While it's important to try and achieve this through food and drink, supplements offer a targeted, easy solution and we have several that are specifically designed for people with active lifestyles.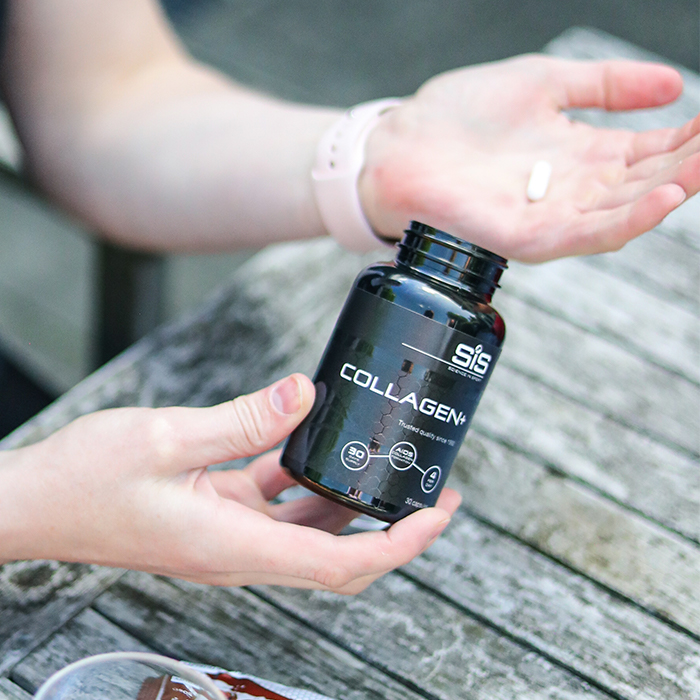 Collagen +
What's the product?
Running, jumping, twisting and turning can put strain on your joints and tendons so it's important you protect them if you want to avoid injury and a dreaded trip to see the physio.
Our Collagen + capsules contain a host of ingredients that will protect your joints and tendons so you can perform at your best all year round.
How will it help?
Collagen + is a protein that protects joints and bones and is also responsible for skin elasticity and healthy teeth and hair.
It also contains turmeric, a substance that has anti-inflammatory qualities that could boost the health of your joints.
When should I use it?
Either take one capsule daily, or if you prefer our Collagen + powder, mix with water to make a smoothie and drink one per day.
Performance collagen shot
What's the product?
Our Performance Collagen shot provide another way of supplementing your diet to protect your joints and bones.
Despite being tiny in size, both formulations are crammed with a high dose of 20g of collagen, as well as vitamin C.
How will it help?
Taking our shot on a daily basis will help to protect your joints and bones from wear and tear and hopefully allow you to train and perform well into later life.
When should I use it?
Consume one Performance Collagen Shot 60 minutes before weight bearing or mechanical loading exercises. During times of bone or joint injury and the rehabilitation phase, take 1-2 shots daily.