SiS Sleep Plus Juice Apple & Blackcurrant 20 pack
Save 30%
Special Price
£21.00
Was
£30.00
£1.05/serving
Product Information
About Science in Sport Performance Sleep Juice Plus
SLEEP PLUS Juice contains a blend of carbohydrate, tart cherry, theanine, tryptophan, glycine and magnesium that is designed to help improve an athlete's overall sleep quality. Delivered in the form of a concentrated juice, SLEEP PLUS Juice should be consumed within 30-60 minutes before going to bed where it can be mixed with water to make to make a pre-bedtime cold drink or a hot tea.
Alternatively, SLEEP PLUS Juice can be blended with yoghurts and solid foods to make a pre-bedtime high protein and carbohydrate smoothie. By improving overall sleep quality, SLEEP PLUS Juice is designed to help athletes recover from intense exercise and to help them get ready to perform at their best the next day, whether that is training or competition.
Key Features:
Designed to improve an athlete's overall sleep quality
Consume 60 minutes before going to bed
Informed Sport Tested
20g of Carbohydrates per serving
Product Uses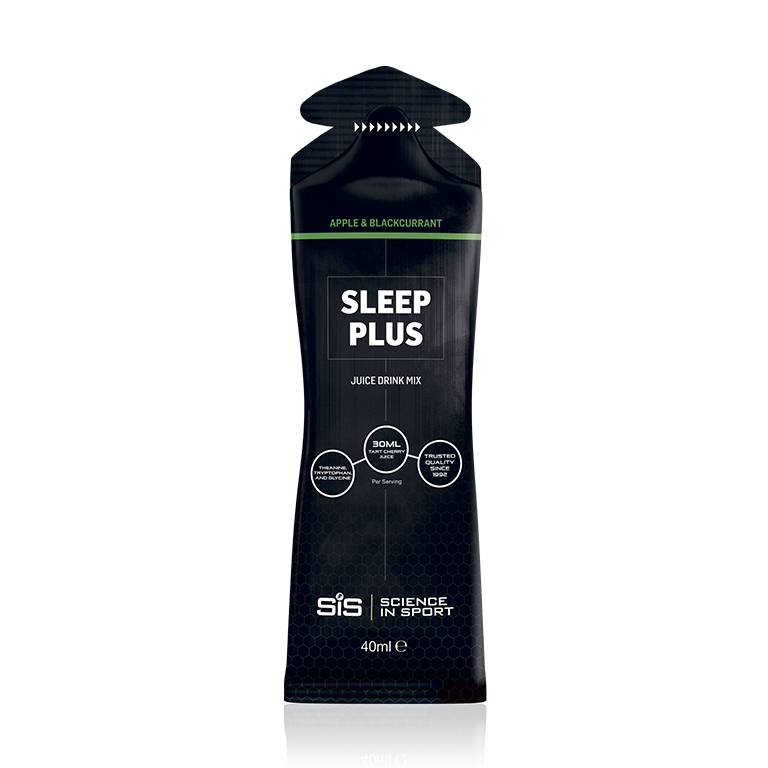 Recommended Usage
Add one sachet of SLEEP PLUS Juice to 200ml of hot water to make a bedtime tea, and consume 30-60 minutes prior to bed. Alternatively, add to 200ml cold water, yoghurt, smoothies or recovery shakes before bed.
Food Supplement: Apple and blackcurrant flavour tart cherry juice concentrate with amino acids, magnesium and added sweetener.
Store in a cool, dry place out of direct sunlight. Food Supplements should not be used as a substitute for a balanced diet.
Benefits
Sleep is a critical component to help athletes recover and adapt from the intense physical demands of training and competition. Athletes in both endurance and team sports often report sub-optimal durations of sleep as well as difficulty with actually getting to sleep in the first instance, the latter is especially the case when training or competition is performed late in the evening.
Athletes also report that their sleep quality is severely compromised during times of intense travel, training and competition schedules as can often be the case with training camps and repeated days and weeks of competition. In relation to physical and mental performance, consecutive days of sleep restriction can be catastrophic for performance given that it increases susceptibility to illness and impairs decision making, muscle strength and endurance exercise performance. With all this in mind, SLEEP PLUS Juice is formulated with a blend of ingredients (including carbohydrate, tryptophan, glycine, theanine, magnesium and tart cherry) to help promote feelings of relaxation and sleepiness, reduce the time taken to fall asleep, increase overall sleep duration and ultimately, reduce feelings of fatigue upon waking on the subsequent morning.
Nutritional Info
Nutritional content below is for the Apple & Blackcurrant Flavour
| Typical Values | Per 100ml | Per Serving 40ml |
| --- | --- | --- |
| Energy | 915kJ / 219kcal | 366kJ / 88kcal |
| Fat | 0g | 0g |
| of which saturates | 0g | 0g |
| Carbohydrate | 53g | 21g |
| of which sugars | 44g | 18g |
| Protein | 1.4g | 0.6g |
| Salt | 0.01g | 0g |
| Tryptophan | 2.5g | 1g |
| Glycine | 7.5g | 3g |
| Theanine | 500mg | 200mg |
| Magnesium | 750mg | 300mg |
* Reference intake of an average adult (8400 kJ/2000 kcal)
Ingredients:
Tart Cherry Juice (Prunus Cerasus) (67%), Water, L-Glycine, L-Tryptophan, Magnesium Chloride, L-Theanine, Flavouring, Thickener (Xanthan Gum) Citric Acid, Sweetener (Sucralose), Preservatives (Potassium Sorbate, Sodium Benzoate).
Read More
Verified Reviews
Rated

3.4

out of 5 based on

20

Reviews
Tastes isn't to my liking first product from sis thats been like this
Delivery was excellent I didn't wait long. The product itself I feel is definitely helping me have better sleep than I had been before using this product. Once I'd got used to the tart taste everything settled down I will be buying again.
Help you sleep and recover
Honestly, apart from the concentrated Tart cherry juice (Tart cherry juice are naturally rich in melatonin, a hormone responsible for sleepiness) there's little else talk about in these, BUT they do seem to work. When I need to, I take one about 30 mins before bed time, in half a glass of hot but drinkable water and I was a little sceptical at first, they do work for me.
The taste isn't very nice, like the most bitter parts of both apple and blackcurrant together, and I can't say I've seen any change in my sleep quality or physical recovery after having had them.
Absolutely unreal! After a hard workout in the day and having one of these before bed you wake up feeling good as new!! I highly recommend
I wish it tasted like it says but it has never tasted like any apple & blackcurrant that I have ever tasted
Taste is quite refreshing. Did NOTHING for my sleep pattern (both subjectively and objectively via Garmin sleep tracker) or how I felt the next day (after using it consistently for 2 weeks) but did make me drink more before bed so possibly hydration improved.
Does the trick for me. I struggle sleeping after hard workouts. With this, I am out for the count within the hour then sleep right through. Strong taste of tart cherry juice so I need to neck it with a small cup of warm water, but still worth it.
Too soo to say if it makes a difference, it's certainly an acquired taste !
Box of Sleep Plus arrived promptly & tried it that night. I've worked hard to improve my sleep duration and quality - and Sleep Plus promised to further help that. And it did. The first night felt like a very deep sleep (I've just bought a sleep tracker so can use that to compare some data for it) and subsequent nights less heavy, but woke refreshed. I won't use all the time, but a good back up post big training sessions / ahead of a big day.
very sweet taste, but works well
It had no definite improvement on my sleep.
It was never delivered. Got as far as Hermes distribution yard in Bridgewater never to be seen again. SIS did give me a very prompt refund.
I ama big fan of SIS products but this one is dreadful. Apart from the flavour is unusual it had no effect on my sleep pattern nor did I feel refreshed in the morning. I tested it on my wife who felt sick after she took a sachet. Was this product tested on humans? Happy to hear from SIS on my comment on this product.
Taste description said Tart and it was ! Not for me in a cold drink - but mixed with yoghurt which was ok - Garmin did register a slight improvement in deep sleep which was ok, but at the end of a long shift making up a batch of yoghurt & mix was a bit of a pain - glad I tried but didn't work for me
My new favorite product! Works very well!
Didn't seem to have any effect