In stock
Product Code
sis-bundle-1t
Save 30%
Was
£80.00
£56.00
Product Code
Bundle Includes:
2x REGO Rapid Recovery 1.6kg (Choice of Flavours)
1x choice of Protein Shaker
Bundle Information
About REGO Rapid Recovery Drink Powder
REGO Rapid Recovery is a complete recovery product to be consumed immediately after exercise. Containing a blend of carbohydrate (22g), protein (20g) and electrolytes with vitamins and minerals REGO Rapid Recovery is also an ideal food supplement to help you meet your macro-nutrient needs.
Rapid replenishment of your glycogen stores and the provision of protein helps you to get the most from your training and prepare you for your next session.
Key Features: REGO Rapid Recovery:
• Optimal protein serving size of 20g with 2g of leucine to promote the rebuilding of muscle tissue
• Use after exercise to replenish your energy stores fast
• Ideal for lactose intolerant individuals
• Food supplements should not be used as a substitute for a varied diet.
• Keep out of the reach of children.
Key Features: Shaker 700ml:
• Secure screw top
• Wide mouth for easy drinking
• Dishwasher safe
• Unique easy mix system
Product Uses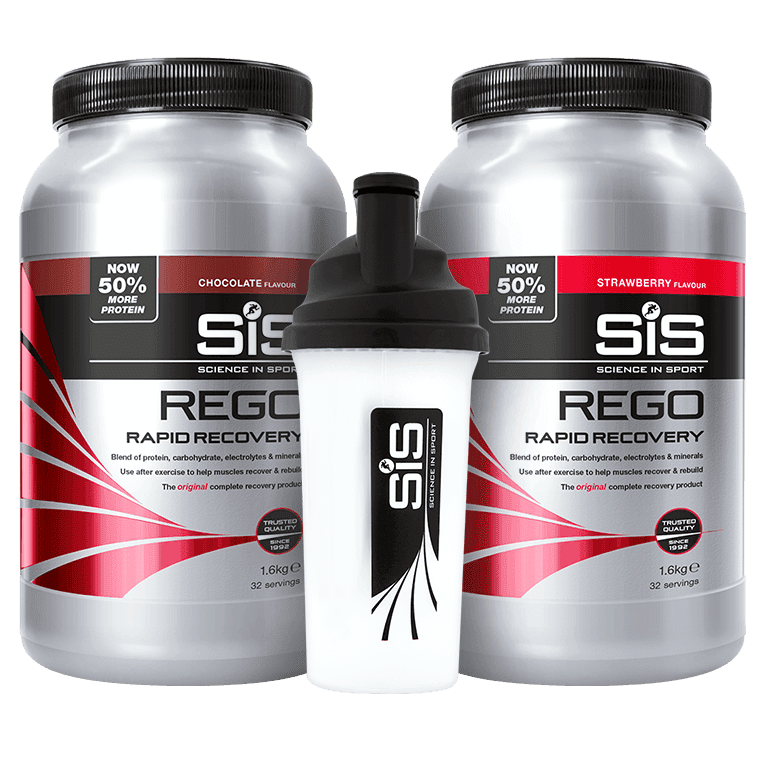 Nutritional Info
For nutritonal information about the individual products within this pack, please see the relevant product page for each product. Example below is for Banana flavour.
| Typical Values | Per Serving (50g) | Per 100g |
| --- | --- | --- |
| Energy | 782kj/184kcal | 1564kj/368kcal |
| Protein | 20g | 40g |
| Carbohydrate | 23g | 46g |
| of which sugars | 5.1g | 10g |
| Fat | 1.3g | 2.6g |
| of which saturates | 0.2g | 0.4g |
| Fibre | 0.3g | 0.6g |
| Salt | 1.0g | 2.0g |
| Vitamin D | 1.0ug (20%) | 2.0ug (40%) |
| Vitamin E | 2.8mg (23%) | 5.6mg (46%) |
| Vitamin C | 24mg (30%) | 48mg (60%) |
| Thiamin | 0.5mg (45%) | 1.0mg (90%) |
| Riboflavin | 0.6mg (42%) | 1.2mg (84%) |
| Niacin | 7.3mg (45%) | 14.6mg (90%) |
| Vitamin B6 | 0.8mg (57%) | 1.6mg (104%) |
| Folic Acid | 50ug (25%) | 100ug (50%) |
| Vitamin B12 | 0.4ug (16%) | 0.8ug (32%) |
| Biotin | 18ug (36%) | 36ug (62%) |
| Pantothenic Acid | 1.5mg (25%) | 3.0mg (50%) |
| Potassium | 300mg (15%) | 600mg (30%) |
| Magnesium | 57mg (15%) | 114mg (30%) |
| Iron | 2.4mg (17%) | 4.8mg (34%) |
| Zinc | 2.0mg (20%) | 4.0mg (40%) |
| Iodine | 23ug (15%) | 46ug (30%) |
Ingredients:
Carbohydrate mix (46%) (Maltodextrin (from Maize), Fructose), Protein (46%) (Soy Protein Isolate), Electrolytes (3%) (Sodium Chloride, Potassium Chloride, Calcium Lactate, Magnesium Oxide), Natural Flavourings, L-leucine, Emulsifier (Soy Lecithin), Thickener (Xanthan Gum), Colour (Beetroot Red), Vitamins & Minerals (Ascorbic Acid, Nicotinamide, Alpha Tocopheryl Acetate, Ferric Pyrophosphate, Zinc Sulphate, Calcium Pantothenate, Pyridoxine Hydrochloride, Riboflavin, Thiamin Mononitrate, Calcium Citrate, Folic Acid, Potassium Iodide, Biotin, Vitamin D3, Cyanocobalamin), Sweetener (Sucralose)
Read More
FAQ's
When should I have this?
REGO Rapid Recovery should be consumed within 30 minutes of stopping exercising after short, intense sessions and prolonged endurance sessions.
What is the difference between REGO and Whey Protein?
Use REGO Rapid Recovery when the aim is to replenish carbohydrate energy stores and take on protein for rebuild, Whey Protein contains a lower level of carbohydrate.
Do I mix with water or milk?
Although milk is high in protein, milk is made up of 80% casein, which is slow digesting. Mix with water to increase absorption rates and aid hydration levels.
What type of protein does this contain?
REGO Rapid Recovery contains soy protein isolate, which is made from the de-fatted beans leaving a high quality protein source and a full amino acid profile.
Why isn't it suitable for vegans?
REGO Rapid Recovery contains vitamin D, which is derived from animal sources.
How much protein is there per serving?
REGO Rapid Recovery contains 20g of protein.
How many scoops per serving:
Add 50g (approximately 3 scoops) to 500ml of water and mix well.
You may also like
We found other products you might like!

Verified Reviews
Rated

4.9

out of 5 based on

20

Reviews
Un pack parfait pour les débutants ou ceux qui ont déjà testés le produit de récupération. 2Kg de produit et un shaker adapté. Je recommande.
Been using this product for several years now, nice flavour and good value for your money
Good taste. Excellent qualità/price rate
Can't beat a bundle on offer! Always worth stocking up.
LO MEJOR HACER LOTES A BUEN PRECIO
Fantastic value for money, I think the bundle ideas are a great idea and affordable
Jag älsker SIS RECO rekommenderad varje gång köper jag 2-4 st
Unai Balenciaga Gaztelurrutia
perfect for recovery after hard train
Very good offer! I bought with the 50% discount
For a little more that the regular price of just one tub, you get two, plus the choice of one of 3 shakers. Can't go wrong.
Excellent value for money.
You get good discount and free shaker with the REGO bundle, so I usually order a chocolate and vanilla 1.6kg. Best price I can find anywhere.
Good recovery drink, seems to work and tastes ok.
excellent value could really tell the day after was ready to go again
Great value for your money
Oferta a muy buen precio, excelente producto y combinación
great deal on the REGO bundle. do not get the SmartShake as it is a complete waste of money and does not fit 500ml of water with the powder.
Best purchase like this bundle
I have only tried the chocolate flavour so far, but it tastes good, and appears to help with my recovery. Only time will tell. This bundle was a lot cheaper than buying the 1kg tubs, even when on offer. Bottle is of a very good quality too.
Great product that really helps recovery, after 40+ miles on bike this helps replace essential minerals etc in the body and it tastes great.