SiS Beta Alanine - 90 Tablets
Save 40%
Special Price
£7.20
Was
£12.00
£0.08/serving
Product Code
1.6g of high quality Beta Alanine per serving
A popular component of 'pre-workout' supplements
Convenient tablet format
FREE DELIVERY ON ORDERS OVER 35
Product Information
Key Features: Beta Alanine

This a convenient source of Beta Alanine, used in a variety of sports:
1.6g of high quality Beta Alanine per serving
Convenient tablet format
A popular component of 'pre-workout' supplements
About Beta Alanine
Beta Alanine is the latest addition to the Science in Sport range, offering a convenient way to help increase physical performance.
The product contains 100% pure Beta Alanine and is recommended for use during short bouts of high intensity exercise.
Each serving contains 1.6g of Beta Alanine.
Benefits of Beta Alanine
Beta Alanine is a naturally occurring, non-essential beta amino acid. Beta Alanine combines with muscle L-histidine, helping to increase muscle carnosine stores. Often, Beta Alanine is the limiting factor of low muscle carnosine stores.
Beta Alanine is a commonly used supplement among explosive sports and some endurance events. A daily intake of 3.2g Beta Alanine is recommended for high intensity exercise lasting 1-4 minutes
Beta Alanine is tested under the Informed Sport Certification program. This approach involves testing every single batch of our finished product which leaves the Company's factory, screened against the 2017 World Anti-Doping Agency (WADA) list. Banned substances including steroids are tested to the level of 10 Nanograms per gram, and stimulants to 100 Nanograms per gram. Batches (sampled at the beginning, during and end of each product batch) receive the recognised and respected Informed Sport* certificate and Science in Sport provides the documentation to athletes on request.
Recommended Usage
Take 2 tablets, twice per day. Ideally, take around 30 minutes pre-workout.
Suitable for: Vegetarians; Coeliacs; Gluten Free; Wheat Free; Nut Free, Milk Free, Lactose Free

Related Products:

Product Uses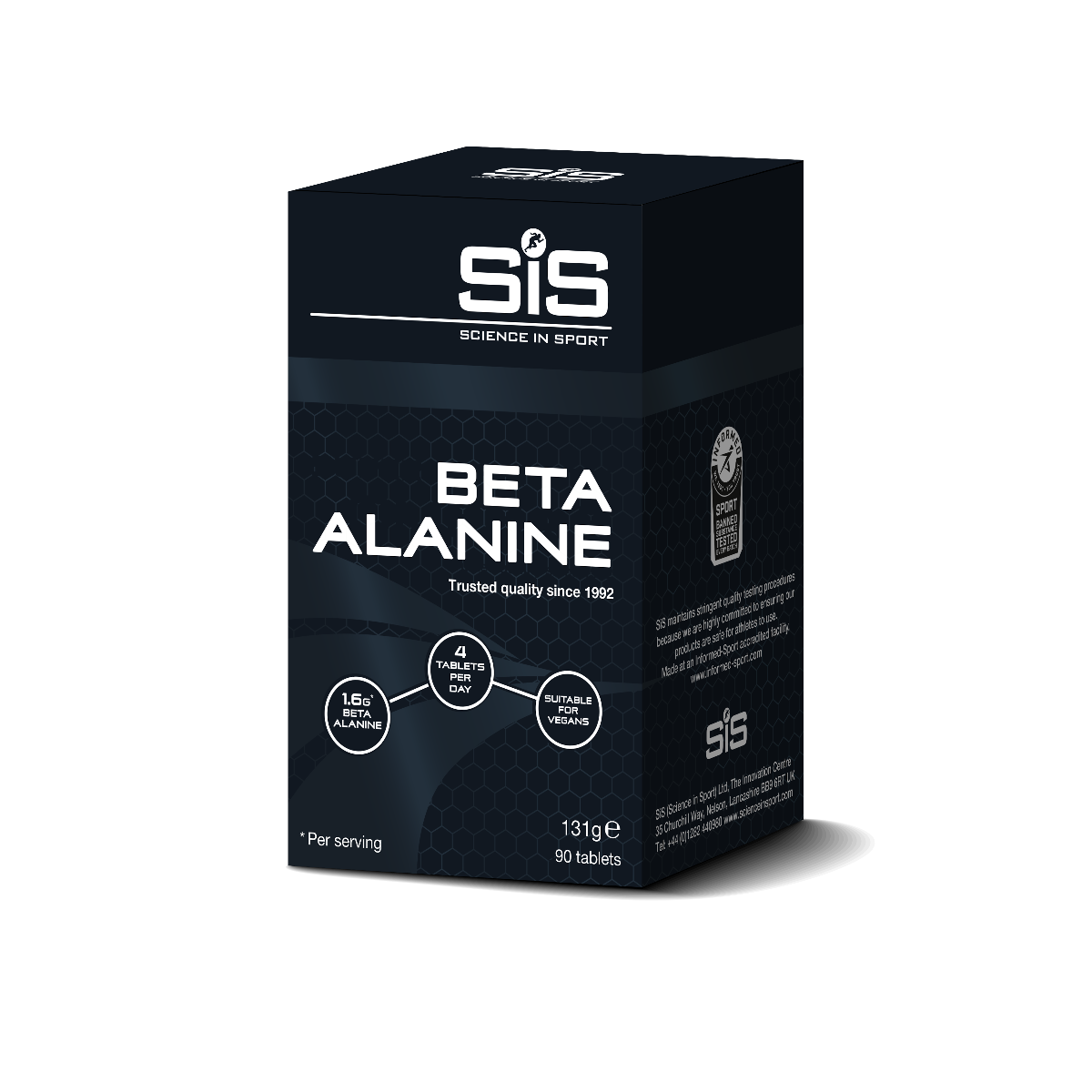 Nutritional Info
| Typical Values | Per Serving (2 tablets) |
| --- | --- |
| Beta Alanine | 1.6g |
Ingredients:
Beta Alanine, Bulking Agents (Dicalcium Phosphate, Microcrystalline Cellulose), Time Release Agent (Mantrocel K4M), Glazing Agents (HydroxyPropylMethylCellulose, Glycerin, Carnauba Wax), Anti-Caking Agents (Stearic Acid, Magnesium Stearate, Silicon Dioxide)
Read More
FAQ's
What is Beta Alanine?
Beta Alanine is a naturally occurring non-essential beta amino acid


How does Beta Alanine work?
Carnosine is synthesized in skeletal muscle from L-histidine and Beta Alanine- amino acids. Elevated muscle carnosine levels have been associated with increased tolerance to muscular fatigue during exercise.


What does Beta Alanine do?
Supplementation with beta alanine has been shown to increase muscle carnosine content and therefore total muscle buffering capacity, with the potential to improve physical performance during high-intensity exercise. Studies on beta alanine supplementation and exercise performance have demonstrated improvements in performance during multiple bouts of high-intensity exercise and in single bouts of exercise lasting more than 60 seconds.


Does it have any side-effects?
Beta Alanine may cause a small tingling effect in the skin, which usually wears off after a few minutes


Do I need to take it every day?
Aim to consume 3.2g of Beta Alanine per day, 2 tablets, twice per day.


I'm an endurance athlete, will Beta Alanine help me?
Beta Alanine supplementation has been shown to enhance time trial performance which may reflect in certain aspects of endurance performance. Power based athletes may also benefit from Beta Alanine supplementation
You may also like
Verified Reviews
Rated

4

out of 5 based on

2

Reviews
just like any other Beta Alanine out there really... annoyingly these come in blister packs of 15 given im taking two tablets a day i end up having to get the pack out the cupboard more often than say 16 tabs in a pack... just something to think about SIS
Clearly very difficult to analyse and then prove if this product has the benefits it claims but I trust the science and my road cycling numbers suggest they are certainly not doing me any harm ! Well packaged and good value .