SiS Sleep Plus Juice Apple & Blackcurrant 40ml
Product Information
About Science in Sport Performance Sleep Juice Plus
SLEEP PLUS Juice contains a blend of carbohydrate, tart cherry, theanine, tryptophan, glycine and magnesium that is designed to help improve an athlete's overall sleep quality. Delivered in the form of a concentrated juice, SLEEP PLUS Juice should be consumed within 30-60 minutes before going to bed where it can be mixed with water to make to make a pre-bedtime cold drink or a hot tea.
Alternatively, SLEEP PLUS Juice can be blended with yoghurts and solid foods to make a pre-bedtime high protein and carbohydrate smoothie. By improving overall sleep quality, SLEEP PLUS Juice is designed to help athletes recover from intense exercise and to help them get ready to perform at their best the next day, whether that is training or competition.
Key Features:
Designed to improve an athlete's overall sleep quality
Consume 60 minutes before going to bed
Informed Sport Tested
20g of Carbohydrates per serving
Product Uses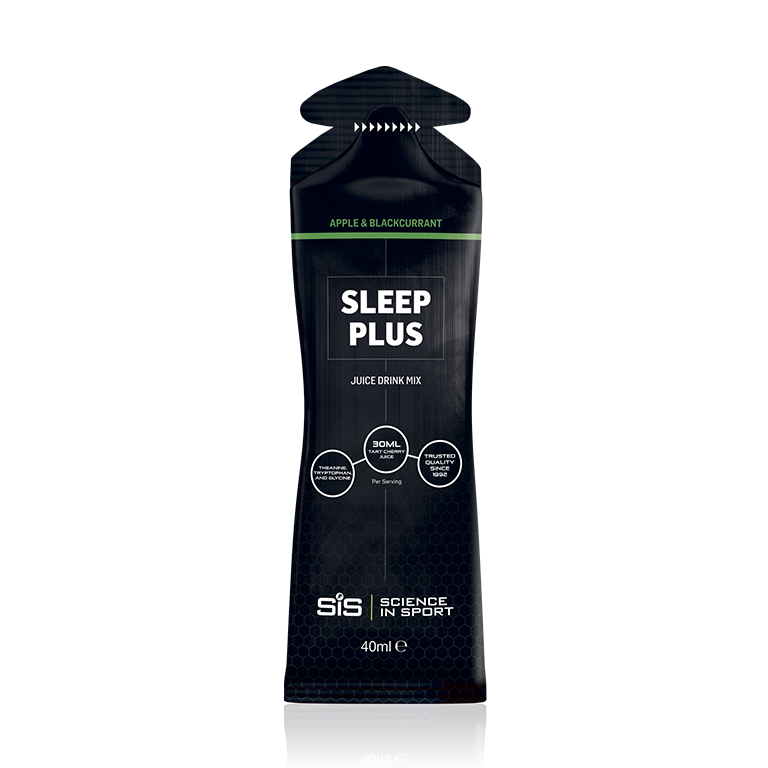 Recommended Usage
Add one sachet of SLEEP PLUS Juice to 200ml of hot water to make a bedtime tea, and consume 30-60 minutes prior to bed. Alternatively, add to 200ml cold water, yoghurt, smoothies or recovery shakes before bed.
Food Supplement: Apple and blackcurrant flavour tart cherry juice concentrate with amino acids, magnesium and added sweetener.
Store in a cool, dry place out of direct sunlight. Food Supplements should not be used as a substitute for a balanced diet.
Benefits
Sleep is a critical component to help athletes recover and adapt from the intense physical demands of training and competition. Athletes in both endurance and team sports often report sub-optimal durations of sleep as well as difficulty with actually getting to sleep in the first instance, the latter is especially the case when training or competition is performed late in the evening.
Athletes also report that their sleep quality is severely compromised during times of intense travel, training and competition schedules as can often be the case with training camps and repeated days and weeks of competition. In relation to physical and mental performance, consecutive days of sleep restriction can be catastrophic for performance given that it increases susceptibility to illness and impairs decision making, muscle strength and endurance exercise performance. With all this in mind, SLEEP PLUS Juice is formulated with a blend of ingredients (including carbohydrate, tryptophan, glycine, theanine, magnesium and tart cherry) to help promote feelings of relaxation and sleepiness, reduce the time taken to fall asleep, increase overall sleep duration and ultimately, reduce feelings of fatigue upon waking on the subsequent morning.
Nutritional Info
Nutritional content below is for the Apple & Blackcurrant Flavour
| Typical Values | Per 100ml | Per Serving 40ml |
| --- | --- | --- |
| Energy | 915kJ / 219kcal | 366kJ / 88kcal |
| Fat | 0g | 0g |
| of which saturates | 0g | 0g |
| Carbohydrate | 53g | 21g |
| of which sugars | 44g | 18g |
| Protein | 1.4g | 0.6g |
| Salt | 0.01g | 0g |
| Tryptophan | 2.5g | 1g |
| Glycine | 7.5g | 3g |
| Theanine | 500mg | 200mg |
| Magnesium | 750mg | 300mg |
* Reference intake of an average adult (8400 kJ/2000 kcal)
Ingredients:
Tart Cherry Juice (Prunus Cerasus) (67%), Water, L-Glycine, L-Tryptophan, Magnesium Chloride, L-Theanine, Flavouring, Thickener (Xanthan Gum) Citric Acid, Sweetener (Sucralose), Preservatives (Potassium Sorbate, Sodium Benzoate).
Read More
Verified Reviews
Rated

3.7

out of 5 based on

16

Reviews
Brilliant. First time using this was a 3-day 99mi run challenge. Felt great each morning....in part lots of food to aid recovery, but sure this helped overnight....usually have restless legs after long runs, expected to be very bad with 3 on the bounce. Easy to make, and great tart cherry flavour.
Doesn't work for me for some reason. Have tried on two occasions. Slept poorly and felt not quite right. Something in the product does not agree with me.
Excellent, found I averaged 20 minutes deeper sleep
Works really well, ordering plenty more.
This is a gamechanger for me. I'm one of those people who can lay awake after an intense workout in the evening. And I sometimes wake up with muscle cramps. Normal melatonin would help me fall asleep but it's a restless sleep. This stuff actually helps me sleep like a baby and in about a months time it hasn't failed me yet and no cramps! (I use it after intense evening work outs) The taste is like juice. Very sweet with a slight sourness in there. I had to get a bit used to it because I'm not really a sweet tooth. I tried split a portion with my wife because of this but it's not effective. I didn't sleep well and it was still sweet so don't try that. I add a bit more water than advised now and it's fine. The package is comparable to the gels but I use a scissors to open this because it's a liquid and can easily spill. The color is bright red so I'm sure that will leave stains. That needs some work SIS. Overall still a 5/5 because baby sleep!
Nice, but not convinced the cost to benefit works out
A strong flavour but it does what is says on the packet
Great product and does exactly what it says. Helped me get a good nights sleep.
I only purchased one of these as a sample test, they taste ok, but really could not tell how effective they are, perhaps I would need to try them over a period of time to evaluate them properly. Debatable whether I need them?
very nice bedtime drink - like a fruit tea
Almost inedible, I mean you can make it go down your throat but it's not pleasant. Sorry I'm sure technically it's great, but needs something to sort the flavouring out.
Had a much better nights sleep taking this and felt stronger in the next days training
Works well to help you sleep
This has to be the most vile tasting product going, who the hell tested this and though..."mmmm yum"
Taste is quite awful and you need to drink very quickly, I added a drop of honey to make it a bit more drinkable, I've yet to see any concrete results from taking it.