Product Code
plant20-bar-12-pack
SiS PLANT20 Bar - 12 Pack
Save 70%
Was
£9.00
Was
£30.00
FREE DELIVERY ON ORDERS OVER £35
Product Information
PLANT20 provides an all-natural, vegan approach to on the go protein whilst being low sugar. Delivering a complete 20g of protein from Pea Protein Isolate and free from palm oil, polyols and artificial sweeteners.
Key Features:
• Low sugar, high protein bar
• 20 g protein per bar from Pea Protein Isolate
• No polyols, palm oil or artificial sweeteners
• 100% vegan certified
• Supports recovery, muscle rebuild and daily protein intake
• Post-exercise
• Day-to-day snacking
Product Uses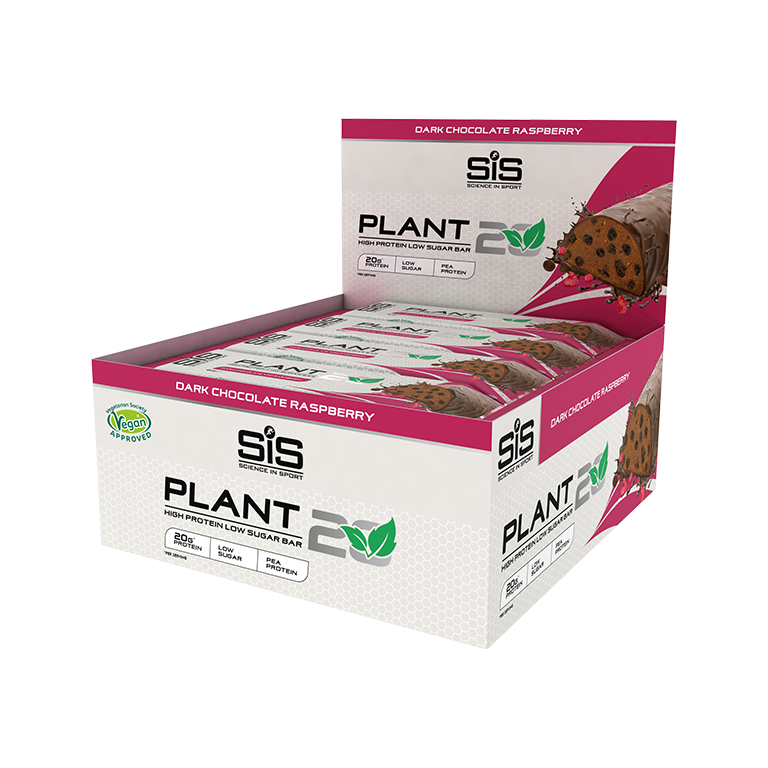 Recommended Usage
Consume 1 bar as a high protein snack throughout the day, or after training.
Store in a cool dry place away from direct sunlight. Nutritional supplements should not be used as a replacement for a healthy balanced diet.
Benefits
Protein is a key nutrient for all active individuals and there are thousands of proteins in our bodies, all of which perform a variety of daily functions to promote health, well-being and performance. We must consume adequate protein in our diet so that we have the relevant building blocks to make the new proteins required for our body to function.
With individual approaches to nutrition ranging from flexitarian to vegan, and specific dietary intolerances evident in nutrition, active populations may fall below the recommended intakes for certain nutrients. Protein may be a nutrient that falls into this category, and given its importance alongside exercise, maintaining a consistent daily protein intake should be prioritised. PLANT20 is an innovative solution providing a convenient protein serving on the go, with 20 g of great tasting, plant-based protein and a complete amino acid profile. PLANT20 is tested under the Informed Sport Certification program, for more information click here.
Nutritional Info
For nutritional information about the individual flavours please contact customer service or view the individual flavour product pages. Example below is for Triple Chocolate Brownie flavour.
| Typical Values | Per 100g | Per Serving 64g |
| --- | --- | --- |
| Energy | 1717kj/413kcal | 1099kj/264kcal |
| Fat | 20g | 12.8g |
| of which saturates | 6.5g | 4.2g |
| Carbohydrate | 14.8g | 9.5g |
| of which sugars | 4.8g | 3.1g |
| Fibre | 23.7g | 15.2g |
| Protein | 31.5g | 20g |
| Sodium | 0.9g | 0.58g |
*Reference intake of an average adult (8400kJ/2000kcal)
Ingredients:
Chicory Root Fibre, Pea Protein Isolate, Chocolate Coating (Cocoa Butter, Soya Flour, Xylitol, Cocoa Mass, Emulsifier: Sunflower Lecithin, Natural Vanilla Flavouring.), Soya nuggets (Isolated Soy Protein, Cocoa (processed with alkali), Tapioca Starch), Almond Paste, Emulsifier: Sunflower Lecithin, Coconut Oil, Almond Flour (4%), Humectant: (Vegetable Glycerine (Rapeseed)), Natural Flavouring, Green Tea Extract, Sweetener (Steviol Glycosides).
For allergens, see ingredients in bold.
Read More
FAQ's
Who is PLANT20 for?
PLANT20 is perfect for anyone looking for a high protein, low sugar snack.
What is the protein source?
The protein in PLANT20 bars is from Pea Protein Isolate.
When should I use PLANT20?
These bars are great as a day-to-day snack, a convenient on the go protein option or post-exercise.
How can these be used after exercise?
PLANT20 can be eaten within 30-60 minutes of finishing a workout, to deliver the protein required to support the process of muscle recovery and rebuild.
Does PLANT20 have fibre?
Yes, PLANT20 bars have 14-15 grams of fibre per bar.
How does this fit into my daily diet?
Alongside a balanced intake with a range of foods and nutrients, PLANT20 can be used as a healthy, daily snack option. PLANT20 are highly satiating bars owing to their protein and fibre content.
Is it Informed Sport tested?
Yes, Science in Sport PLANT20 is tested under the Informed Sport programme.
You may also like
We found other products you might like!

Verified Reviews
Rated

4.8

out of 5 based on

21

Reviews
These bars are really tasty and plant based,i have recently started to change my diet to be more vegan friendly so these are perfect.
Super tasty, high in protein low in sugar and easily digestible for my very fussy IBS tummy!
These were foul tasting and floury. Much prefer the SiS PROTEIN20 bars.
Love these bars after my run, taste great.
Love these, taste fantastic and great after a run.
Great product and very delicious!
I really like this bar, low sugar, taste great, Easy to carry around on a busy day when I don't have time to prepare my lunch.
I would recommend these bars, I love them, great taste and work well.
First time trying these type of bars, my favourite!!!
This is another level very surprised how good that's taste. Make those extra miles worth it.
A very tasty bar that is great for stopping hunger on rides, especially 100km rides or more.
This product is very satisfying, considering it is the veggie? option, esily on a par with it's older brothers and sisters (protein20). Well worth it!