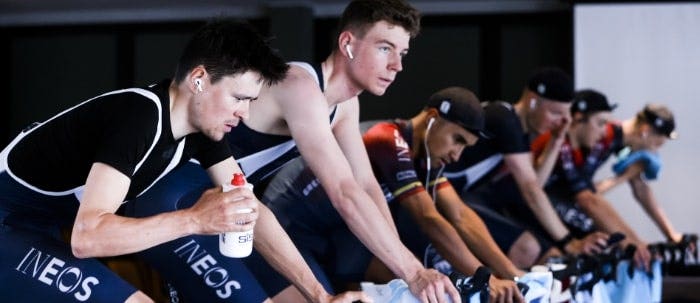 Our energy gel products are a quick and convenient way to get a boost of energy whenever you need it. Utilising maltodextrin as a carbohydrate source, GO Isotonic energy gels maintain a low-sugar profile and improve performance with no need for extra water. We produced the world's first isotonic energy gel, with the GO Energy + Caffeine Gel being clinically proven to improve performance when taken 10 minutes before exercise. Our GO Energy + Electrolyte Gels are formulated with key electrolytes, to replace those lost via sweating.
FIND OUT HOW FREQUENTLY YOU NEED TO TAKE OUR SIS GO ENERGY GELS WHILE RIDING: CALCULATE NOW
Read More
Energy Gels
SiS gels are highly beneficial as part of your fuelling strategy without the liquid volume that can leave you feeling bloated and sluggish. Our complete product range has been developed using a world-class approach to banned substance testing, providing assurance for athletes.
Experience the benefits of our energy gels
GO Energy Isotonic Gel is a world-renowned, convenient isotonic fuelling supplement used by athletes worldwide to maintain optimum carbohydrate levels for increased performance. Find your favourite flavour in our popular 15 pack of GO Isotonic Energy Gel
Our Mixed GO Isotonic Energy Gels come in a 35 pack and are a go-to energy source for elite athletes worldwide. With light and compact packaging, our energy gels can easily fit in cycle jersey pockets, cycle bags and waist packs. They're also pressure tested, so you don't have to worry about them leaking during exercise!
How do SiS gels fit into your overall fuelling plan?
As an athlete of any sport or a specialised endurance athlete, our GO Energy Isotonic Gel can be used on its own to fulfil your fuelling requirements, or combined with other products from our extensive range of Mixed GO Isotonic Energy Gelsenergy spplements.
We also have energy bars and bakes that come in a range of flavours to cover every taste! Hand rolled and made from natural fruit ingredients, they're great as a snack or an energy boost to refuel before or after training and races.
How can we help?
Our friendly team is available seven days a week to help with any questions about your order or our products. You can get in touch via Facebook, WhatsApp, email or live chat.
Our help page also features a breakdown of our frequently asked questions, covering delivery, returns and much more.