In stock
Product Code
sis-bundle-10t
Save 30%
Was
£60.00
£42.00
Bundle Information
Bundle Contents:
• 2x GO Isotonic Gel 6 Pack
• 1x REGO Rapid Recovery 500g Tub
• 1x GO Hydro 20 Tablet Tube
• 1x GO Energy + Caffeine Gels
• 2x Team INEOS Bottle
GO Isotonic Energy Gels - Key Features
• Truly isotonic formulation – no need for water
• 22 grams of rapidly absorbed carbohydrate per gel
• Convenient easy-to-take format
• Contents: 6 x 60ml gels per pack
• Flavoured Maltodextrin gel with added sweetener.
• Suitable For Vegans.
• BBE: Minimum 6 Months+
REGO Rapid Recovery - Key Features
• Optimal protein serving size of 20g with 2g of leucine to promote the rebuilding of muscle tissue
• Use after exercise to replenish your energy stores fast
• Ideal for lactose intolerant individuals
• Suitable for: Vegetarians; Coeliacs; Gluten Free; Wheat Free; Nut Free. Contains Soy.
• BBE: Minimum 6 Months+
GO Hydro - Key Features
• Simply drop in water to provide a high electrolyte drink
• High in sodium to help promote hydration
• When hydration is required without the added calories
• Contents: 20 x 4.3g Tablets
• Suitable For Vegans.
• BBE: Minimum 6 Months+
GO Energy + Caffeine Gel - Key Features
• 75mg of caffeine per gel
• 21-22 grams of carbohydrate per gel (dependant on flavour)
• Formulation delivering energy fast and effectively
• Contents: 6 x 60ml gels per pack
• Suitable for: Vegetarians; Vegans; Coeliacs; Lactose Free; Gluten Free; Wheat Free; Nut Free
• BBE: Minimum 6 Months+
Team INEOS Fly Bottle (550ml)
• Official bottle as used by Team INEOS in training & races
• Soft rubber nozzle
• Wide-neck opening
• Dishwasher safe
• 550ml
Product Uses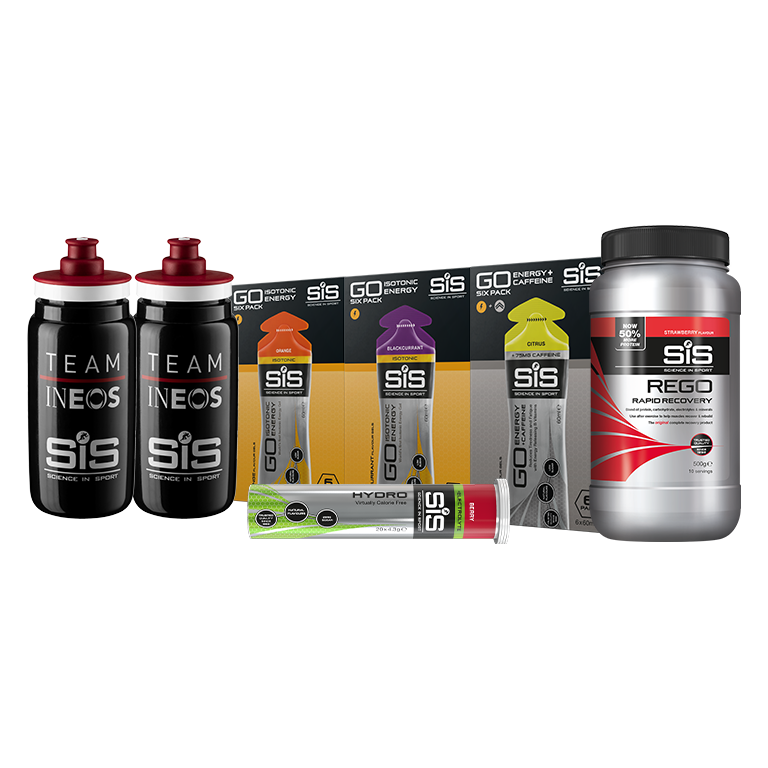 Nutritional Info
For nutritional information on the components of this bundle, please see the product page of the individual product.
Examples for each product are available here:
Read More
Verified Reviews
Rated

5

out of 5 based on

20

Reviews
Brilliant Price for a brilliant Bundle. Great bottles too.
It has everything you need to fuel your rides and sportives. Nice touch with Team Sky bottles. The gels are very good sources of carbohydrates. The have the correct osmolality wich means that they are easily absorbed with a fast gastric emptying. The REGO has a good taste and it disolves easily even in cold water.
A great combination of essentials needed for performance and recovery.
Nice price for this bundle. Could've done without the Sky bottles, as I have too many bottles already, but being able to select among the other options is good, especially with the nice discount on top.
Just what you need Bundle.
Atbhalf price this is a good buy
All of every one need for cyclism with this Bundle. Great product
Very pleased and better than I was expecting
Nice bundle with bidons and perfect Rego shake, also the Isotonic gels are great.
The product tastes well, mixes easily and helps with rehydration and recovery.
Good quality. Delivered on Thursday instead of estimated Wednesday, however would blame courier company, and still within 5 working days. Gels helped a lot on my weekend ride, weather unfortunately forced me to postpone remaining milage for next Saturday.
Good selection of products, great discount & free bottles, what's not to like
Great products, not just for elite athletes.
Bargain price for this volume of products. good choice and very practical
Great value for money. Good variety of products.
Excellent products, great bottles , recommend these !
Familiar with all products, good value
Great bundle that offers all you need for correct fuelling of your rides. Nice addition of the bottles that look the part sat in your cages 🙂👊🏻
Good mix of product which I used as prep for and during a sportive
Great products great price.