SiS Immune Tablets Orange - 20 Tablets
Product Code
Designed to support & maintain immune function during and after exercise
Low‐calorie rehydration drink with vitamin C and Iron
FREE DELIVERY ON ORDERS OVER £35
Product Information
About SiS Immune
SiS Immune is designed to support and maintain immune function during and after exercise.
As an effervescent tablet that readily dissolves in plain water, it represents a highly practical approach to support your immune system after exercise.
Vitamin C (200mg) and Iron (2.5mg) are known to contribute to the maintenance of the normal function of the immune system during and after intense physical exercise in addition to your RDA.
Key Features:
• 200mg of Vitamin C
• 2.5mg of Iron
• Sodium to help promote hydration
• Contents: 20 x 4.3g Tablets
Product Uses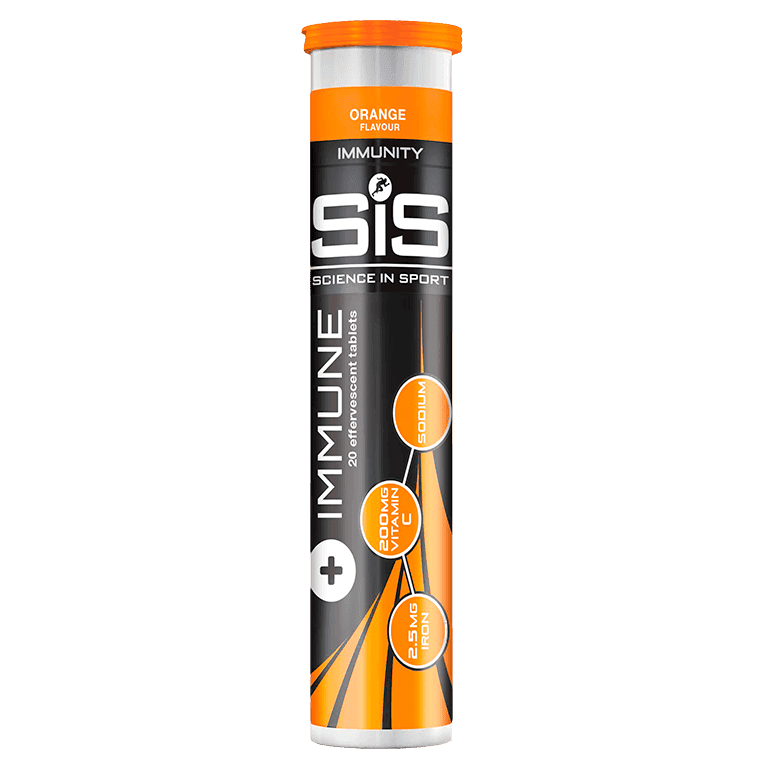 Recommended Usage
Consume up to 1 tablet per day in addition to a balanced diet and a healthy lifestyle. Add one Immune tablet to 500ml of water and let it dissolve. Once prepared consume within 24 hours.
Benefits
Benefits of SiS Immune
Heavy training is known to impact the immune system, suppressing it for 3‐72 hours post-training. This can lead to a higher incidence of upper respiratory tract Infections, impacting an athletes health and their ability to train.
Excessive vitamin intake can suppress the training response. SiS Immune is designed to be at a level which supports athlete health without compromising training benefits.
Informed Sport Registered
Our complete product range is developed using a world-class approach to banned substance testing, providing assurance for athletes. For more information on Informed Sport & our unique world class approach, click here.
Suitable For: Vegans, Vegetarians, Lactose free, Gluten Free, Wheat Free, Nut Free, Soya Free
Nutritional Info
| Typical Values | Per 100g | Per Tablet 4.3g |
| --- | --- | --- |
| Energy | 788kj/188kcal | 34kjj/8kcal |
| Fat | 0.0g | 0.0g |
| of which saturates | 0.0g | 0.0g |
| Carbohydrates | 11g | 0.5g |
| of which sugars | 0.6g | 0.1g |
| Fibre | 2.8g | 0.1g |
| Protein | 0.0g | 0.0g |
| Salt | 22g | 0.9g |
| Vitamin C | | 200mg (250% NRV) |
| Iron | | 2.5mg (18% NRV) |
NRV** Nutrient Reference Value
Salt* Total Sodium content x 2.5. Salt as NaCl is nil per tablet.
Ingredients:
Citiric Acid, Acidity Regulator (Sodium Hydrogen Carbonate, Sodium Carbonate), Sorbitol, Vitamin C (4.95%), Inulin, Natural Flavout, Starch, Tricalcium Phosphate, Sweetener (Sucralose), Maltodextrin, Natural Colour, Iron Sulphate (0.18%), Vitamin B2 (Riboflavin).
Read More
FAQ's
Why should I take this?
Vitamin C and Iron are known to contribute to the maintenance of the normal function of the immune system during and after intense physical exercise.
How is this different to other Vitamin C tabs?
SiS Immune contains 200mg of vitamin C and 2.5mg of Iron, which along with a normal diet provides the correct amount to support immune function post-­?exercise. This is preferred over tabs containing well over the RDA of antioxidant vitamins, which can suppress your response to training.
Wouldn't I be better off taking a multi-­?vitamin?
SiS Immune also contains key electrolytes, which can aid hydration after exercise as well as providing what the body needs to support immune function. A multi-­?vitamin cannot do this, and may contain elements that your body doesn't need if you are not deficient in them.
Does this make a fizzy drink?
When you drop the immune tab in the water, it will fizz until fully dissolved. After this you are left with a still drink.
Do they taste salty?
No, they are available in orange flavour and have a light taste.
What is the difference between this and SiS GO Hydro?
SiS Immune should be taken post exercise to support and maintain immune function while rehydrating. SiS GO Hydro should be taken during exercise to maintain hydration only, when energy is not needed.
Can I mix this with GO Electrolyte or GO Hydro to get all the benefits?
No, this would provide too much sodium, beyond the optimum levels.
You may also like
We found other products you might like!
Verified Reviews
Rated

4.7

out of 5 based on

20

Reviews
Superb.. Part of my daily hydration plan.
Great flavour recovery drink
Good flavour and not sure if it is the immune element have been less susceptible to colds the last couple of winters
No issues, good product that I've used before
Verry good. Also free 1st class for all year. Cost only 9.99
Really refreshing these effervescent vit C tablets would definitely recommend
Good taste and colour but relatively low dose of vitamin C
Easy to use and great for keeping hydrated.
Yet to start using the product, still using the stock we have,
Excellent way to boost your immunity.
These effervescent Vit C tablets mixed with water are really refreshing
Good flavour and a great product to drink when on the indoor trainer