Product Code
go-electrolyte-1-6kg
SiS GO Electrolyte - 1.6kg
FREE DELIVERY ON ORDERS OVER £35
Product Information
GO Electrolyte contains a blend of an easily digestible and quick supply of carbohydrate as well as electrolytes (such as sodium) that promote optimal hydration.
A combination of energy sources and electrolytes enhance your body's ability to absorb water during exercise, maintain your endurance performance and protect against cramp. The product is mixed at appropriate concentrations of carbohydrate (36 grams as a 6% solution), sodium (20 mmol/L) and fluid (500ml serving) in order to achieve the combined aims of energy and hydration.
Key Features
• 36 grams of carbohydrate per 500ml serving
• High in sodium to promote hydration
• Delivers energy and fluid fast
• Contents: 1.6kg Tub
Product Uses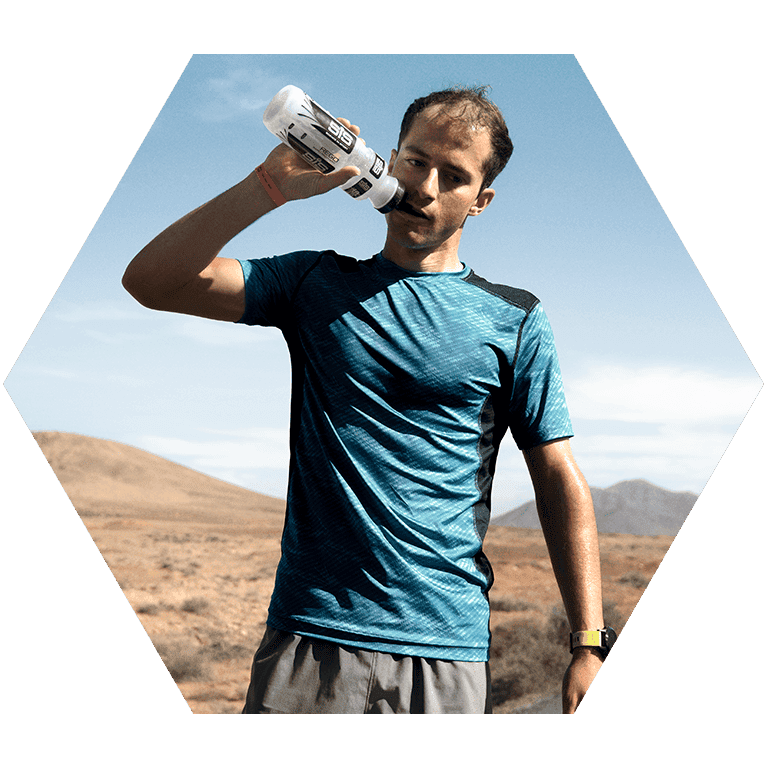 Recommended Usage
Drink 500ml every 45-60 minutes of exercise or as required. Once prepared, consume within 24 hours.
Directions for Use
For easy mixing use SiS sports drinks bottles which have markers to indicate the correct level of powder. Or, add 40g of SiS GO Electrolyte (2 scoops = 40g) to 500ml of water in a bottle & shake well ensuring the lid is firmly closed.
Benefits
Both carbohydrate depletion and dehydration are two of the major causes of fatigue in endurance exercise. A common mistake made by endurance athletes is to consume too much or too little carbohydrate at inappropriate concentrations, causing lack of carbohydrate absorption or gastrointestinal problems.
In addition to ensuring optimal carbohydrate stores and hydration status before exercise, delivering additional carbohydrate and fluid during exercise is known to improve performance, race times and delay the onset of fatigue. The specific formulation of SiS GO Electrolyte represents a strategic approach to offset the negative effects of carbohydrate depletion and dehydration on your performance.
Informed Sport Registered
Our complete product range is developed using a world-class approach to banned substance testing, providing assurance for athletes. For more information on Informed Sport & our unique world class approach, click here.
Suitable For: Vegans, Vegetarians, Lactose free, Gluten Free, Wheat Free, Nut Free, Soya Free
Nutritional Info
For nutritional information about the individual flavours please contact customer service. Example below is for Lemon & Lime flavour.
Typical Values
Per Serving (40g)
Per 100g
Energy
619kj/146kcal
1547kj/364kcal
Protein
0.0g
0.0g
Carbohydrate
36g
91g
of which sugars
6.7g
17g
Fat
0.0g
0.0g
of which saturates
0.0g
0.0g
Fibre
0.0g
0.0g
Salt
0.5g
1.3g
VITAMINS & MINERALS (% RDA)
Calcium
27mg (3%)
66mg (8%)
Magnesium
5mg (1%)
13mg (4%)
Potassium
60mg (3%)
150mg (8%)
Ingredients:
Carbohydrate mix (93%) (Maltodextrin (from Maize), Fructose), Citric Acid, Electrolytes (2%) (Sodium Chloride, Calcium Lactate, Potassium Chloride, Sodium Citrate, Magnesium Citrate), Natural Flavouring, Sweetener (Aspartame). Contains a source of Phenylalanine
Flavours:
Read More
FAQ's
What is the difference between this and SiS GO Energy drink?
SiS GO Electrolyte contains 36g of fast absorbing carbohydrate with the addition of balanced electrolytes which increase water absorption.
When should I use this product?
SiS GO Electrolyte is great for when you're sweating heavily and you need to balance energy with hydration. Combine the powder with 500ml of water and consume one per hour during exercise lasting over 90 minutes, along with other carbohydrate sources e.g SiS GO Isotonic Energy Gels.
Do I need to preserve this once open?
Once opened, keep the product cool and dry and don't exceed the best before end date.
Can I mix this with GO Energy or Hydro Tabs to get all the benefits?
We don't recommend combining the products together into one solution because the products have optimal carbohydrate and sodium levels. Combining them will alter the concentration of the products, making them no longer optimal.
How many scoops do you need per normal 750ml bottle?
Use 3 scoops in a SiS 750ml bottle.
Does this product contain Aspartame?
Yes, aspartame is added to make the product more palatable. It is one of the more researched sweeteners and is safe to consume.
You may also like
Verified Reviews
Rated

4.9

out of 5 based on

81

Reviews
Excellent easily digestible and nice flavour.
a great energy supplier for a long ride
Fijne smaak en een goede dorstlesser
Usually more than happy with SIS products but I found the blackcurrant flavour a bit sickly. Had the Lemon one of these previously and much preferred it. Probably just personal preference
Very good Will definitely use again very very good product many thanks Willing.
This is the one for me, have been using it for quite a few years.
Rehydrates, quite tasty but more needed than the orange flavour
Does what it says on the container
It's great , I always use it and when this is finished I will order more
Best Nutrition on the market, I have used SIS products for more than 20 years now and they're still the best, this electrolyte definately keeps you going and for the price.. 10/10
Really good stuff, used it for several years now
Keeping in stock for the moment.
Fab! Does what it says on the tin.....
An easy to mix, water soluble isotonic sports fuel that has a taste to die for.
It's great product, it mixes really easy and great taste.
Love the taste and use it on all my rides. Keep a small sealed bag in my pocket for top ups en route.
Have used this product for several years now. Great flavour. Always gives me a boost of energy when I need it. Highly recommended.
Tastes good, really fruity, doesn't taste at all artificial like some other products I've used in the past
Good taste, energie and easy on the stomach.
My favourite SIS product taste and helps with training & racing
Great product and tastes good too.
Found this to be great, 1 750ml bottle per 25miles on a hot day
Favourite flavour, LOVE IT.. even tastes a bit fizzy.
Go further easier if you are not good at eating while exercising
Excellent product, nice taste, good to stay hydrated.
I used to suffer bad legs cramps all the the time , started using this electrolyte, no more cramps.
Delicious flavour. Perfect for pre- and post- workout or just for drinking on a warm sunny day!
It's the first electrolyte powder/ drink I got on with, but I still don't use as much as is recommend in each bottle.
Good stuff. Can't go wrong with Lemon & Lime.
Good to use routinely to help you feel up for longer rides and feeling good the next day to go again. Nothing worse than skimping on this and feeling like a "boiled-egg" the next day.
Great quality energy drink for cycling
Good price and fast delivery
Great product, works very well.
Tastes great and good for you 👍🏻
Awesome service, awesome product!
Good product plenty of flavour
Can not fault the product having tried others always returned to SIS
Ottimi integratori per il mio sport (ciclismo).Grazie SIS
In my opinion sis products are easy to take and easy on the stomach.
Taste good and does the job
Ottimo prodotto. Adoro il gusto limone/lime, questa volta ho provato il gusto arancia, buono anche questo anche se non al livello dell'altro.
tast what it says no like other brands
Good flavour and excellent integration.
Gusto molto gradevole e prodotto davvero ben bilanciato. Consigliato
Great product, price and service
Prodotto ideale per la borraccia della mia bici !
Prodotto dal gusto gradevole. Buon apporto di sali durante l'allenamento.
Prodotto molto buono eccellente lo consiglio
Really tasty! Gives me moral boosts. Gives nice flavour to the water.
Great size and tastes good
Another excellent product from SIS.
Does what it says on the container
Luv this stuff. Always great on a long ride.
Likewise the same for the above mentioned.
Best flavour, big tub best value and works a treat
I bought this after being given a free sample from SiS which I thought was A1 and really works for me especially on longer rides. The company itself is credible and reliable, offers good product support and also prompt delivery. In my view the SiS product range is head and shoulders above the rest.
Abolutely love this flavour! Sceince in sport never fail to deliver on taste.
Tastes great and good for you
Great product good taste highly recommend
Just love SiS GO Use this daily to rehydrate when cycling (indoor and irl) Tropical is definitely my favourite but also buy the other flavours for variety Easy to make up, 3 scoops in 750ml bottle, shake and that's it Prefer the powder to the tablets
Makes a difference on my longer runs.
This is a product I use whenever I am fellwalking. I find that by mixing it in my water it eases aches that I would otherwise experience in my feet, and in toes in particular. it is especially comforting in dry summer weather. This is a new taste for me and I think preferable to the lime and lemon used previously.
Good taste and quick & easy to make up.
Very good electrolyte. Excellent taste.
Great taste and does what it states.