Whey Protein - 1kg (Chocolate)
Save 15%
Special Price
€33.15
Was
€39.00
Product Code
Contributes to lean muscle mass growth & maintenance.
Chocolate flavoured Whey Protein powder in a 1kg tub with scoop.
Can be used throughout the day for a convenient way to increase protein intake
FREE DELIVERY ON ORDERS OVER €40
Product Information
Whey Protein (Chocolate) contains a blend of high quality whey protein isolate and concentrate, providing a source of rapidly digesting protein.
A high amino acid profile which supports lean muscle growth and maintenance, with at least 5g of BCAAs per serving, including 2.4-2.5g of leucine which increases the rate of muscle protein synthesis. Each serving contains 22-23g of protein, depending on the flavour you choose.
Key Features
Contributes to the maintenance and growth of lean muscle mass
Fueling gold medal winners since 1992
22-23 grams of protein
Contents: 33 servings with scoop included.
Product Uses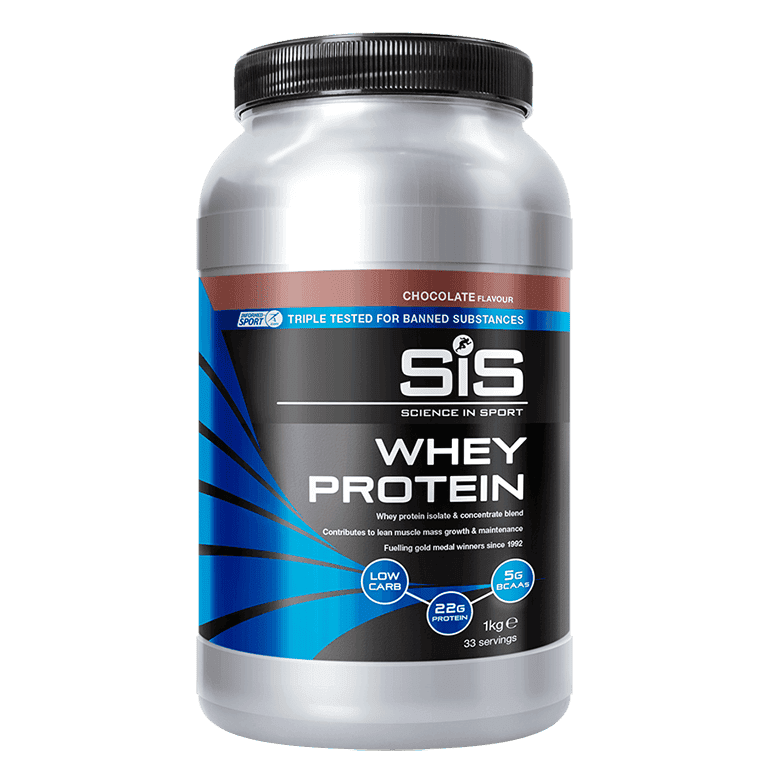 Recommended Usage
Our Whey Protein can be used with or between meals to support lean muscle mass or immediately after strength and conditioning sessions, with the goal of ingesting 20-25g of protein every 3-4 hours.
Directions for Use
Add 30g of Whey Protein Powder using the scoop provided (each scoop holds 10g, so 30g is 3 scoops) to 250ml of water in a shaker. Shake well ensuring the lid is firmly closed.
Benefits
SiS Whey Protein is a great tasting, convenient way to increase daily protein intake. It is recommended that 1.4-1.6 grams of protein per kg of body weight is consumed each day in order to promote lean muscle mass. For a 75kg male who trains regularly that would equate to 120g of protein per day.
Informed Sport Registered
Our complete product range is developed using a world-class approach to banned substance testing, providing assurance for athletes. For more information on Informed Sport & our unique world class approach, click here.
Suitable For: Vegetarians, Gluten Free, Wheat Free, Nut Free
Nutritional Info
| Typical Values | Per 100g | Per Serving 30g |
| --- | --- | --- |
| Energy | 1643kj/390kcal | 493kj/117kcal |
| Fat | 7.7g | 2.3g |
| of which saturates | 4.3g | 1.3g |
| Carbohydrates | 5.9g | 1.8g |
| of which sugars | 2.9g | 0.9g |
| Fibre | 3.1g | 0.9g |
| Protein | 72g | 22g |
| Sodium | 1.0g | 0.3g |
Ingredients:
Protein Blend (90%) (Whey Protein Concentrate (Milk), Whey Protein Isolate (Milk)), Thickener (Xanthan Gum), Natural Flavourings, Emulsifier (Soy Lecithin), Sweetener (Sucralose), Fat Reduced Cocoa Powder, Natural Flavourings
Read More
FAQ's
How does this differ from REGO?
Whey Protein is lower in carbohydrate than REGO, promoting muscle rebuild and reduction in muscle soreness post exercise.
When should I take this?
Whey Protein can be used with or between meals to support lean muscle mass or immediately after strength and conditioning sessions, with the goal of ingesting 20-25g of protein every 3-4 hours.
Do I mix with water or milk?
Although milk is high in protein, it's also high in carbohydrate and is made up of 80% casein, which is slow digesting. Mix with water to increase absorption rates, which is ideal for use post exercise.
How much protein is there per serving?
There is 22g of protein per 30g serving.
Does whey protein contain creatine?
No, Whey Protein does not contain added creatine.
How many scoops with the included scoop per serving?
Add 3 scoops (30g) to 250ml of water in an protein shaker.
You may also like
We found other products you might like!

Verified Reviews
Rated

4.8

out of 5 based on

20

Reviews
Good quality at a good price
Not as tasty as the Strawberry flavour, but these are by far the best powders I've used. Little or no clumping. Delicious and nutritionally sound. Buy it now!
Great taste - really chocolatey! Mixes better with room temperature water.
One of the nicest protein powders I have used
It's so smooth and chocolatey - my fave drink
Great whey powder. Good taste.
Would have preferred vanilla but sis keep running out of flavours.
Good chocolate flavour,works well!
Very nice. Took a bit of getting used to in terms of the after taste but once I got used to it, it was like second nature. Would recommend as a starter shake. (Chocolate flavour)
Taste incredible especially mixed with milk
Pleasent to drink, helps build you up slowly, allowing you to maintain your weight whilst you exercise.
Love it - blends really well and tastes great!!
Mixes well, not too sweet
Amazing powder, protein without that heavy feeling in the stomach. Top notch product!