In stock
Product Code
sis-bundle-5t
Save 50%
Was
€99.00
€49.50
Product Code
Bundle Includes:

2 x GO Isotonic Energy Gels 6 Packs
GO + Caffeine Energy Gels 6 Pack
GO Energy + Electrolyte Gels 6 Pack
GO Electrolyte 500g
REGO Rapid Recovery 500g
800ml Pro Bottle
Bundle Information
Key Features: GO Isotonic Energy Gels
Fast acting energy gel.
No need for additional water.
Informed Sport tested.
Key Features: GO + Caffeine Energy Gels
Flavoured maltodextrin gel with caffeine and added sweeteners.
High caffeine content: 75mg.
Award winning gel technology delivers energy fast.
Clean in the mouth and easy to digest.
Key Features: GO Energy + Electrolyte Gels
22g of carbohydrate per gel.
Formulation delivering energy fast and effectively.
0.3g salt per gel to provide key electrolytes lost through sweat.
Key Features: GO Electrolyte 500g Tub
As easy to drink as water, SiS GO Electrolyte puts back what you sweat out.
Ideal for indoor workouts, exercise in the heat or any time when you are sweating heavily or dehydrating.
Fast hydration plus sustained energy for before and during exercise.
When you want a balance of energy and hydration.
It is light on the stomach.
Use before to prepare and during sport when you are sweating heavily.
Available in Lemon & Lime, Blackcurrant, Tropical Fruit 1.6kg Tubs.
Key Features: REGO Rapid Recovery Drink Powder
To recover, rebuild and support the body's adaptation to training.
When you are in a training programme and need your body to adapt to increasing demands.
A full spectrum recovery product for periods of intense training.
Developed with feedback from the Olympic cyclist Chris Boardman, it helps your muscles to recover and rebuild.
Use immediately after exercise to help your body adapt to increased training demands to become stronger as quickly as possible.
Easy on the stomach, so it can be taken after hard exercise.
Key Features: 800ml Pro Yellow Bottle:
Unique easy mix system
Soft rubber nozzle
Easy to grip bottle with ergonomic shape
Lockable valve for leakproof transport
Dishwasher safe
Related Products
Product Uses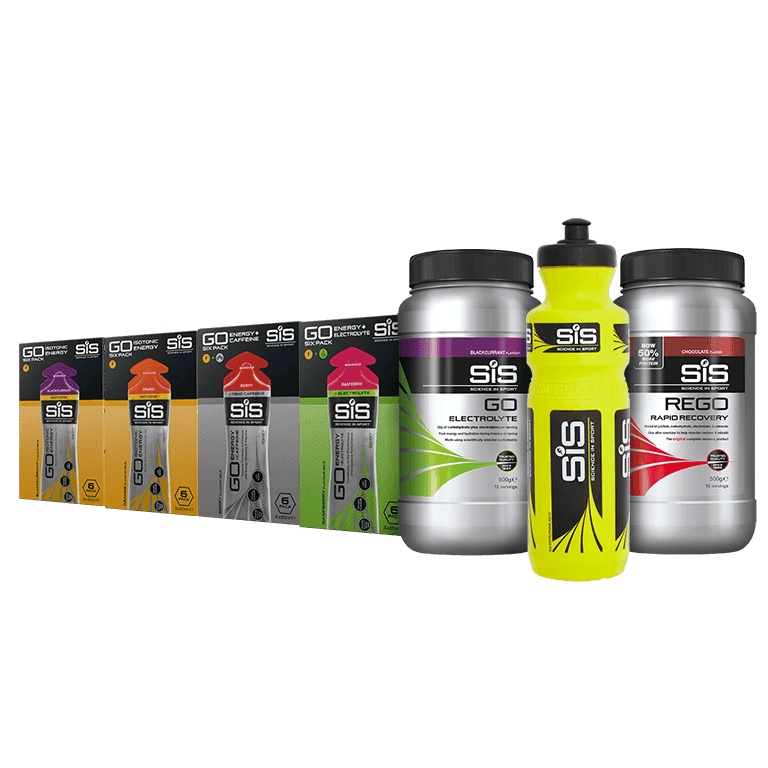 Nutritional Info
For nutritonal information about the individual products within this pack, please see the relevant product page for each product.
Read More
Verified Reviews
Rated

4.8

out of 5 based on

10

Reviews
helpful and useful combination, like the bottle with markings for the amount of powder to fill in.
Very good bundle, which includes a good selection of gels. Suitable for racing and training.
All the products you need for energy and hydration. Helped mefinish my 10k run with a PB.
A great selection and good value with the offer on this too
Fantastic for a bunch of products where you dont wish to select your own.
I used the gel, Go Eletrolyte and REGO products for a 14 mile hike around the Derbyshire dales which was classed as a hard walk in and around the Edale valley, I found that I had an abundance of energy and jogged 8 miles.
The perfect combination of hydration, energy and recovery for any rider. I would highly recommend this as a starter pack for anyone participating in endurance sports.
Perfect pack to buy. Good value and plenty to keep you going for training and racing.
Great products that are easy to use
Excellent choices and great value