PLANT20 Powder - 900g (Banana Fudge)
Save 50%
Special Price
€19.50
Was
€39.00
€0.65/serving
FREE DELIVERY ON ORDERS OVER €40
Product Information
PLANT20 Powder is our high protein, low sugar plant-based protein powder suitable for vegans. Free from artificial sweeteners, PLANT20 Powder is naturally sweetened with the fruit extract Lucuma and plant extract Stevia. Formulated using a blend of pea, pumpkin and soy protein isolates to ensure a complete amino acid profile, providing 20g of high-quality protein per serving, including 3 g leucine.
Key Features:
• High protein shake
• 20 g protein per serve from plant proteins
• No artificial sweeteners
• 100% vegan certified
• Supports recovery, muscle rebuild and daily protein intake
Product Uses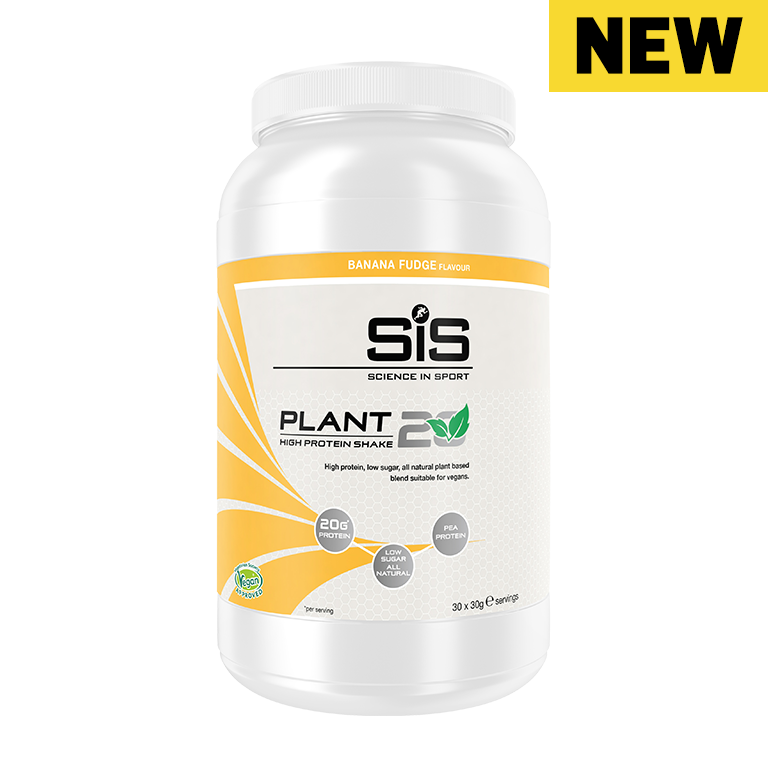 Recommended Usage
Consume post-exercise, may also be used in smoothies and home baking to help meet your daily protein needs.
Food supplements should not be used as a substitute for a balanced and varied diet. Keep out of reach of children. Store in a cool dry place away from direct sunlight.
Benefits
Protein is a key nutrient for all active individuals and there are thousands of proteins in our bodies, all of which perform a variety of daily functions to promote health, well-being and performance. We must consume adequate protein in our diet so that we have the relevant building blocks to make the new proteins required for our body to function.
With individual approaches to nutrition ranging from flexitarian to vegan, and specific dietary intolerances, active populations may fall below the recommended intakes for certain nutrients. Protein can be a nutrient that falls into this category, and given its importance alongside exercise, maintaining a consistent daily protein intake should be prioritised. PLANT20 Powder can help to meet your daily protein requirements, taken post-exercise, as a high-protein shake between meals or used in cooking and baking.
PLANT20 is tested under the Informed Sport Certification program, for more information click here.
Nutritional Info
| Typical Values | Per 100g | Per Serving 30g |
| --- | --- | --- |
| Energy | 1357kj/325kcal | 407kj/97kcal |
| Fat | 4g | 1.2g |
| of which saturates | 0.8g | 0.2g |
| Carbohydrates | 8.5g | 2.5g |
| of which sugars | 3.3g | 1.0g |
| Fibre | 7.7g | 2.3g |
| Protein | 68g | 20g |
| Sodium | 1.40g | 0.43g |
*Reference intake of an average adult (8400kJ/2000kcal)
Ingredients:
Pea Protein Isolate, Toasted Pumpkin Seed Protein, Lucuma Fruit Powder, Soy Protein Isolate, L-Leucine, Natural Flavourings, Thickener (Xanthan Gum), Natural Sweetener (Steviol Glycosides).
For allergens, see ingredients in bold.
Read More
FAQ's
Who is PLANT20 Powder for?
PLANT20 Powder is perfect for anyone looking for a high protein shake, low in carbohydrate, sugar and fat. What is the protein source? The protein in PLANT20 Powder is from Pea Protein Isolate (70 %), Pumpkin Seed Protein (20 %) and Soy Protein Isolate (10 %).
How much leucine is in PLANT20 Powder?
Each serving of PLANT20 Powder delivers 3 grams of leucine.
Why do we blend the plant powders?
One of the challenges of plant-based protein sources is their often-incomplete amino acid profiles. By blending these different plant protein sources, PLANT20 delivers a complete amino acid profile. The specific plant-protein blend also helps achieve the great flavours across the range.
How is PLANT20 Powder sweetened?
PLANT20 Powder is naturally sweetened with Lucuma (a fruit extract) and Stevia.
When should I use PLANT20?
PLANT20 powder can be used post-exercise, as a day-to-day shake between meals or mixed into foods.
How can these be used after exercise?
PLANT20 Powders can be mixed with 200 ml of water and taken within 30-60 minutes of finishing a workout, to deliver the protein required to support the process of muscle recovery and rebuild.
Can I use the powder in cooking?
Yes, PLANT20 powders can be used in cooking and baking, mixed into smoothies or breakfast bowls and turned into high-protein pancakes.
Is it Informed Sport tested?
Yes, Science in Sport PLANT20 Powder is tested under the Informed Sport programme.
You may also like
We found other products you might like!
Verified Reviews
Rated

2.6

out of 5 based on

7

Reviews
Nice to have vegan protein powder
This is really awful. I returned this product as it was so disappointing. Worst plant protein I have tasted
horrible after taste, would never buy again
Good taste, different texture to the usual SIS recovery mix I've used but quite used to it now.
The taste of the product is not good at all. I find it hard to drink.
The flavour is tolerable, but not something I would buy again unless this is changed.