GO Electrolyte - 1kg (Blackcurrant)
Save 20%
Special Price
€22.40
Was
€28.00
Product Code
High-energy blackcurrant flavoured carbohydrate electrolyte drink to help fuel and hydrate during training or racing.
Ideal for longer sessions when energy stores drop and sweat rate rises.
1kg tub - perfect for regular use.
FREE GIFT + FREE DELIVERY OVER 40€
Product Information
GO Electrolyte (Blackcurrant) contains a blend of an easily digestible and quick supply of carbohydrate as well as electrolytes (such as sodium) that promote optimal hydration.
A combination of energy sources and electrolytes enhance your body's ability to absorb water during exercise, maintain your endurance performance and protect against cramp. The product is mixed at appropriate concentrations of carbohydrate (36 grams as a 6% solution), sodium (20 mmol/L) and fluid (500ml serving) in order to achieve the combined aims of energy and hydration.
Key Features
36 grams of carbohydrate per 500ml serving
High in sodium to promote hydration
Delivers energy and fluid fast
Contents: 1kg Tub
Product Uses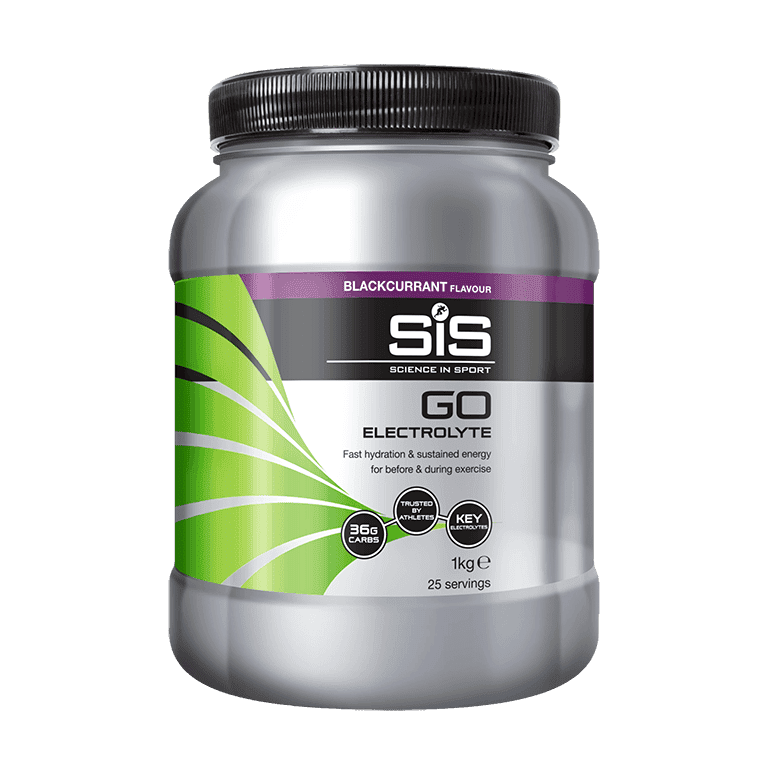 Recommended Usage
Drink 500ml every 45-60 minutes of exercise or as required. Once prepared, consume within 24 hours.
Directions for Use
For easy mixing use SiS sports drinks bottles which have markers to indicate the correct level of powder. Or, add 40g of SiS GO Electrolyte (2 scoops = 40g) to 500ml of water in a bottle & shake well ensuring the lid is firmly closed.
Benefits
Both carbohydrate depletion and dehydration are two of the major causes of fatigue in endurance exercise. A common mistake made by endurance athletes is to consume too much or too little carbohydrate at inappropriate concentrations, causing lack of carbohydrate absorption or gastrointestinal problems.
In addition to ensuring optimal carbohydrate stores and hydration status before exercise, delivering additional carbohydrate and fluid during exercise is known to improve performance, race times and delay the onset of fatigue. The specific formulation of SiS GO Electrolyte represents a strategic approach to offset the negative effects of carbohydrate depletion and dehydration on your performance.
Informed Sport Registered
Our complete product range is developed using a world-class approach to banned substance testing, providing assurance for athletes. For more information on Informed Sport & our unique world class approach, click here.
Suitable For: Vegans, Vegetarians, Lactose free, Gluten Free, Wheat Free, Nut Free, Soya Free
Nutritional Info
Typical Values
Per Serving (40g)
Per 100g
Energy
619kj/146kcal
1547kj/364kcal
Protein
0.0g
0.0g
Carbohydrate
36g
91g
of which sugars
6.7g
17g
Fat
0.0g
0.0g
of which saturates
0.0g
0.0g
Fibre
0.0g
0.0g
Salt
0.5g
1.3g
VITAMINS & MINERALS (% RDA)
Calcium
27mg (3%)
66mg (8%)
Magnesium
5mg (1%)
13mg (4%)
Potassium
60mg (3%)
150mg (8%)
Ingredients:
Carbohydrate mix (92%) (Maltodextrin (from Maize), Fructose), Citric Acid, Electrolytes (2%) (Sodium Chloride, Calcium Lactate, Potassium Chloride, Sodium Citrate, Magnesium Citrate), Natural Flavouring, Sweetener (Aspartame). Contains a source of Phenylalanine
Read More
FAQ's
What is the difference between this and SiS GO Energy drink?
SiS GO Electrolyte contains 36g of fast absorbing carbohydrate with the addition of balanced electrolytes which increase water absorption.
When should I use this product?
SiS GO Electrolyte is great for when you're sweating heavily and you need to balance energy with hydration. Combine the powder with 500ml of water and consume one per hour during exercise lasting over 90 minutes, along with other carbohydrate sources e.g SiS GO Isotonic Energy Gels.
Do I need to preserve this once open?
Once opened, keep the product cool and dry and don't exceed the best before end date.
Can I mix this with GO Energy or Hydro Tabs to get all the benefits?
We don't recommend combining the products together into one solution because the products have optimal carbohydrate and sodium levels. Combining them will alter the concentration of the products, making them no longer optimal.
How many scoops do you need per normal 750ml bottle?
Use 3 scoops in a SiS 750ml bottle.
Does this product contain Aspartame?
Yes, aspartame is added to make the product more palatable. It is one of the more researched sweeteners and is safe to consume.
You may also like
We found other products you might like!
Verified Reviews
Rated

4.7

out of 5 based on

20

Reviews
Mixes well and great taste. Helps prevent cramp during and after ride.
When I'm doing exercise I feel I have more energy and can carry on for longer
Good product was surprised how much I used, 3 scoops per 750ml bottle, it seemed that I only had less than a weeks supply in the tub bought so if I get any more I'll buy a bigger tub if that was available?
Very good product and very fast service. 👍
Really good feel it work after a few times
A great energy drink,the flavour of the blackcurrant is quite strong flavour, I only use it at 2/3 strength which is fine for me. Works well to boost duration and refuel. Next time I will try to get the raspberry flavour. Blackcurrant was all that was available.
Easy on the stomach and a pleasant taste
Great during my workout and also reduces cramp post workout.
Taste of blackcurrant but it's not ribena!
Lovely refreshing taste. Helps keep you well hydrated and boost of energy.
Nice taste! Although slightly bitty.
Good to taste and excellent value on the deal I had.
Best isotonic for me on middle season great taste
Really good used some recently and made a noticeable difference and doesn't taste too bad
Excellent fuel drink been using it for years.