Product Code
plant20-bar-12-pack
SiS PLANT20 Bar - 12 Pack
Save 70%
Was
€10.05
Was
€33.50
FREE DELIVERY ON ORDERS OVER €40
Product Information
PLANT20 provides an all-natural, vegan approach to on the go protein whilst being low sugar. Delivering a complete 20g of protein from Pea Protein Isolate and free from palm oil, polyols and artificial sweeteners.
Key Features:
• Low sugar, high protein bar
• 20 g protein per bar from Pea Protein Isolate
• No polyols, palm oil or artificial sweeteners
• 100% vegan certified
• Supports recovery, muscle rebuild and daily protein intake
• Post-exercise
• Day-to-day snacking
Product Uses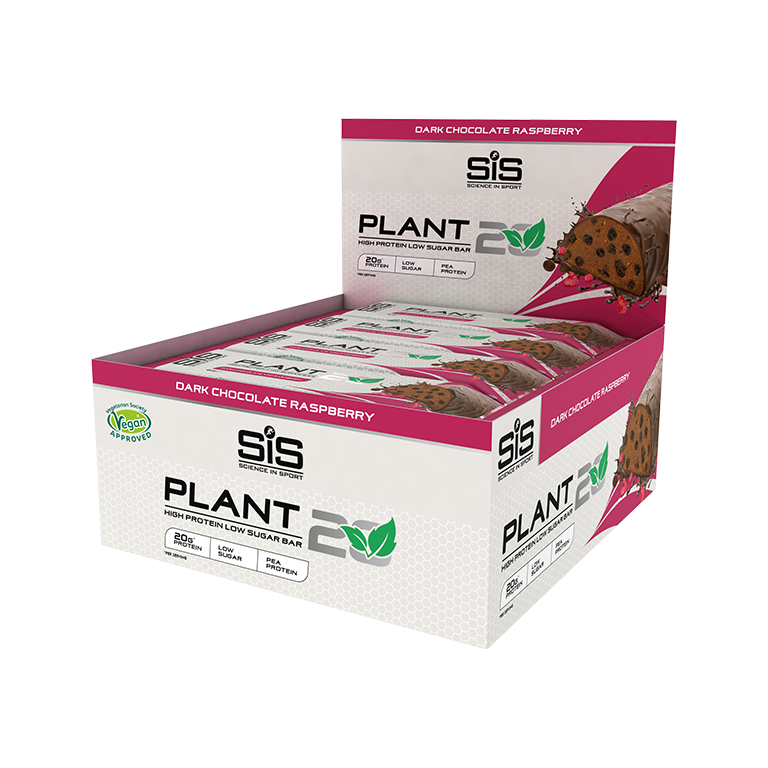 Recommended Usage
Consume 1 bar as a high protein snack throughout the day, or after training.
Store in a cool dry place away from direct sunlight. Nutritional supplements should not be used as a replacement for a healthy balanced diet.
Benefits
Protein is a key nutrient for all active individuals and there are thousands of proteins in our bodies, all of which perform a variety of daily functions to promote health, well-being and performance. We must consume adequate protein in our diet so that we have the relevant building blocks to make the new proteins required for our body to function.
With individual approaches to nutrition ranging from flexitarian to vegan, and specific dietary intolerances evident in nutrition, active populations may fall below the recommended intakes for certain nutrients. Protein may be a nutrient that falls into this category, and given its importance alongside exercise, maintaining a consistent daily protein intake should be prioritised. PLANT20 is an innovative solution providing a convenient protein serving on the go, with 20 g of great tasting, plant-based protein and a complete amino acid profile. PLANT20 is tested under the Informed Sport Certification program, for more information click here.
Nutritional Info
For nutritional information about the individual flavours please contact customer service or view the individual flavour product pages. Example below is for Triple Chocolate Brownie flavour.
| Typical Values | Per 100g | Per Serving 64g |
| --- | --- | --- |
| Energy | 1717kj/413kcal | 1099kj/264kcal |
| Fat | 20g | 12.8g |
| of which saturates | 6.5g | 4.2g |
| Carbohydrate | 14.8g | 9.5g |
| of which sugars | 4.8g | 3.1g |
| Fibre | 23.7g | 15.2g |
| Protein | 31.5g | 20g |
| Sodium | 0.9g | 0.58g |
*Reference intake of an average adult (8400kJ/2000kcal)
Ingredients:
Chicory Root Fibre, Pea Protein Isolate, Chocolate Coating (Cocoa Butter, Soya Flour, Xylitol, Cocoa Mass, Emulsifier: Sunflower Lecithin, Natural Vanilla Flavouring.), Soya nuggets (Isolated Soy Protein, Cocoa (processed with alkali), Tapioca Starch), Almond Paste, Emulsifier: Sunflower Lecithin, Coconut Oil, Almond Flour (4%), Humectant: (Vegetable Glycerine (Rapeseed)), Natural Flavouring, Green Tea Extract, Sweetener (Steviol Glycosides).
For allergens, see ingredients in bold.
Read More
FAQ's
Who is PLANT20 for?
PLANT20 is perfect for anyone looking for a high protein, low sugar snack.
What is the protein source?
The protein in PLANT20 bars is from Pea Protein Isolate.
When should I use PLANT20?
These bars are great as a day-to-day snack, a convenient on the go protein option or post-exercise.
How can these be used after exercise?
PLANT20 can be eaten within 30-60 minutes of finishing a workout, to deliver the protein required to support the process of muscle recovery and rebuild.
Does PLANT20 have fibre?
Yes, PLANT20 bars have 14-15 grams of fibre per bar.
How does this fit into my daily diet?
Alongside a balanced intake with a range of foods and nutrients, PLANT20 can be used as a healthy, daily snack option. PLANT20 are highly satiating bars owing to their protein and fibre content.
Is it Informed Sport tested?
Yes, Science in Sport PLANT20 is tested under the Informed Sport programme.
You may also like
We found other products you might like!
Verified Reviews
Rated

4.2

out of 5 based on

60

Reviews
Good chocolate-y flavour and quite substantial in terms of the eating experience; it's not something which is quickly gobbled down and almost forgotten about - it certainly seems to be quite filling without being overbearing.
great quality product at a competitive price
Vegan & great tasting. Highly recommended.
Not what I orderd this is a different product from ph nutrition bars
Bland taste. Really nothing special, and as with other flavours, very unpleasant to digest
Tasty way to get your protein on the fly
Good amount of protein but not the best tasting
Best!!!! Vegansss barssss!!
Great product and it's vegan!
Great taste as texture use these as a snack post workout and find them really enjoyable
Tastes really good, made of good quality ingredients.
Taste is ok but powdery consistency, caused painful bloating. Not a one off as I thought it must have been something else and had a second bar two days later with a worse effect. The normal protein bars are great, these are not in the same league. Have given the rest of the box away.
Great product, quick delivery, what's not to like
Ingulgent and really tasty, easy to digest. Absolutely love these. Will buy again
Fab good price and high in fibre
Great boost. I played my best round of golf ever from eating one before the round and one half way round
Not to my taste, fortunately I'm not Vegan, so I'll have the other protein bars
I find they tasted a lot like coconut I found so if you like coconut these are the ones for you.
I prefer chocolate or chocolate rasbarry but i appréciate
Weird feeling after i ate bar. Maybe because i mixed with preworkout
Plant based & vegan. Nice taste even though can be a bit dry.
Poor, artificial taste, very bad for my digestive system
My favourite flavour and it's different to the regular chocolate or banana flavours that are so common.
Tastes bit powdery but still edible
Great product super fast delivery
Brilliant protein bar, expensive but recent sis sale made them great value. Nice taste especially with a coffee, no GI upset at all with these bars. Decent texture as well fit a protein bar although some people might find them a bit powdery. Now my go to for protein bars along with the chocolate brownie flavour.
Love that this is totally vegan my only negative is that the bar is a little too dry
The vegan protein bars, 20g of protein and 15g of fat with this macros they're a bland tasteless chocolate bar. They are so bland and with a horrible texture.
Very tasty (although I prefer the chocolate bars more) and very good quality product
Nice not to sweet taste , little dry but not unpalatable, little expensive full price (mine were 70% off !) but good considering ingredients and brand
perfect for a post ride recovery and filler before dinner or lunch
Bit dry, but they are tasty and fill a gap
Ok, a little artificially sweet. Prefer the dark choc raspberry
Tastes great! Only 4 stars as they make me prone to flatulence!
Good taste and consistency, filling too, ideal for on the go
Not great taste for me I will try another flavour.
Bit dry on their own but slurp a little water half way and makes them much nicer. Still good though
Absolutely delicious, perfect for a quick snack while running long distance.
Very good product, large bar Great running recovery snack
I enjoyed the flavour, took a little getting used to the texture but not everyone's taste.
Taske is ok but my stomach was suffering after consuming it. Really bad
I like the flavour & it makes a pleasant change from normal protein bars
Great taste and texture. My favourite from the PLANT20 range.
bit dry but great taste, my daughter loves them and doesn't find them dry so it is clearly at matter of personal taste. They fill you up nicely but as they are packed with the good stuff you don't feel bloated or overfull. great product.
Really lite and settle on the stomach well, although you will need a drink to wash it down
Very tasty and quality product.
Great product, quick delivery, what's not to like
Tastier than chocolate flavour
Helps keep one feelin full