Product Code
005208-single-
Product Information
GO Hydro (Lemon) is designed to ensure you are effectively hydrated to produce your best performance. As an effervescent tablet that readily dissolves in plain water, it represents a highly practical approach (simply drop one tablet in your 500 ml water bottle) without the calories.
GO Hydro meets your sodium requirements at a specific concentration (30mmol/L) that is scientifically proven to produce superior hydration compared with water alone. It was developed to keep the British Sailing team optimally hydrated at the 2008 Beijing Olympics. Simply drop a tablet into water for effective hydration, with virtually no calories, before and during sports.
Lemon flavoured electrolyte mix with natural green tea extract and added sweetener.
Key Features
Simply drop in water to provide a high electrolyte drink
High in sodium to help promote hydration
When hydration is required without the added calories
Contents: 20 x 4.2g Tablets
Product Uses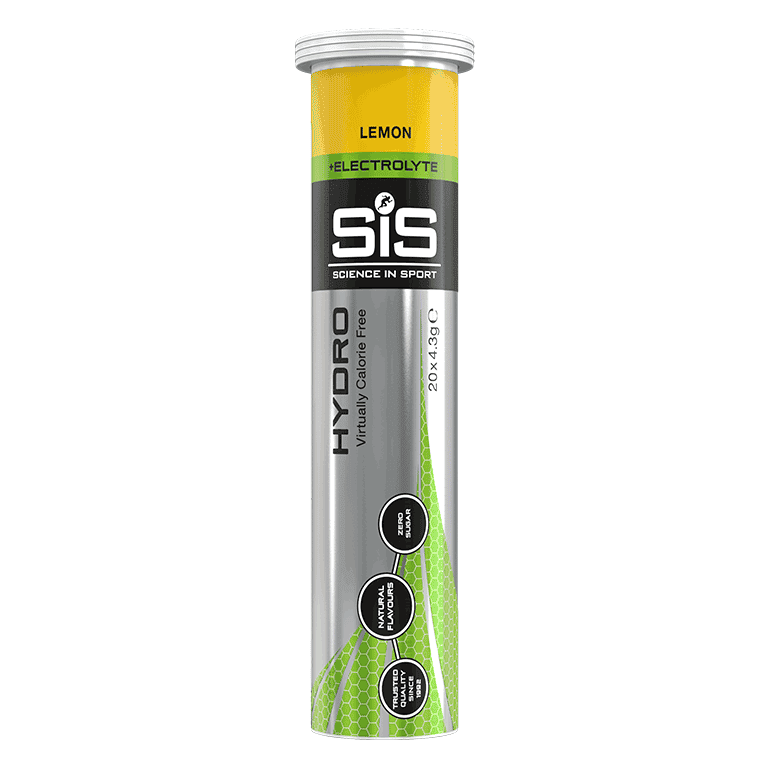 Recommended Usage
Consume 500ml of SiS GO Hydro 3-4 hours prior to your event with a further 250-500ml in the hours before starting. During exercise of a shorter length where carbohydrate intake is not necessary, consume 500 ml of SiS GO Hydro per hour. If aiming to combine hydration and energy delivery, consume SiS GO Electrolyte with the SiS GO Gel range.
Directions for Use
Add 1 SiS GO Hydro tablet to 500ml of water and let it dissolve. Once prepared consume within 24 hours. Do not consume more than 4 tablets per day.
Benefits
During moderate to intense exercise, we can produce up to 2 litres of sweat per hour depending on the environmental conditions. Sweat contains vital electrolytes, including sodium. Sodium is the most important electrolyte as it helps to stimulate thirst, improve taste and promote absorption and retention.
If fluid and electrolyte losses are not replaced, dehydration occurs which is a major cause of fatigue. Once dehydrated, our body temperature rises; our heart rate increases; we deplete carbohydrate stores quicker and we perceive the exercise to be more intense. SiS GO Hydro can help prevent this, with the aim not to lose more than 2% of our body mass.
Informed Sport Registered
Our complete product range is developed using a world-class approach to banned substance testing, providing assurance for athletes. For more information on Informed Sport & our unique world class approach, click here.
Suitable For: Vegans, Vegetarians, Lactose free, Gluten Free, Wheat Free, Nut Free, Soya Free
Nutritional Info
VITAMINS AND MINERALS
| Typical Values | Per 100g | Per Tablet 4.2g |
| --- | --- | --- |
| Energy | 794kj/190kcal | 36kj/9kcal |
| Fat | 0.0g | 0.0g |
| of which saturates | 0.0g | 0.0g |
| Carbohydrates | 19g | 0.8g |
| of which sugars | 0.9g | 0.0g |
| Fibre | 4.4g | 0.2g |
| Protein | 0.0g | 0.0g |
| Salt | 19.2g | 0.9g |
| Calcium | 2267mg | 102mg |
| Magnesium | 180mg | 8.1mg |
| Potassium | 1444mg | 65mg |
Ingredients:
Citric Acid, Electrolytes 37% (Sodium Bicarbonate, Sodium Chloride, Calcium Carbonate, Potassium Chloride, Tricalcium Phosphate, Magnesium Carbonate), Sorbitol, Inulin, Colour (Beetroot Red), Natural Flavouring, Elderberry Powder (2.3%), Starch, Sweetener (Sucralose), Vitamins (Pyridoxine Hydrochloride, Riboflavin, Thiamin)
Read More
FAQ's
What is the difference between SiS GO Hydro and the SiS GO Electrolyte products?
SiS GO Hydro contains a specific 300mg of electrolytes, which are lost through sweat. They are simply dissolved in water, with a minimal 0.8g carbohydrate and virtually no calories. Use SiS GO Hydro to hydrate before exercise and during sessions lasting under 90 minutes when energy is not needed. GO Electrolyte contains 36g of fast absorbing carbohydrate so is best for when energy is also required.
Does this make a fizzy drink?
When your drop the hydro tab in the water, it will fizz until fully dissolved. After this you are left with a still electrolyte drink.
Can I mix this with GO Electrolyte or GO Energy to get all the benefits?
No, as this would provide too much sodium, beyond the optimum levels.
Do they taste salty?
No, they are flavoured in berry and lemon flavour.
You may also like
We found other products you might like!

Verified Reviews
Rated

4.7

out of 5 based on

20

Reviews
Does exactly what it says on the tin
Does what it says on the tin.
Tastes fine, works well as a good way to hydrate without sugar and unnecessary calories
tastes lovely and refreshing
Top quality for the price thanks
Really good.. Have to hide them from my son who thinks they are to share!!
Love this... I use before, during and after exercise. So easy to use too
Great flavour and fast delivery
Great product for the price and really quick delivery
did not think I would like lemon - love it really refreshing as well as hydrating my new fav
Great product, not too sweet.
Tastes great and gives me the energy to finish off my rides!
-Paul Doe-----------------------------------------------------
Lemon x5 x24 let's hope I like it
Refreshing and easy to take on when running, it helps keep your mouth from drying up to!
Can't give a review as the product has still not arrived.