On Saturday 8th October, Filippo Ganna set the new UCI Hour Record, achieving 56.792 kilometres in 60 minutes at the Tissot Velodrome in Grenchen, Switzerland.
Ganna covered 1,244 metres more than fellow INEOS Grenadier, Dan Bingham, who previously broke the record just two months earlier. Adding to this, Ganna became the first cyclist to beat Chris Broadman's time which has been held as a benchmark since 1996.
As with all the INEOS Grenadiers team efforts, Science in Sport played an integral role in achieving the World Record, in collaboration with the Team's other partners to push the boundaries of science to improve performance.
In this article we share a unique insight into developing Ganna's UCI Hour Record Fuelling Plan, and how he fuelled his world record-breaking achievement with SiS.
The Preparation 
The ability to fuel and recover effectively is a key factor to Ganna's performance.
In the weeks leading up to the event, Science in Sport's Performance Solutions Nutritionist, Dr Marc Fell, worked with INEOS Grenadiers' Aitor Viribay and the wider performance team to develop an intake program to support Ganna's final preparation.
This included focussed periodisation of SiS Nitrates, Beta Alanine, Hydro, Beta Fuel and some bespoke products developed exclusively for the team by SiS Performance Solutions for the record attempt.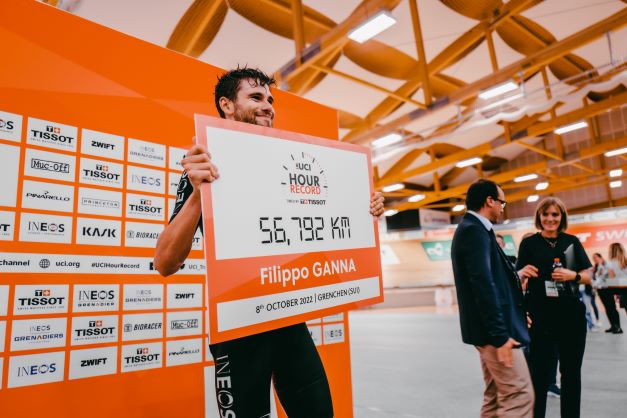 Friday 7th October
Before the attempt, the goal is to stay hydrated with proper fluid and electrolyte balance and to load glycogen with high carbohydrate meals.
Carbohydrate loading: Consuming high g/kg of carbohydrate, training sessions are fuelled with carbohydrate drinks and SiS Go Energy Bakes to support glycogen loading.
Recovery: Supported with SiS REGO Rapid Recovery, carbohydrate and protein are of importance here, with additional fructose to optimise liver glycogen loading.
Hydration:  The hydration strategy is based on using different drinks throughout the day, such as teas, water, sparkling water and supplementing electrolytes with SiS HYDRO and INEOS Grenadiers bespoke 'SiS Hydro Juice'.
Saturday 8th October
The morning before the attempt, the goal is to optimise glycogen loading with a final top up.
Carbohydrate loading: A breakfast consisting of high g/kg for carbohydrate, 0.35 g/kg protein and limited fats and fibre. Filippo supports the morning spin ride with some carbohydrates, using bespoke 'SiS Grenadier' drinks and SiS GO Energy Bakes.
Protein intake: Protein intake is achieved with an SiS Protein20 Bar in the mid-morning.
Hydration: Similar to the previous day, Filippo keeps hydrating with water, 'SiS Hydro Juice' and SiS HYDRO tablets.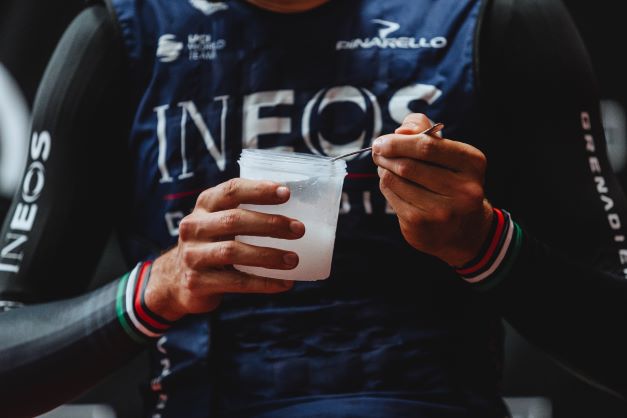 Before the attempt, there is a final meal to optimise liver glycogen and blood sugar to be ready for the hour, followed by the warmup fuelling and cooling strategy.
Last meal: Not too different from breakfast but with slightly lower carbohydrate quantities
Cooling: Filippo consumes a cold 'SiS Grenadier 40' drink, which is similar to SiS Beta Fuel, alongside other cooling strategies. This includes taking onboard a custom-made SiS Performance Solutions drink containing menthol and electrolytes.
Supplementation: Filippo takes both the custom SiS Bicarbonate and Nitrates before the hour to improve buffering and efficiency, along with a

SiS Caffeine supplement

.
Fuelling the warmup: The warm-up is fuelled with 'SiS Grenade Gels', which are custom-made gels alike to SiS Beta Fuel.
Last fuelling before the hour: A final SiS Beta Fuel + Nootropics Gel is taken 2-minutes before starting the attempt.
The Recovery
Amidst the elation and celebrations on Saturday was the very real performance goal: to optimise Filippo's recovery.
Becoming the UCI Hour Record holder saw Filippo lose more than 3kg of weight and high levels of dehydration, together with glycogen depletion.  With the Track World Championships in Paris taking place later this week (12 – 16 October), the INEOS Grenadiers and SiS developed a simple three part-plan:
Rehydrate: SiS bespoke 'Grenadier' 20g and 40g carbohydrate drink is used together with SiS HYDRO tablets.
Refuel: One SiS

Beta Fuel Chew Bar

is consumed before having a proper solid meal, based on 300-350g rice + 80-90g chicken.
Repair: 35g bespoke SiS Whey Protein Isolate is used together with one

SiS REGO Cherry Juice.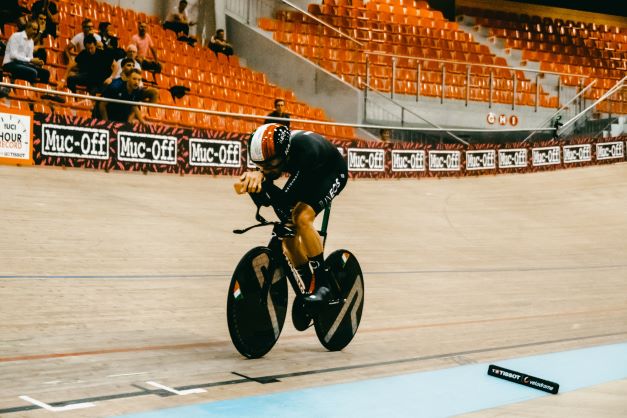 Speaking after the event, Ganna said: "This result is amazing, and now look at the recovery and celebrate it all together."