Out of stock
Product Code
sis-bundle-10t
Save 30%
Was
€100.00
€70.00
Bundle Information
Bundle Contents:
About SiS GO Isotonic Energy Gels
The SiS GO Isotonic Energy Gel was the world's first isotonic gel effectively delivering an easily digestible and quick supply of carbohydrate for energy during exercise.
They are designed to be consumed without water, minimising the risk of being bloated that can sometimes occur with over-drinking.
Provides you with 22 grams of carbohydrate per gel.
Benefits of SiS GO Isotonic Energy Gels
Depleting your carbohydrate stores during exercise is one of the major causes of fatigue. Delivering additional carbohydrate during exercise is known to improve performance, race times and delay the onset of fatigue.
The Isotonic formula allows the gel to empty from the stomach quickly as no fluid needs to be drawn into your stomach to dilute the gel, providing fast energy. SiS GO Isotonic Energy Gels are highly practical and can easily be carried without the requirement for bulky bottles.
Awards
Winner of the Queens award for enterprise, this innovative product continues to be seen at the forefront by endurance athletes. Use during endurance sessions and events to help avoid flagging.
Key Features
Truly isotonic formulation – no need for water
22 grams of rapidly absorbed carbohydrate per gel
Convenient easy-to-take format
Contents: 6 x 60ml gels per pack
Flavoured Maltodextrin gel with added sweetener.
Suitable For Vegans.
BBE: Minimum 6 Months+
About SiS REGO Rapid Recovery
SiS REGO Rapid Recovery is a complete recovery product to be consumed immediately after exercise. It contains a blend of carbohydrate (23 grams), protein (20grams), and electrolytes with vitamins and minerals.
Rapid replenishment of your glycogen stores and the provision of protein helps you to get the most from your training and prepare you for your next session.
Benefits of SiS REGO Rapid Recovery
Carbohydrate is your bodies main fuel for moderate to high intensity exercise. During training and competition, our bodies can absorb around 60g of carbohydrate per hour, meaning that demand will outstrip the supply of energy. This shortfall is met by using your glycogen stores, which must be replenished post exercise so you are able to perform well in your next session.
SiS REGO Rapid Recovery contains soy protein, which has a complete amino acid profile to which we have added 2g of leucine to support muscle protein synthesis and rebuild. Leucine is an amino acid which is known to switch on the signalling for muscle protein synthesis, amplifying the affect.
Key Features
Optimal protein serving size of 20g with 2g of leucine to promote the rebuilding of muscle tissue
Use after exercise to replenish your energy stores fast
Ideal for lactose intolerant individuals
Suitable for: Vegetarians; Coeliacs; Gluten Free; Wheat Free; Nut Free. Contains Soy.
BBE: Minimum 6 Months+
About SiS GO Hydro
SiS GO Hydro meets your sodium requirements at a specific concentration (30mmol/L) that is scientifically proven to produce superior hydration compared with water alone. It was developed to keep the British Sailing team optimally hydrated at the 2008 Beijing Olympics. Simply drop a tablet into water for effective hydration, with virtually no calories, before and during sports.
Benefits of the SiS GO Hydro
During moderate to intense exercise, we can produce up to 2 litres of sweat per hour depending on the environmental conditions. Sweat contains vital electrolytes, including sodium. Sodium is the most important electrolyte as it helps to stimulate thirst, improve taste and promote absorption and retention.
If fluid and electrolyte losses are not replaced, dehydration occurs which is a major cause of fatigue. Once dehydrated, our body temperature rises; our heart rate increases; we deplete carbohydrate stores quicker and we perceive the exercise to be more intense. SiS GO Hydro can help prevent this, with the aim not to lose more than 2% of our body mass.
Berry flavoured electrolyte mix with natural elderberry extract and added sweetener in 20 tablet pack.
Directions For Use:
Add 1 SiS GO Hydro tablet to 500ml of water and let it dissolve. Once prepared consume within 24 hours. Do not consume more than 4 tablets per day.
Recommended Usage:
Consume 500ml of SiS GO Hydro 3-4 hours prior to your event with a further 250-500ml in the hours before starting. During exercise of a shorter length where carbohydrate intake is not necessary, consume 500 ml of SiS GO Hydro per hour. If aiming to combine hydration and energy delivery, consume SiS GO Electrolyte with the SiS GO Gel range.
Key Features
Simply drop in water to provide a high electrolyte drink
High in sodium to help promote hydration
When hydration is required without the added calories
Contents: 20 x 4.3g Tablets
Suitable For Vegans.
BBE: Minimum 6 Months+
About SiS GO + Caffeine Gel
Our award winning gel technology delivers fast energy with a caffeine boost that's easy to consume.
SiS GO + Caffeine is clean in the mouth and easy to digest. For when you want an energy boost, but want the benefits of caffeine too. Use before or during sport for added physical and mental focus when you want to get an edge.
Directions For Use:
Consume up to 3 sachets per 60 minutes during exercise as required. Do not consume more than 4 sachets per day. SiS GO Gels do not need to be consumed with water to be effective. Ensure you keep hydrated. This product is not intended for children, under 16's or pregnant women.
Key Features
75mg of caffeine per gel
21-22 grams of carbohydrate per gel (dependant on flavour)
Formulation delivering energy fast and effectively
Contents: 6 x 60ml gels per pack
Suitable for: Vegetarians; Vegans; Coeliacs; Lactose Free; Gluten Free; Wheat Free; Nut Free
BBE: Minimum 6 Months+
Key Features of the Team INEOS 550ml Bottle
Official bottle as used by Team INEOS in training & races
Soft rubber nozzle
Wide-neck opening
Dishwasher safe
550ml
Product Uses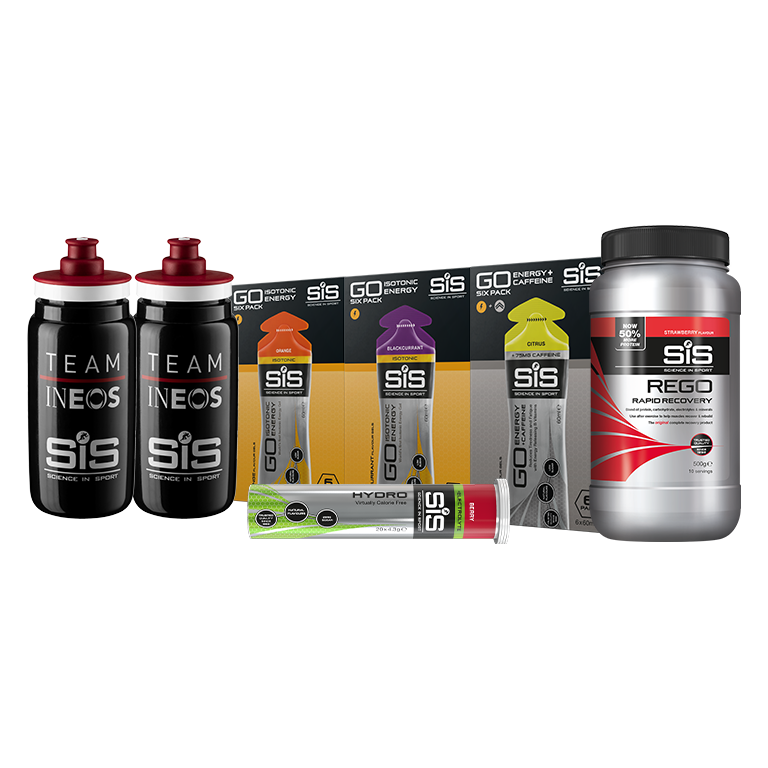 Nutritional Info
For nutritional information on the components of this bundle, please see the product page of the individual product.
Examples for each product are available here:
Read More
Verified Reviews
Rated

5

out of 5 based on

20

Reviews
Brilliant Price for a brilliant Bundle. Great bottles too.
It has everything you need to fuel your rides and sportives. Nice touch with Team Sky bottles. The gels are very good sources of carbohydrates. The have the correct osmolality wich means that they are easily absorbed with a fast gastric emptying. The REGO has a good taste and it disolves easily even in cold water.
A great combination of essentials needed for performance and recovery.
Nice price for this bundle. Could've done without the Sky bottles, as I have too many bottles already, but being able to select among the other options is good, especially with the nice discount on top.
Just what you need Bundle.
Atbhalf price this is a good buy
All of every one need for cyclism with this Bundle. Great product
Very pleased and better than I was expecting
Nice bundle with bidons and perfect Rego shake, also the Isotonic gels are great.
The product tastes well, mixes easily and helps with rehydration and recovery.
Good quality. Delivered on Thursday instead of estimated Wednesday, however would blame courier company, and still within 5 working days. Gels helped a lot on my weekend ride, weather unfortunately forced me to postpone remaining milage for next Saturday.
Good selection of products, great discount & free bottles, what's not to like
Great products, not just for elite athletes.
Bargain price for this volume of products. good choice and very practical
Great value for money. Good variety of products.
Excellent products, great bottles , recommend these !
Familiar with all products, good value
Great bundle that offers all you need for correct fuelling of your rides. Nice addition of the bottles that look the part sat in your cages 🙂👊🏻
Good mix of product which I used as prep for and during a sportive
Great products great price.