Out of stock
Product Code
marathon-bundle
Product Code
A bundle designed specifically for runners to fuel and hydrate your Marathon training and prepare you for race day. Depending on intensity of your training, this bundle should get your through a 3 months training plan.
Bundle includes:
1 x GO Isotonic Energy Gels 30 Pack
1 x GO + Caffeine Energy Gels 6 Pack
1 x GO Electrolyte 1kg
1 x REGO Rapid Recovery 1kg
2 x GO Hydro
1 x Running Bottle 400ml
Bundle Information
GO Isotonic Energy Gels:
Flavoured carbohydrate gel with added sweetener. SiS designed the world's first isotonic energy gel to be clean in the mouth and easy to digest. Our patented product means it delivers energy fast without the need for extra water for when you need a fast, convenient energy boost. Winner of the Queens award for enterprise, this innovative product continues to be seen at the forefront by endurance athletes. Use during endurance sessions and events to help avoid flagging.
Key Features:
Fast acting energy gel.
No need for additional water.
Informed Sport tested.
GO + Caffeine Energy Gels:
Our award winning gel technology delivers fast energy with a caffeine boost that's easy to take. SiS GO + Caffeine is clean in the mouth and easy to digest. When you want an energy boost, but want the benefits of caffeine too. Use before or during sport for added physical and mental focus when you want to get an edge.
Key Features:
Flavoured maltodextrin gel with caffeine and added sweeteners.
High caffeine content: 75mg.
Award winning gel technology delivers energy fast.
Clean in the mouth and easy to digest.
GO Electrolyte 1kg Tub:
SiS GO Electrolyte gives you energy fast and contains balanced electrolytes to enhance your body's ability to absorb water, maintain endurance performance and protect against cramp.
Key Features:
As easy to drink as water, SiS GO Electrolyte puts back what you sweat out.
Ideal for indoor workouts, exercise in the heat or any time when you are sweating heavily or dehydrating.
Fast hydration plus sustained energy for before and during exercise.
When you want a balance of energy and hydration.
It is light on the stomach.
Use before to prepare and during sport when you are sweating heavily.
Available in Lemon & Lime, and Tropical Fruit.
REGO Rapid Recovery Drink Powder:
Providing rapidly digestible protein also provides amino acids to support muscle protein synthesis for growth and rebuild. Soy has a complete amino acid profile to which we have added additional leucine to make the formulation even more effective. Leucine is an amino acid which is known to switch on the signalling for muscle protein synthesis, amplifying the affect.
Key Features:
To recover, rebuild and support the body's adaptation to training.
When you are in a training programme and need your body to adapt to increasing demands.
A full spectrum recovery product for periods of intense training.
Developed with feedback from the Olympic cyclist Chris Boardman, it helps your muscles to recover and rebuild.
Use immediately after exercise to help your body adapt to increased training demands to become stronger as quickly as possible.
Easy on the stomach, so it can be taken after hard exercise.
Available in Strawberry and Chocolate
GO Hydro
SiS GO Hydro is designed to ensure you are effectively hydrated to produce your best performance. As an effervescent tablet that readily dissolves in plain water, it represents a highly practical approach (simply drop one tablet in your 500 ml water bottle) without the calories.
Key Features
Simply drop in water to provide a high electrolyte drink
High in sodium to help promote hydration
When hydration is required without the added calories
Contents: 20 x 4.3g Tablets
Suitable For Vegans.
BBE: Minimum 6 Months+
SiS 400ml Running Bottle:
All Science in Sport bottles have a unique Easy Mix System. This has been designed to deliver fast and accurate mixing. The Easy Mix System enables you to pour specific amounts of Science in Sport powder directly into the bottle by using the pre-determined marks printed on the outside of the bottle.

Key Features:
Unique easy mix system
Soft rubber nozzle
Easy to grip bottle with ergonomic shape
Lockable valve for leakproof transport
Dishwasher safe
Product Uses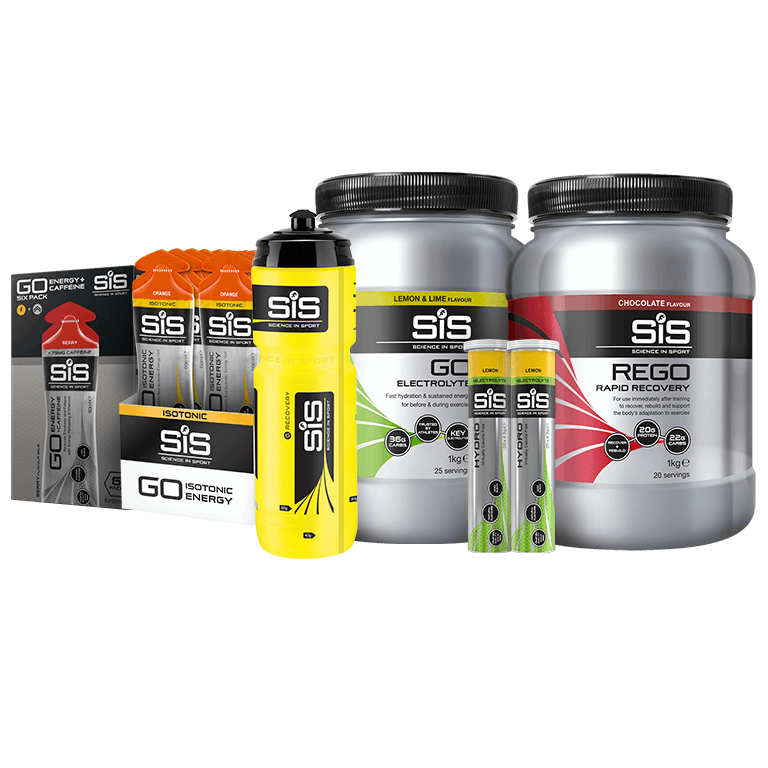 Nutritional Info
For nutritonal information about the individual products within this pack, please see the relevant product page for each product.
Read More
Verified Reviews
Rated

4.8

out of 5 based on

6

Reviews
Great value . A good selection and I like all the flavours
Bundle is good. Please add an energy bar
Such a bargain and you get everything you need.
constantinos christodoulou
Half price for this bundle is amazing price.
Yes happy with deal overl
Good value bundle purchased under an offer - was spot on for a 2 week cycling holiday in France.