REGO Rapid Recovery Powder - 1.6kg (Strawberry)
Save 30%
Special Price
€35.70
Was
€51.00
Product Code
The original complete recovery product in a large 1.6kg tub - a blend of protein, carbohydrate, electrolytes & minerals.
Use after exercise to help muscles recover & rebuild - Strawberry flavour
Award Winner! 2016 Men's Running Award for Best Post-Race Nutrition
FREE DELIVERY ON ORDERS OVER €40
Product Information
SiS REGO Rapid Recovery is a complete recovery product to be consumed immediately after exercise. It contains a blend of carbohydrate (22g), protein (20g) and electrolytes with vitamins and minerals.
Rapid replenishment of your glycogen stores and the provision of protein helps you to get the most from your training and prepare you for your next session.
Key Features:
• Optimal protein serving size of 20g with 2g of leucine to promote the rebuilding of muscle tissue
• Use after exercise to replenish your energy stores fast
• Ideal for lactose intolerant individuals
Product Uses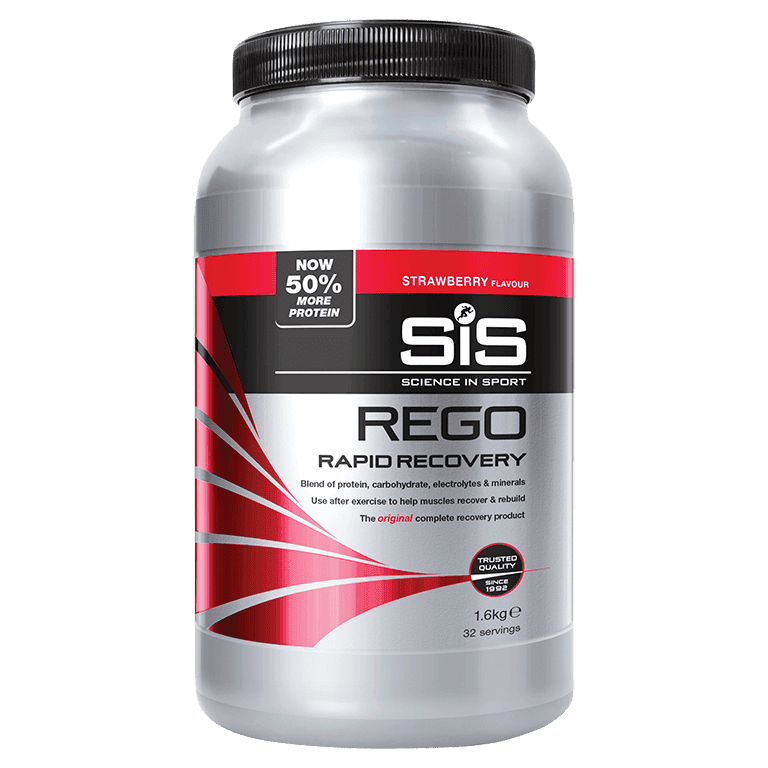 Benefits
Benefits of SiS REGO Rapid Recovery
Carbohydrate is your body's main fuel for moderate to high intensity exercise. During training and competition, our bodies can absorb around 60g of carbohydrate per hour, meaning that demand will outstrip the supply of energy. This shortfall is met by using your glycogen stores, which must be replenished post exercise so you are able to perform well in your next session.
REGO Rapid Recovery contains high quality protein with a complete amino acid profile enhanced by the addition of 2g of Leucine. A vitamin and mineral profile has also been included to support the recovery process by contributing to normal muscle function and protein synthesis.
Nutritional Info
| Typical Values | Per Serving (50g) | Per 100g |
| --- | --- | --- |
| Energy | 782kj/184kcal | 1564kj/368kcal |
| Protein | 20g | 40g |
| Carbohydrate | 23g | 46g |
| of which sugars | 5.1g | 10g |
| Fat | 1.3g | 2.6g |
| of which saturates | 0.2g | 0.4g |
| Fibre | 0.3g | 0.6g |
| Salt | 1.0g | 2.0g |
| Vitamin D | 1.0ug (20%) | 2.0ug (40%) |
| Vitamin E | 2.8mg (23%) | 5.6mg (46%) |
| Vitamin C | 24mg (30%) | 48mg (60%) |
| Thiamin | 0.5mg (45%) | 1.0mg (90%) |
| Riboflavin | 0.6mg (42%) | 1.2mg (84%) |
| Niacin | 7.3mg (45%) | 14.6mg (90%) |
| Vitamin B6 | 0.8mg (57%) | 1.6mg (104%) |
| Folic Acid | 50ug (25%) | 100ug (50%) |
| Vitamin B12 | 0.4ug (16%) | 0.8ug (32%) |
| Biotin | 18ug (36%) | 36ug (62%) |
| Pantothenic Acid | 1.5mg (25%) | 3.0mg (50%) |
| Potassium | 300mg (15%) | 600mg (30%) |
| Magnesium | 57mg (15%) | 114mg (30%) |
| Iron | 2.4mg (17%) | 4.8mg (34%) |
| Zinc | 2.0mg (20%) | 4.0mg (40%) |
| Iodine | 23ug (15%) | 46ug (30%) |
Ingredients:
Carbohydrate mix (46%) (Maltodextrin (from Maize), Fructose), Protein (46%) (Soy Protein Isolate), Electrolytes (3%) (Sodium Chloride, Potassium Chloride, Calcium Lactate, Magnesium Oxide), Natural Flavourings, L-leucine, Emulsifier (Soy Lecithin), Thickener (Xanthan Gum), Colour (Beetroot Red), Vitamins & Minerals (Ascorbic Acid, Nicotinamide, Alpha Tocopheryl Acetate, Ferric Pyrophosphate, Zinc Sulphate, Calcium Pantothenate, Pyridoxine Hydrochloride, Riboflavin, Thiamin Mononitrate, Calcium Citrate, Folic Acid, Potassium Iodide, Biotin, Vitamin D3, Cyanocobalamin), Sweetener (Sucralose)
Read More
FAQ's
When should I have this?
SiS REGO Rapid Recovery should be consumed within 30 minutes of stopping exercising after short, intense sessions and prolonged endurance sessions.
What is the difference between REGO and Whey Protein?
Use SiS REGO Rapid Recovery when the aim is to replenish carbohydrate energy stores and take on protein for rebuild, Whey Protein contains a lower level of carbohydrate.
Do I mix with water or milk?
Although milk is high in protein, milk is made up of 80% casein, which is slow digesting. Mix with water to increase absorption rates and aid hydration levels.
What type of protein does this contain?
SiS REGO Rapid Recovery contains soy protein isolate, which is made from the de-fatted beans leaving a high quality protein source and a full amino acid profile.
Why isn't it suitable for vegans?
SiS REGO Rapid Recovery contains vitamin D, which is derived from animal sources.
How much protein is there per serving?
SiS REGO Rapid Recovery contains 20g of protein.
How many scoops per serving:
Add 50g (approximately 3 scoops) to 500ml of water and mix well.
You may also like
We found other products you might like!

Verified Reviews
Rated

4.6

out of 5 based on

20

Reviews
I take this just after a 7 mile run and I don't feel any fatigue after
Best recovery drink I've used. Makes a huge difference when training day after day or more than once in a day.
I always have a full mix after every bike ride. Love the taste and easy to mix.
Tastes good and I most certainly feel a difference when I run out. I take it immediately, shower then eat a meal. When I dont take this, even if I have a high GI meal immediately after my workout I definitely feel the session in the legs for longer.
Great product great taste
Tastes great but a little powdery
easy to mix recovery drink using water with a great tasting flavour. been using the Rego protein powders for many years as part of my training and race recovery.
Hi, as I've just finished me last SiS REGO Rapid Recovery Raspberry 1.6kg. And opened this bottle yesterday and loved the taste too. Thank you SiS, you're the best!👍🏼
My ride is not complete until I've had my REGO shake - great taste, especially the strawberry, and it seems to work well.
Really does help recovery after exercising. Very pleasant taste
Great value for money. This was a reorder so I bought 2 x 1.6kg to take advantage of a good deal.
My product has not been delivered. It has been nearly two weeks now