GO Energy + Caffeine Gel - 20 Pack (Double Espresso)
Save 40%
Special Price
€33.00
Was
€55.00
Product Code
Fast energy gel with 150mg added caffeine to provide a mental and physical boost.
Espresso flavoured energy gel with double caffeine (150mg) in easy to open packaging, perfect for when you need a boost.
FREE DELIVERY ON ORDERS OVER €40
Product Information
The SiS GO Energy + Caffeine Gel 150mg builds on the established science of the SiS GO Isotonic Energy gel, the world's first and only truly isotonic energy gel.
This product provides 22g of carbohydrate and 150mg of caffeine per gel. Ideal for high intensity races and long, tough days on the road. Caffeine has been repeatedly shown to improve performance by lowering your perception of effort by providing a boost just when you need it.
SiS GO Energy + Caffeine is clean in the mouth and easy to digest. For when you want an energy boost, but want the benefits of caffeine too. Use before or during sport for added physical and mental focus when you want to get an edge.
Key Features:
• 150mg of caffeine per gel
• 21 grams of carbohydrate per gel
• Formulation delivering energy fast and effectively
• Contents: 20 x 60ml gels per pack
Product Uses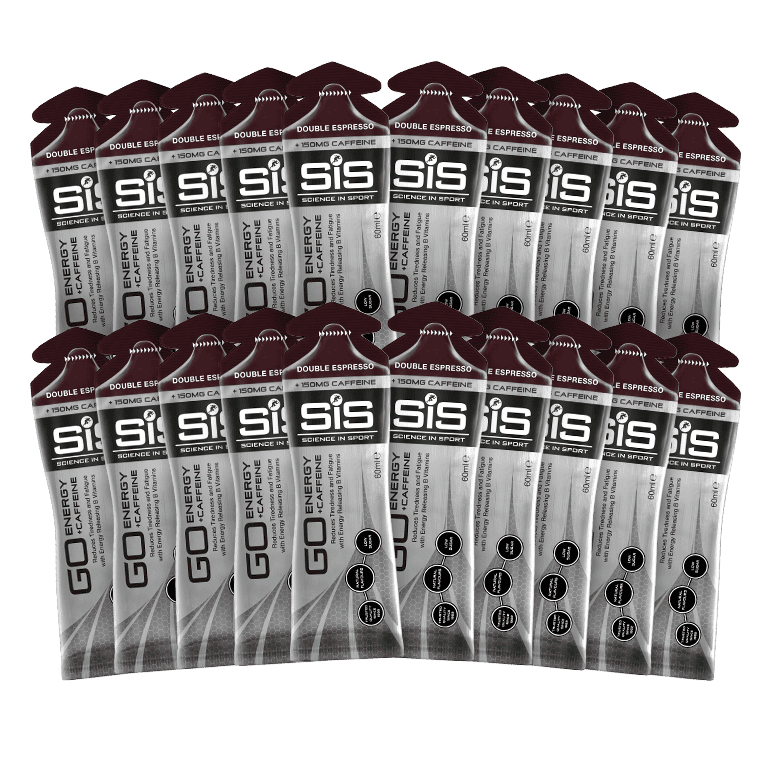 Recommended Usage
Consume 1 gel 1 hour before exercise for high intensity, short duration events to ensure the body starts with elevated caffeine levels. In longer duration events consume no more than 2 double caffeine gels per day. Ensure you keep hydrated. This product is not intended for children, under 16's or pregnant women. Where hydration is important, SiS GO Energy + Caffeine Gel 150mg can also be consumed with SiS GO Hydro or GO Electrolyte to ensure a combination of energy, caffeine and fluid delivery during exercise.
Directions for Use
Simply tear off the top of the packaging and consume - there is no need to mix with water.
Benefits
When pushing yourself hard, your brain controls how fatigued you feel. Caffeine acts as a stimulant on the brain to lower your perception of effort, allowing you to keep pushing and maybe stretch yourself a little further.
It can take 30-60 minutes after consumption for caffeine levels to peak in the blood, so if you are doing a short duration event (less than 60 minutes) you should take it before you start.
If you are doing a much longer event, such as a marathon, 100 mile sportive, or half-ironman triathlon or longer, you should save your caffeine intake for the last two hours when your fatigue level is likely to catch up with you.
Informed Sport Registered
Our complete product range is developed using a world-class approach to banned substance testing, providing assurance for athletes. For more information on Informed Sport & our unique world class approach, click here.
Suitable For: Vegans, Vegetarians, Lactose free, Gluten Free, Wheat Free, Nut Free, Soya Free
Nutritional Info
| Typical Values | Per 100ml | Per Serving 60ml |
| --- | --- | --- |
| Energy | 616kj/145kcal | 370kj/87kcal |
| Protein | 0.0g | 0.0g |
| Carbohydrate | 37g | 22g |
| of which sugars | 1.2g | 0.7g |
| Fat | 0.0g | 0.0g |
| of which saturates | 0.0g | 0.0g |
| Salt | 0.1g | 0.04g |
| Caffeine | 250mg | 150mg |
Ingredients:
Water, Maltodextrin (from Maize) (33%), Natural Flavouring, Gelling Agents (Gellan Gum, Xanthan Gum), Acidity Regulators (Citric Acid, Sodium Citrate), Caffeine (150mg), Preservatives (Sodium Benzoate, Potassium Sorbate), Sweeteners (Acesulfame K, Sucralose), Sodium Chloride, Antioxidant (Ascorbic Acid)
Read More
FAQ's
What is the recommended frequency of consumption?
We don't recommend that you consume more than 2x 150mg caffeine gels per day.
When is the best time to consume the SiS GO Energy + caffeine Gel 150mg?
Have 1 gel 60 minutes before short, intense exercise to provide mental stimulation for the race ahead. Have 1 gel towards the end of long, endurance exercise to delay fatigue.
When should I have this over the 75mg caffeine gel?
This gel contains a high dose of caffeine and should be consumed by individuals who use caffeine regularly to boost mental performance.
What are the benefits of caffeine?
Caffeine has been shown to increase endurance performance by providing a mental boost, improving alertness and concentration.
Are these gels isotonic?
The SiS GO Energy + Caffeine gel 150mg is not isotonic, as the added caffeine increases the concentration of the gel.
Will these upset my stomach?
150mg of caffeine is the equivalent to two cups of coffee or 1-2 cans of energy drink. However, individuals tolerate caffeine consumption differently to others, so make sure you try it out in training, before using in competition.
Will they fit in my cycle jersey pocket?
Yes! All SiS GO Gels are lightweight, compact and designed to fit in jersey pockets, cycle bags and waist packs. They are pressure tested, so don't worry about the packaging tearing or bursting during exercise.
You may also like
We found other products you might like!
Verified Reviews
Rated

4.8

out of 5 based on

20

Reviews
Great to use before my run and the caffeine gives a real boost and they taste great, good value for money
Great for a boost during a long run, taste great too, feels like a little treat 🙂
More Rocket Fuel.... Yeah
Great for a boost of energy mid run
Double Espresso packs a punch, fairly sweet however top knotch. Great gels
Love this product the best flavoured gel out there by far, in my opinion of course :-)
Excellent gels great taste
Amazing taste, easy to open and lovely flavour. Definitely is working, feel pumping energy in your legs.
effective energy gel to take half an hour or so before a race - I use them prior to racing on Zwift - quite a strong flavour but, even tho' I don't like espresso, I find them OK
Best gel out there and I have tried many . Definitely gives a big kick when needed ,whether cycling or running . Good taste and no stomach issues whatsoever. Simply the best👍😎
Good. Very easy to digest.
great value. amazing boost to my training.
I love them. Easy to carry and very effective with 150 mg caffeine. Give me energy to perform my exercise.
Brilliant work really well when you need them, which for me is at around mile 20 of a marathon.
been using these 150ml caffienated gels for over 18months..they are SUPERB