Save 10%
Special Price
€10.75
Was
€12.00
€0.09/serving
Product Code
1000mg Vitamin C
Informed Sport tested
45 days supply
FREE DELIVERY WITH ORDERS OVER €40
Product Information
The Science in Sport Vitamin C Chewables delivers 1000mg of vitamin C and 20mg of citrus bioflavonoids.
Daily supplementation with vitamin C, as a preventative measure, may reduce the risk of getting a cold and shorten the duration of colds. Bioflavonoids are nutrients found in plants that help to maximise the benefits of vitamin C, by inhibiting its breakdown in the body.
Key Features:
• 1000mg Vitamin C
• Informed Sport Tested
• 45 days supply

Product Uses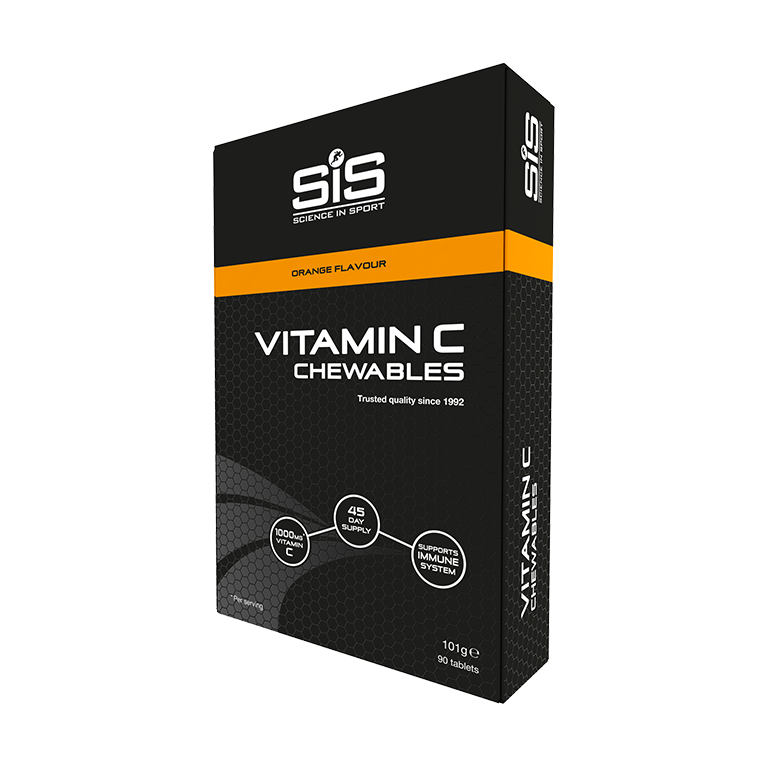 Recommended Usage
Consume 2 tablets per day.
Benefits
Reductions in muscle soreness and markets of muscle damage have been noted with daily and pre-exercise vitamin C supplementation. While vitamin C has also been shown to reduce exercise-induced protein oxidation. Less muscle breakdown, via protein oxidation, may enable an athlete to maintain performance outputs during exercise and recover quicker following exercise.
A reduction in post-exercise circulating cortisol has been observed alongside vitamin C ingestion. As high circulating cortisol has links to immunosuppression, the potential vitamin C induced reduction of cortisol could also support immune function following exercise. Therefore, including a daily vitamin C supplement may elicit both health and performance benefits.
Vitamin C Chewables are tested under the Informed Sport Certification program. This approach involves testing every single batch of SIS finished product, which leaves the Company's factory, screened against the 2018 World Anti-Doping Agency (WADA) list. Banned substances including steroids are tested to the level of 10 Nanograms per gram, and stimulants to 100 Nanograms per gram. Batches (sampled at the beginning, during and end of each product batch) receive the recognised and respected Informed Sport* certificate and Science in Sport provides the documentation to athletes on request.
Nutritional Info
| | Per Serving (2 Tablets) |
| --- | --- |
| Vitamin C | 1000mg (1250% RI*) |
| Citrus Bioflavonoids (Citrus Sinensis) (Fruit) (from 20mg of 2:1 extract) (Standardised to contain 35% hesperidin) | 40mg |
Ingredients:
*reference intake of an average adult (8400 kj/ 2000 kcal). Vitamin C (as sodium ascorbate), Vitamin C (as ascorbic acid), Bulking Agent (Dextrate), Sweetner (Sorbitol), Flavouring, Citrus Sinensis Extract, Anti-Caking Agent (Magnesium Stearate), Sweetener (Sucralose), Riboflavin (Vitamin B2)
Read More
FAQ's
What is Vitamin C?
Vitamin C is a water-soluble essential vitamin in the body
What does Vitamin C do in the body?
Vitamin C, as a preventative measure, may reduce the risk of getting a cold and shorten the duration of colds. Daily vitamin C supplementation has also shown reductions in muscle soreness and markers of muscle damage in relation to exercise performance (1, 2, 3, 4).
Why Science in Sport?
Science in Sport Vitamin C Chewables are formulated alongside Team Sky to ensure optimal vitamin C provision in athlete populations, with the addition of citrus bioflavonoids to increase vitamin C absorption.
When should I take Vitamin C?
Consume 2 chewables per day.
Is it Informed Sport tested?
Yes, Science in Sport Vitamin C Chewables are tested under the Informed Sport programme.
You may also like
We found other products you might like!
Verified Reviews
Rated

4.6

out of 5 based on

9

Reviews
Trusted product. Really good fantastic price
Great price, easy chew - super product
They gave me terrible bowel issues so I have stopped taking them, therefore they turned out to be a waste of money.
Very nice and easy to digest