Código de producto
go-electrolyte-1kg
Pólvo GO Electrolitos - 1kg
50% Descuento
Estaba
14,00 €
Estaba
28,00 €
RECIBE REGALOS EN TU CESTA CUANDO GASTES MÁS DE €30
Información del Producto
Mezcla de bebida energética de carbohidratos saborizados con electrolitos y edulcorante.
Acerca de SiS GO Electrolyte
SiS GO Electrolyte contiene una mezcla de un suministro fácil, y fácilmente digerible, de carbohidratos y electrolitos (como el sodio) que promueven una hidratación óptima.
Una combinación de fuentes de energía y electrolitos mejora la capacidad de su cuerpo para absorber agua durante el ejercicio. Mantenga su rendimiento de resistencia y protéjase contra los calambres. El producto se mezcla en concentraciones apropiadas de carbohidratos (36 gramos como una solución al 6%), sodio (20 mmol / L) y líquido (500 ml en servicio) para lograr los objetivos combinados de energía e hidratación.
Beneficios del electrólito SiS GO
Tanto el agotamiento de carbohidratos como la deshidratación son dos de las principales causas de fatiga en el ejercicio de resistencia. Un error común que cometen los atletas de resistencia es consumir demasiado o muy poco carbohidratos en concentraciones inadecuadas, lo que provoca la falta de absorción de carbohidratos o problemas gastrointestinales.
Además de garantizar un almacenamiento óptimo de carbohidratos y un estado de hidratación antes del ejercicio, ofrece Se sabe que los carbohidratos y líquidos adicionales durante el ejercicio mejoran el rendimiento, los tiempos de carrera y retrasan la aparición de la fatiga. La formulación específica de SiS GO Electrolyte representa un enfoque estratégico para compensar los efectos negativos del agotamiento y la deshidratación de los carbohidratos en su rendimiento.
Key Features
36 gramos de carbohidratos por porción de 500 ml
Alto en sodio para promover la hidratación
Ofrece energía y líquidos rápidamente
Adecuado para veganos.
Fecha de Caducidad: Mínimo 6 meses +
Usos del producto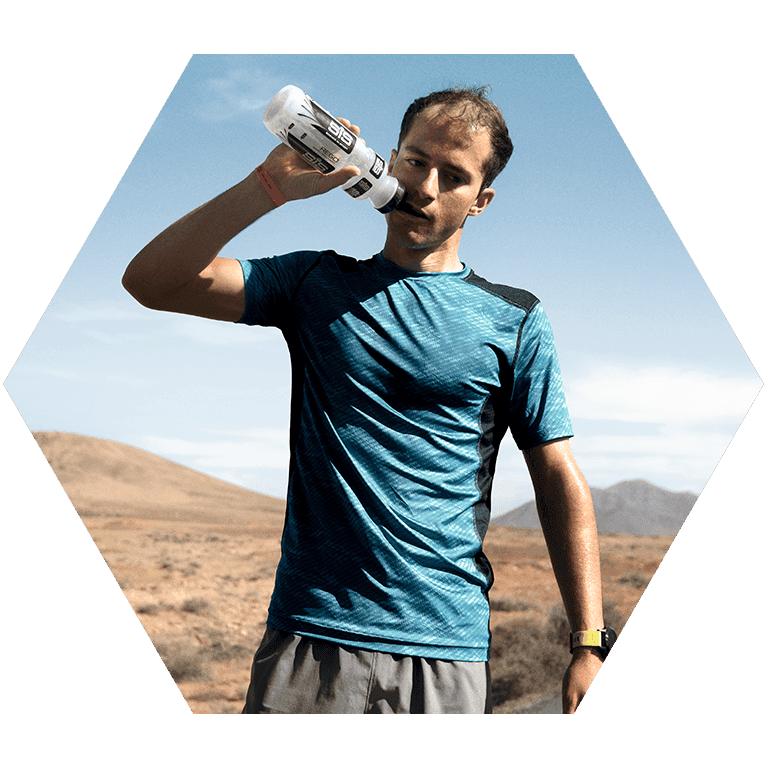 Uso recomendado
Consuma 500 ml durante el entrenamiento y el partido, idealmente en el medio tiempo. Usar en combinación con los geles de energía isotónica GO. Una vez preparado, consumir en 24 horas.
Instrucciones de uso
Para facilitar la mezcla, use botellas de bebidas deportivas SiS que tengan marcadores para indicar el nivel correcto de polvo. O, agregue 40 g de electrolito SiS GO (2 cucharadas = 40 g) a 500 ml de agua en una botella y agite bien para asegurarse de que la tapa esté bien cerrada.
Beneficios
Tanto el agotamiento de los carbohidratos como la deshidratación son dos de las principales causas de la fatiga en el ejercicio de resistencia. Un error común que cometen los atletas de resistencia es consumir demasiados o muy pocos carbohidratos en concentraciones inadecuadas, lo que causa falta de absorción de carbohidratos o problemas gastrointestinales.
Además de garantizar unas reservas óptimas de carbohidratos y un estado de hidratación antes del ejercicio, se sabe que la entrega de carbohidratos y líquidos adicionales durante el ejercicio mejora el rendimiento, los tiempos de las carreras y retrasa la aparición de la fatiga. La formulación específica del SiS GO Electrolitos gele representa un enfoque estratégico para contrarrestar los efectos negativos del agotamiento de los carbohidratos y la deshidratación en su rendimiento.
Informed Sport certificado
Nuestra completa gama de productos se desarrolla utilizando un enfoque de primera clase para las pruebas de sustancias prohibidas, lo que ofrece garantías a los atletas. Para más información sobre el Deporte Informado y nuestro enfoque único de clase mundial, haga clic aquí.
Información nutricional
Para obtener información nutricional sobre los sabores individuales, por favor vea los productos individuales. El siguiente ejemplo es para el sabor de Naranja
Valores típicos
Porción (40g)
Cada 100g
Energia
619kj/146kcal
1547kj/364kcal
Proteína
0.0g
0.0g
Carbohidratos
36g
91g
de los cuales azucares
6.7g
17g
Grasa
0.0g
0.0g
de los cuales saturada
0.0g
0.0g
Fibra
0.0g
0.0g
Sal
0.5g
1.3g
VITAMINAS Y MINERALES (% VRN*)
Calcio
27mg (3%)
66mg (8%)
Magnesio
5mg (1%)
13mg (4%)
Potasio
60mg (3%)
150mg (8%)
Ingredientes:
Mezcla de hidratos de carbono (93%) (maltodextrina (de maíz), fructosa),Ácido cÍtrico, electrolitos (2%) (cloruro de sodio, lactato de calcio, cloruro de potasio, citrato de sodio, citrato de magnesio), saborizante naturales, edulcorante (aspartamo).
Lee mas
Preguntas frecuentes
What is the difference between this and SiS GO Energy drink?
SiS GO Electrolyte contains 36g of fast absorbing carbohydrate with the addition of balanced electrolytes which increase water absorption.
When should I use this product?
SiS GO Electrolyte is great for when you're sweating heavily and you need to balance energy with hydration. Combine the powder with 500ml of water and consume one per hour during exercise lasting over 90 minutes, along with other carbohydrate sources e.g SiS GO Isotonic Energy Gels.
Do I need to preserve this once open?
Once opened, keep the product cool and dry and don't exceed the best before end date.
Can I mix this with GO Energy or Hydro Tabs to get all the benefits?
We don't recommend combining the products together into one solution because the products have optimal carbohydrate and sodium levels. Combining them will alter the concentration of the products, making them no longer optimal.
How many scoops do you need per normal 750ml bottle?
Use 3 scoops in a SiS 750ml bottle.
Does this product contain Aspartame?
Yes, aspartame is added to make the product more palatable. It is one of the more researched sweeteners and is safe to consume.
También te puede interesar
Hemos encontrado otros productos que te pueden gustar!

Opiniones verificadas
Calificado

4.8

de 5 basado en

96

Comentarios
Great product that I stick to religiously. Easy to mix and dissolves quickly.
Use this during my sport to keep hydrated
Certainly puts those salts back into the system once you worked out a hard sweat
Works for me, good taste, mixes well and does what it says on the tin!
Tastes really nice, really like it
Brilliant great when used with SIS energy over 50 miles
Excellent for when you're putting the miles in
Tastes good not overwhelming
Great re-hydrater, better than just squash and water.
Good after a run to get you going again
Excellent fuel drink been using it for years.
Love the product! Works really well
Chemical tinged lime flavour, but strangely compelling.
Love the flavour, fresh mouth & hydrated on a ride
Good product, works well and selection of flavours
Good value and my favorite flavour in the range
I like these I would take them when I go out on the Bike and also drink them during the day at work.
A must have item for me as i do a lot of running and after a long day at work a few mouthfulls of this drink sets me up for a good run/session.
Neither mixing or warning instructions are in English and it's correct use cannot be guaranteed... Every language. OTHER THAN ENGLISH.???
Great product always use it
Excellent product, can really feel it working. Great taste too.
Excellent addition to protein shake for extra carbs - runner
Great taste, easy to mix, good value
Really liked this product, tastes like the "light" orange lucozade IMO. It seems to help me during long runs to finish stronger than just water
Amazing stuff great buy !
I wouldn't cycle without it.
it gives me all the necessary nutrition on a bike ride or long run. But I'm not too keen on the flavour. That why its only a 4 star.
Always using this product for my cycling
Tastes great and definitely does the job
Good for durability, good taste
Essential for replicated performance day after day; rehydrate or bonk
Nice taste, fuels me on the longer cycle rides
Good service from SIS. Great product, it helps me a lot in my long bike rides to keep me hydrated and it gives me a bit of extra energy. The tropical flavour is delicious and sweet which makes it easier to drink. I found later that you can have it cheaper from eBay.
Great product with great results used this for years and never been disappointed
Good for energy boost during cycle training
Great for a pick up when i am on the trails, easy on the stomach with a great taste. Also very speedy service, i always buy energy products from you guys.
This is now my new favourite. Definitely a winning formula. Lovely taste and very refreshing on a hot cycle ride.
Great tasting drink that really aids hydration during exercise/work.
I've used SIS electrolyte for many years. I believe in its performance,I use it for all my bike rides and all the flavours taste great too.
Easy to mix with a pleasant taste.
I have suffered with cramp all my life and SIS GO has reduced the attacks in frequency and intensity. The taste is great and the powder is not only effective but also far cheaper than other bottled products. It also cuts down on plastic waste because I used the same container every time. Save money and the Planet - try it.
Great tasting electrolyte drink that actually works. In my opinion. Energy levels kept at a constant level if sipped throughout exersize when required. Excellent overall.
Nice for open water swimming
My go to sport drink. I mostly mix it less strong than these instructions, great for hydrating on a long warm spin or during a race
Good flavour, not too much sugar. Perfect for all distances
Fantastic energetic boost
constantinos christodoulou
Great taste. My personal favorite one.
Good gear nice palletable flavour
Useful product and have used sis electrolyte for years, however this one seems bit thicker and sweeter than previously. Still mixes well and does the job may go back to tropical next time, although unsure if the whole electrolyte recipe has changed?
Very good i use for out on the bike and also when am at work
Excellent product at a great price
Great taste, not corbonated 🙂 but doesnt dissolve as quick as I expected.
Does what it says on the tub.
Used this flavour before, easy to drink
Refreshing and simple to mix. Gives me a real boost in the half-marathon.
Does what it says on the packet
Tastes great mixes well first class product
Love this on a training run, great flavour and refreshing
Great taste and flavour. No problem with digestion.
Nice and fresh taste, and works for me with no cramps
Good taste. Product as per description. Recommended.
Great product at a great price
Excellent product. Have been using it for years and will continue to do so.
Easy to take and nice taste electrolyte
Great item - super quality and good value for money. easy to use and very tasty - great for your sports.
Solved my cramping years ago and continues today
It works and it tastes good too
Good for someone like me who sweats a lot. Good value in the 1kg size.
Great flavour, perfect size tub for cycling training rides, and the double espresso sachets tgat cane free with it were stunning!
I got this for my partner it tastes good and it good for hydration
I have only recently started using the SiS Go Electrolyte on my long runs. The Raspberry flavour is great.
Thank you it's what I needed
Great taste, have been using this as my go to hydration now for years. Just the best.
Incredible!! recovery rate less than 30 mins over 104 miles (cycling) and it tastes nice.
Great price I dont know if it's in my head but half way round my ride I stop for a drink and the second leg feels easier
You notice the difference when on long runs and need a little energy boost , and hydration
I really like it. It tastes nice and i'm sure it works.
I was always getting lemon and lime electrolytes, but this raspberry one is amazing. The tast is great and it mixes with water well. It tastes like a squash so it's easy to drink just for the flavour. Very good product
Again I am yet to try this as I am have only just started the blackcurrant flavour. Good value for money though.