Produkt Code
energy-bake-single
KOSTENLOSES HYDRO BEI BESTELLUNGEN ÜBER €50
Produkt informationen
Über Science in Sport GO Energy Bake
Der GO Energy Bake folgt einem wissenschaftlichen Ansatz für Energieriegel und liefert 30 Gramm Kohlenhydrate in einem Riegel mit weicher Füllung. Jeder Riegel enthält einen Fruchtkern mit 10 g Fructose.
Um die Leistungsfähigkeit zu unterstützen und den Anforderungen des Trainings zu entsprechen, wird bei langen Ausdauerwettkämpfen eine Dosierung von 60 bis 90 g Kohlenhydraten pro Stunde empfohlen.
Depleting your carbohydrate stores during exercise is one of the major causes of fatigue. Delivering additional carbohydrate during exercise is known to improve performance, race times and delay the onset of fatigue. Research has shown that carbohydrate from gels, drinks and bars can all be utilised at similar rates, and as such, SiS GO Energy Bake provides an alternative, easily digestible format of carbohydrate to consume during exercise.
Key Features
• 30 Gramm Kohlenhydrate
• 10g Fructose
• 2:1 Kohlenhydratverhältnis
• Energieriegel mit weicher Füllung
• Energietanken vor oder während des Trainings
• Energiegeladener Snack zwischen den Mahlzeiten
•Getestet durch Informed Sport
Produktverwendung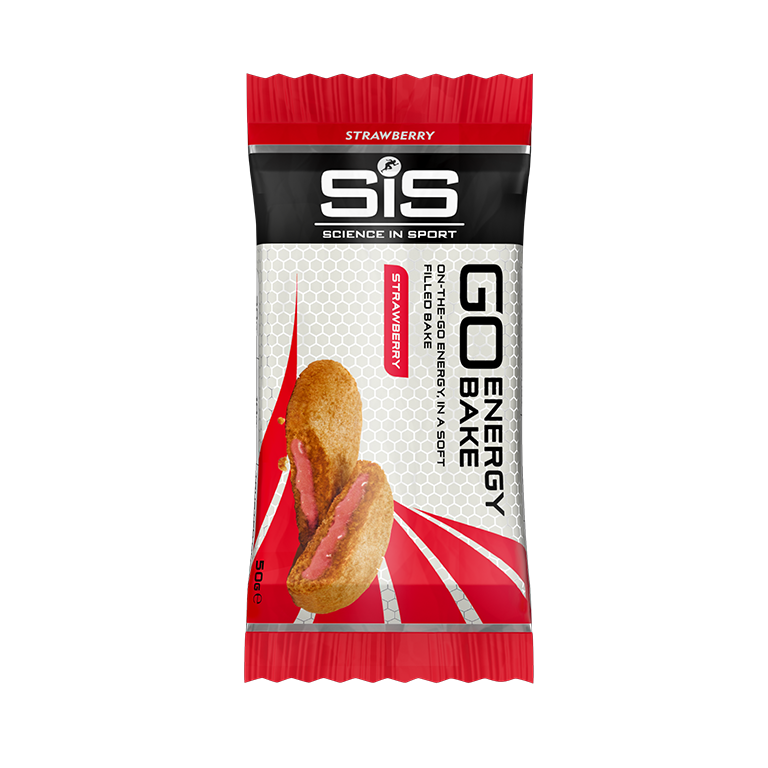 Empfohlene Nutzung
1-2 Riegel pro Stunde bei längerem Training verzehren. Verzehren Sie sie zusammen mit anderen SiS-Produkten, um 60-90 g Kohlenhydrate pro Stunde während des Trainings aufzunehmen.
Vorteile
Die Erschöpfung Ihrer Kohlenhydratspeicher während des Trainings ist eine der Hauptursachen für Müdigkeit. Es ist bekannt, dass die Zufuhr zusätzlicher Kohlenhydrate während des Trainings die Leistung und die Wettkampfzeiten verbessert und das Einsetzen der Müdigkeit verzögert.
SiS GO Energy Bakes liefern Energie für unterwegs (30 g Kohlenhydrate) in einem weichen, gefüllten Gebäck mit einem köstlichen fruchtigen Kern (10 g Fruktose). Bei effektiver Verwendung kann der SiS GO Energy Bake die Anforderungen und die erforderliche Energie für lange Ausdauerwettkämpfe erfüllen, bei denen eine Zufuhr von 60-90 g Kohlenhydraten pro Stunde empfohlen wird - die einzigartige Textur bietet eine großartige Kohlenhydratalternative, die während des Trainings verzehrt werden kann, was den zusätzlichen Vorteil hat, dass sie leicht verdaulich ist.
Getestet durch Informed Sport:
Unser komplettes Produktsortiment wird unter Anwendung eines erstklassigen Ansatzes für verbotene Substanzprüfungen entwickelt, der den Athleten Sicherheit gibt. Weitere Informationen zu Informierter Sport & unserem einzigartigen Weltklasse-Ansatz, hier klicken.
Geeignet für: Vegetarier
Ernährungs Info
| Typpische Werte | Per 100g | Pro Portion 50g |
| --- | --- | --- |
| Brennwert | 1590kJ / 380kcal | 795kJ / 190kcal |
| Proteine | 7g | 3.5g |
| Kohlenhydrate | 62g | 30g |
| davon Zucker | 23g | 11g |
| Fett | 10g | 5g |
| davon gesättigte Fettsäuren | 2.7g | 1.4g |
*Referenzaufnahme eines durchschnittlichen Erwachsenen (8.400kJ/2.000kcal).
Für vollständige Informationen zu den Inhaltsstoffen wählen Sie bitte aus den unten aufgeführten Geschmacksrichtungen:
Lese mehr
Verified Reviews
Rated

4.6

out of 5 based on

74

Reviews
Quality products that work
Nice flavours and easy to consume
Great bars - nice and moist. Easy to eat during exercise.
I've found these energy bakes are easier to eat/swallow whilst riding than the conventional flapjack-like energy bars & this was very tasty.
Texture not that dissimilar to Nutrigrain bars. Tasted nice. However, it was very sweet and very cloying - stuck to my teeth, tongue, gums - not pleasant!
I really like these energy bakes. Yes, you do need to drink with it as it gets a little dry but it's ok, you do have a drink on your bike anyway. They taste great and filling.
These biscuits / cakes are great.. my new favourite thing!
Very tasty & easy to consume. Could be my new triathlon nutrition
It is nice recommended, there is a slight weirdness with the banana taste compared to the Banana bars that I love!
Nice product but did go very soft in the heat which made it hard to hold when riding
It's nice but not as nice as strawberry!
Very tasty, way better than energy bars, and compact for carrying in back pockets. Recommended.
Top product amazing flavour
Jose Luis Nebot Rodriguez
Top notch, 10/10 for taste, 10/10 for texture. Packaging is really easy to open too.
Bars are a great idea, but i do think they are overpriced. Banana is not my favourite anyway.
Dry, difficult to eat, made me feel heavy afterwards, won't use again
Yum yum! Very tasty. Nice consistency
Was expecting better to be honest. Felt like there wasn't enough of the flavour in the middle of the bake and as a result tasted a bit cakey. This meant that it was harder to consume as it required more chewing then other products of a similar characteristic. A nutrigrain bar has more juice content and is easier to comsume. If this product was like that, then it would be a seller.
Texture not that dissimilar to Nutrigrain bars. Tasted nice probably the best of the four so far. However, it was very sweet and very cloying - stuck to my teeth, tongue, gums - not pleasant!
I like these energy bakes. Lemon tastes even better than the banana. They are great on the bike and filling.
Good texture & I like the taste!
Not sure about the product. The outer baked cake is tasty but the filling is thick and sticks to your teeth. Also too sweet
Thought I'd try something that isn't a gel or powder, not a bad taste but the texture is quite dense and needed to have water with it.
These bakes are a revelation.. no need to buy flapjacks or make my own rubbish biscuits. Spot on!
Ideal for longer rides when you're looking for a change from the usual energy bars. Tastes really good and portion size is spot on.
My go to solid food on the bike, jammy stuff all over your fingers make it last that much longer :-)
Great level of carb's in these bakes. Taste is a little synthetic from the filling but it's ok. Really good moist bar to carry. Some energy bars are too dry for me to enjoy. One of these cured my nausea on a strenuous run when a gel alone wouldn't cut it. Again a nice mixed trial box to discover your favourite flavour.
New product, I prefer these now to the chewy bars. Actually tried all flavours, just enough filling to make it a sweet tasting bake.
All bakes are very tasty and certainly deliver energy. Not the easist to eat and digest while cycling but not a problem.
Good product for prolonged exercise
Very tasty and just the right size
Cake that fills all energy requirements.
Nice product, goes down well
Tastes very good, a big upgrade from the normal go energy bars
I've found these energy bakes are easier to eat/swallow whilst riding than the conventional flapjack-like energy bars &, whilst strawberry isn't usually my chosen flavour ,this was surprisingly tasty.
thought id try these and they are very good
Nice texture, will get used to, as tastes good!
Great product amazing taste
Good product for prolonged exercise
Really nice this is my favourite flavour,great for on bike snack
These bars are amazing - 30g carbs and 10g fructose makes it the perfect snack on a long ride and it is perfectly baked so a lot softer than the SIS bars I often eat. I highly recommend them!
Amazing, the second best energy product I've had after the orange flavoured bake.
It's really good, chewy and sweet