Produkt Code
go-electrolyte-1kg
SiS GO Electrolyte Powder - 1kg
50% Rabatt
War
14,00 €
War
28,00 €
Produkt Code
Der energiereiche Electrolyte Drink mit Geschmacksrichtung Schwarze Johannisbeere und Kohlenhydraten versorgt dich während des Trainings oder Wettkampfs mit Power und Flüssigkeit.
Ideal für längere Trainingseinheiten, wenn sich die Energiereserven leeren und mehr Schweiß fliest.
1,6 kg Dose - perfekt für den regelmäßigen Gebrauch.
ERHALTE BEI EINEM MINDESTBESTELLWERT VON 30 € GESCHENKE
Produkt informationen
SiS GO Electrolyte enthält eine Mischung aus leicht verdaulichen und verwertbaren Kohlenhydraten sowie Elektrolyten (wie Natrium), die einen optimalen Wasserhaushalt fördern.
Diese Kombination aus Energiezufuhr und Elektrolyten unterstützt die Fähigkeit des Körpers, Wasser während des Trainings aufzunehmen, die Ausdauerleistung aufrecht zu halten und schützt gegen Krämpfe. Das Produkt enthält einen Mix aus geeigneten Konzentrationen an Kohlenhydraten (36 g als 6 %ige Lösung), Natrium (20 mmol/L) und Flüssigkeit (500-ml-Portion), um sowohl die Energie- als Flüssigkeitszufuhr sicherzustellen.
Hauptmerkmale:
• 36 Gramm Kohlenhydrate pro 500-ml-Portion
• Hohe Natriumkonzentration zur Förderung der Hydration
• Liefert schnell Energie und Flüssigkeit
• Für Veganer geeignet.
• Mindestens haltbar bis: Mindestens 6 Monate
Produktverwendung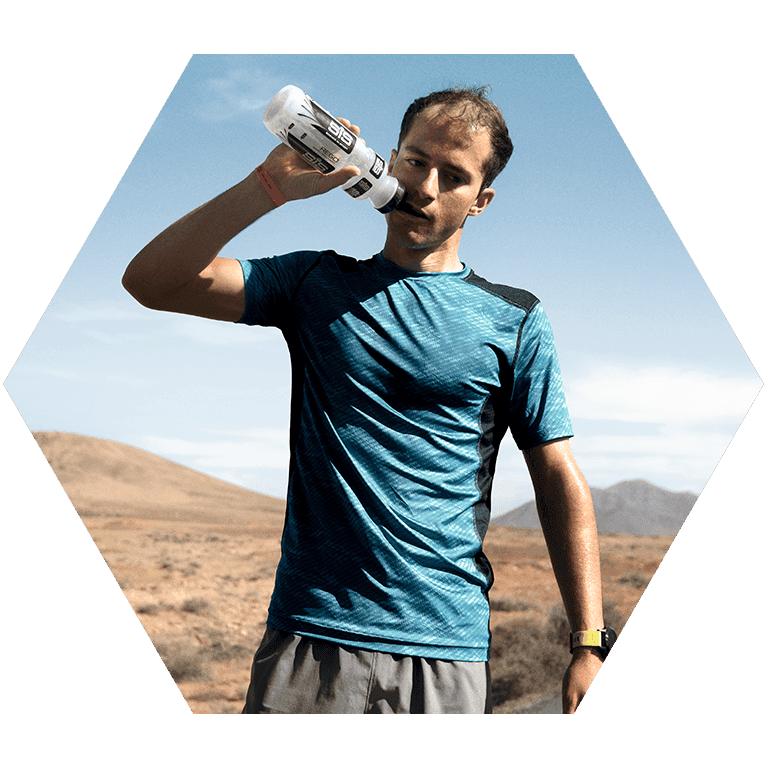 Empfohlene Nutzung
Trinken Sie 500 ml alle 45-60 Minuten oder nach Bedarf. Einmal zubereitet, innerhalb von 24 Stunden verbrauchen.
Gebrauchsanweisung
Verwenden Sie zum einfachen Mischen SiS-Sportgetränkeflaschen mit Markierungen, die den korrekten Pulvergehalt anzeigen.Oder fügen Sie 40 g von SiS GO Electrolyte (2 Messlöffel = 40g) 500 ml Wasser in eine Flasche füllen und gut schütteln, um sicherzustellen, dass der Deckel fest verschlossen ist.
Vorteile
Zwei der Hauptursachen von Erschöpfung während des Ausdauertrainings sind leere Kohlenhydratspeicher und Dehydratation. Ein häufiger Fehler von Ausdauersportlern ist der Verzehr von zu viel oder zu wenig Kohlenhydraten mit ungeeigneten Konzentrationen, was die Kohlenhydrataufnahme im Körper erschwert oder zu Magen-Darm-Beschwerden führt.
Ebenso wie optimale Kohlenhydratspeicher und ein optimaler Hydrationszustand vor dem Training verbessern zusätzliche Kohlenhydrate und Flüssigkeit während des Trainings bekannterweise die Performance sowie Wettkampfzeiten und verzögern das Einsetzen vom Müdigkeit. Die spezielle Formel der SiS GO Electrolyte basiert auf dem strategischen Ansatz, negative Effekte durch verbrauchte Kohlenhydrate und eine Dehydrierung auf deine Leistung auszugleichen.
Akkreditierung durch Informed-Sport: Die Entwicklung unseres kompletten Produktsortiments beruht auf einem erstklassigen Ansatz, bei dem alle Produkte auf verbotene Substanzen geprüft werden, damit sich Sportler sicher fühlen. Für weitere Informationen über Informed-Sport und unseren einzigartigen, beispielhaften Ansatz klicke hier.
Ernährungs Info
Typische Werte
Pro Portion (40 g)
Pro 100 g
Energie
619kj/146kcal
1547kj/364kcal
Protein
0.0g
0.0g
Kohlenhydrate
36g
91g
davon Zucker
6.7g
17g
Fett
0.0g
0.0g
davon gesättigte Fettsäuren
0.0g
0.0g
Ballaststoffe
0.0g
0.0g
Salz
0.5g
1.3g
VITAMINE UND MINERALIEN (% RDA)
Kalzium
27mg (3%)
66mg (8%)
Magnesium
5mg (1%)
13mg (4%)
Kalium
60mg (3%)
150mg (8%)
Inhaltsstoffe:
Kohlenhydratmischung (96 %) (Maltodextrin (hergestellt aus partieller Hydrolyse einer bestimmten Maissorte), Fruktose), natürliche Aromen, Zitronensäure, Elektrolyte (2 %) (Natriumchlorid, Calciumlactat, Kaliumchlorid, Natriumcitrat, Magnesiumlactat), Süßungsmittel (Aspartam). Enthält eine Quelle für Phenylalanin.
Lese mehr
FAQ's
Was ist der Unterschied zwischen diesem Produkt und dem SiS GO Energy Drink?
SiS GO Electrolyte enthält 36 g schnell absorbierender Kohlenhydrate mit einem Zusatz aus ausgewogenen Elektrolyten für eine bessere Flüssigkeitsaufnahme,
Wann sollte ich dieses Produkt verwenden?
SiS GO Electrolyte ist bestens geeignet, wenn du viel schwitzt und deine Energiezufuhr mit einer ausreichender Flüssigkeitsaufnahme ergänzen willst. Mische das Pulver mit 500 ml Wasser und drinke eine Mischung pro Trainingsstunde, wenn du mehr als 90 Minuten trainierst. Empfehenswert sind zusätzlich Kohlenhydratquellen, wie z. B. SiS GO Isotonic Energy Gele.
Kann ich es nach dem Öffnen aufbewahren?
Nach dem Öffnen musst du das Produkt kühl und trocken lagern. Achte darauf, das Haltbarkeitsdatum nicht zu überschreiten.
Kann ich es mit SiS GO Electrolyte oder Hydro Tabs mischen, um alle Vorteile auszunutzen?
Wir empfehlen das Auflösen der Produkte in derselben Mischung nicht, da jedes Produkt für sich über einen optimalen Kohlenhydrat- und Natriumgehalt verfügt. Eine Kombination der Produkte verändert die Konzentration, sodass sie nicht länger optimal ist.
Wie viele Löffel benötigt man für eine 750 ml Flasche?
Verwende 3 Löffel für eine SiS 750 ml Flasche.
Enthält dieses Produkt Aspartam?
Ja, Aspartam wurde zugesetzt, um das Produkt wohlschmeckender zu machen. Es handelt sich hierbei um eines der besser erforschten Süßungsmittel und ist für den Verzehr sicher.
DAS KÖNNTE DICH AUCH INTERESSIEREN
Wir haben andere Produkte gefunden, die dir gefallen könnten!

Verified Reviews
Rated

4.8

out of 5 based on

96

Reviews
Great product that I stick to religiously. Easy to mix and dissolves quickly.
Use this during my sport to keep hydrated
Certainly puts those salts back into the system once you worked out a hard sweat
Works for me, good taste, mixes well and does what it says on the tin!
Tastes really nice, really like it
Brilliant great when used with SIS energy over 50 miles
Excellent for when you're putting the miles in
Tastes good not overwhelming
Great re-hydrater, better than just squash and water.
Good after a run to get you going again
Excellent fuel drink been using it for years.
Love the product! Works really well
Chemical tinged lime flavour, but strangely compelling.
Love the flavour, fresh mouth & hydrated on a ride
Good product, works well and selection of flavours
Good value and my favorite flavour in the range
I like these I would take them when I go out on the Bike and also drink them during the day at work.
A must have item for me as i do a lot of running and after a long day at work a few mouthfulls of this drink sets me up for a good run/session.
Neither mixing or warning instructions are in English and it's correct use cannot be guaranteed... Every language. OTHER THAN ENGLISH.???
Great product always use it
Excellent product, can really feel it working. Great taste too.
Excellent addition to protein shake for extra carbs - runner
Great taste, easy to mix, good value
Really liked this product, tastes like the "light" orange lucozade IMO. It seems to help me during long runs to finish stronger than just water
Amazing stuff great buy !
I wouldn't cycle without it.
it gives me all the necessary nutrition on a bike ride or long run. But I'm not too keen on the flavour. That why its only a 4 star.
Always using this product for my cycling
Tastes great and definitely does the job
Good for durability, good taste
Essential for replicated performance day after day; rehydrate or bonk
Nice taste, fuels me on the longer cycle rides
Good service from SIS. Great product, it helps me a lot in my long bike rides to keep me hydrated and it gives me a bit of extra energy. The tropical flavour is delicious and sweet which makes it easier to drink. I found later that you can have it cheaper from eBay.
Great product with great results used this for years and never been disappointed
Good for energy boost during cycle training
Great for a pick up when i am on the trails, easy on the stomach with a great taste. Also very speedy service, i always buy energy products from you guys.
This is now my new favourite. Definitely a winning formula. Lovely taste and very refreshing on a hot cycle ride.
Great tasting drink that really aids hydration during exercise/work.
I've used SIS electrolyte for many years. I believe in its performance,I use it for all my bike rides and all the flavours taste great too.
Easy to mix with a pleasant taste.
I have suffered with cramp all my life and SIS GO has reduced the attacks in frequency and intensity. The taste is great and the powder is not only effective but also far cheaper than other bottled products. It also cuts down on plastic waste because I used the same container every time. Save money and the Planet - try it.
Great tasting electrolyte drink that actually works. In my opinion. Energy levels kept at a constant level if sipped throughout exersize when required. Excellent overall.
Nice for open water swimming
My go to sport drink. I mostly mix it less strong than these instructions, great for hydrating on a long warm spin or during a race
Good flavour, not too much sugar. Perfect for all distances
Fantastic energetic boost
constantinos christodoulou
Great taste. My personal favorite one.
Good gear nice palletable flavour
Useful product and have used sis electrolyte for years, however this one seems bit thicker and sweeter than previously. Still mixes well and does the job may go back to tropical next time, although unsure if the whole electrolyte recipe has changed?
Very good i use for out on the bike and also when am at work
Excellent product at a great price
Great taste, not corbonated 🙂 but doesnt dissolve as quick as I expected.
Does what it says on the tub.
Used this flavour before, easy to drink
Refreshing and simple to mix. Gives me a real boost in the half-marathon.
Does what it says on the packet
Tastes great mixes well first class product
Love this on a training run, great flavour and refreshing
Great taste and flavour. No problem with digestion.
Nice and fresh taste, and works for me with no cramps
Good taste. Product as per description. Recommended.
Great product at a great price
Excellent product. Have been using it for years and will continue to do so.
Easy to take and nice taste electrolyte
Great item - super quality and good value for money. easy to use and very tasty - great for your sports.
Solved my cramping years ago and continues today
It works and it tastes good too
Good for someone like me who sweats a lot. Good value in the 1kg size.
Great flavour, perfect size tub for cycling training rides, and the double espresso sachets tgat cane free with it were stunning!
I got this for my partner it tastes good and it good for hydration
I have only recently started using the SiS Go Electrolyte on my long runs. The Raspberry flavour is great.
Thank you it's what I needed
Great taste, have been using this as my go to hydration now for years. Just the best.
Incredible!! recovery rate less than 30 mins over 104 miles (cycling) and it tastes nice.
Great price I dont know if it's in my head but half way round my ride I stop for a drink and the second leg feels easier
You notice the difference when on long runs and need a little energy boost , and hydration
I really like it. It tastes nice and i'm sure it works.
I was always getting lemon and lime electrolytes, but this raspberry one is amazing. The tast is great and it mixes with water well. It tastes like a squash so it's easy to drink just for the flavour. Very good product
Again I am yet to try this as I am have only just started the blackcurrant flavour. Good value for money though.