GO Mixed Gel Bundle - Multipack Energy Gels
Produkt Code
Das Paket enthält:
SiS GO Isotonic Energy Gel Apfel 1 x
SiS GO Isotonic Energy Gel Schwarze Johannisbeere 1 x
SiS GO Isotonic Energy Gel Zitrone und Limette 1 x
SiS GO Isotonic Energy Gel Orange 1 x
SiS GO Isotonic Energy Gel Ananas 1 x
SiS GO Isotonic Energy Gel Pink Grapefruit 1 x
SiS GO Isotonic Energy Gel Tropischer Mix 1 x
SiS GO Gel + Caffeine Beere 1 x
SiS GO Gel + Caffeine Cola 1 x
SiS GO Energy Gel + Caffeine Double Espresso 1 x
KOSTENLOSE LIEFERUNG ÜBER 40€
Produkt informationen
Inhalt der Packung:
SiS GO Isotonic Gels:
SiS GO Isotonic Gel Apfel 60 ml x 1
SiS GO Isotonic Gel Zitrone und Limette x 1
SiS GO Isotonic Gel Orange 60 ml x 1
SiS GO Isotonic Gel Schwarze Johannisbeere 60 ml x 1
SiS GO Isotonic Gel Tropischer Mix 60 ml x 1
SiS GO Isotonic Gel Ananas 60 ml x 1
SiS GO Isotonic Gel Pink Grapefruit 60 ml x 1
SiS GO + Caffeine Gel:
SiS GO + Caffeine Gel Double Espresso 60 ml x 1
SiS GO + Caffeine Gel Beere 60 ml x 1
SiS GO + Caffeine Gel Cola 60 ml x 1
Empfohlene Anwendung
1 bis 3 Gels pro Stunde für eine Zufuhr von etwa 60 Gramm Kohlenhydrate und eine maximale Kohlenhydratverwertung im Körper.
Bitte beachten:Gelegentlich werden einige Gels/Geschmacksrichtungen aufgrund von Lieferengpässen durch andere Gele ersetzt.
Weitere Informationen
Zugehörige Produkte:
Produktverwendung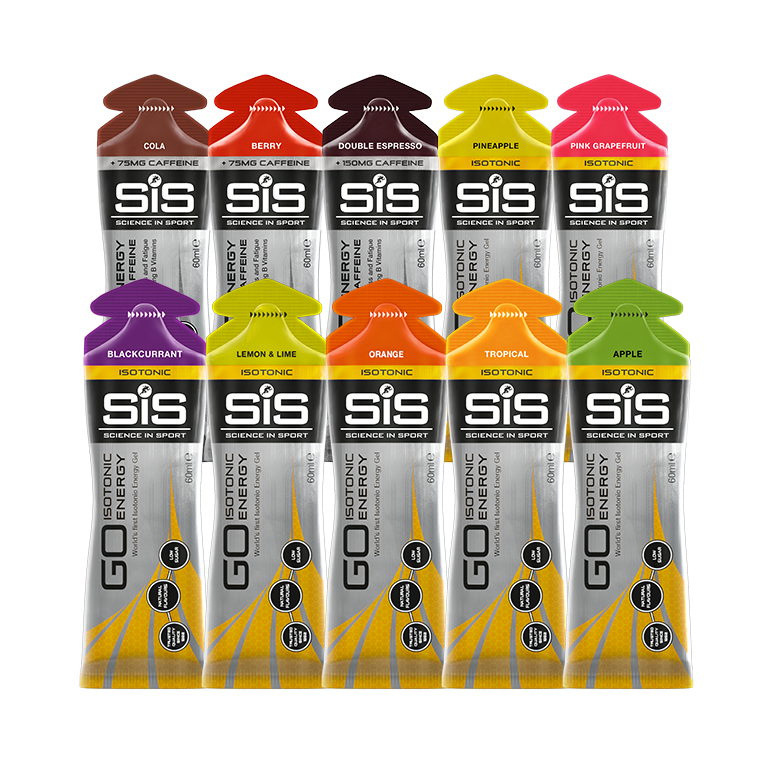 Ernährungs Info
Nährwertangaben für die einzelnen Produkte in diesem Paket entnimmst du bitte der entsprechenden Produktseite für das jeweilige Produkt. Das Beispiel unten ist für isotonisches Gel mit Ananasgeschmack.
| Typische Werte | Pro 100 ml | Pro Portion 60 ml |
| --- | --- | --- |
| Energie | 613kj/144kcal | 368kj/87kcal |
| Protein | 0.0g | 0.0g |
| Kohlenhydrate | 36g | 22g |
| davon Zucker | 1.0g | 0.6g |
| Fett | 0.1g | 0.0g |
| davon gesättigte Fettsäuren | 0.0g | 0.0g |
| Ballaststoffe | 0.1g | 0.0g |
| Salz | 0.01g | 0.01g |
Inhaltsstoffe:
Wasser, Maltodextrin (aus Mais) Geliermittel (Gellan, Xanthangummi), natürliche Aromen, Säureregulatoren (Zitronensäure, Natriumcitrat), Konservierungsmittel (Natriumbenzoat, Kaliumsorbat), Süßungsmittel (Acesulfam-K), Natriumchlorid, Antioxidationsmittel (Ascorbinsäure)
Lese mehr
FAQ's
When should I consume these?
Consume 1-3 gels per hour during endurance exercise to maximise carbohydrate utilisation rates. Alternatively, take one halfway through repeated high intensity exercise (such as football or rugby) to rapidly replenish glycogen stores.
When should I have these versus Electrolyte, Caffeine or Immune?
These should be consumed when you need a fast, convenient energy boost. During endurance exercise lasting over 90 minutes, these should be the main gels that are used throughout a race. Use in combination with other Energy products e.g 1 x GO Isotonic Energy Gel and 1 x 500ml GO Electrolyte to hit 58 grams of carbohydrate (per hour).
Is this gel Isotonic?
Yes, this gel was the first truly isotonic energy gel.
Are these 'natural'?
GO Isotonic gels contain natural flavourings.
Why are these better than regular foods, for example a banana?
GO Isotonic Energy Gels are designed to be absorbed fast into your gut, providing fast energy. Some solid foods can take a while to digest as there's more fat and fibre in whole foods, which during exercise can cause feelings of bloating and discomfort.
Do these contain aspartame?
No, Gels do not contain aspartame.
Will they fit in my cycle jersey pocket?
Yes! All GO Gels are lightweight, compact and designed to fit in jersey pockets, cycle bags and waist packs. They are pressure tested, so don't worry about the packaging tearing or bursting during exercise.
DAS KÖNNTE DICH AUCH INTERESSIEREN
Wir haben andere Produkte gefunden, die dir gefallen könnten!
Verified Reviews
Rated

4.6

out of 5 based on

20

Reviews
I have used the only twice and seem to be a boost at the right time so early days maybe not keen on some tastes but thats the idea to trial all flavours,
Lots of bang for the buck! Tasty tasty tasty!!
I'm afraid I really don't like these. They are LOADED WITH ARTIFICIAL SWEETENERS that make them almost all taste vile. Given they are energy gels, I do not understand why they use them - the whole point is to have a glucose sucrose mix to get the most carbs into your boday and these just make me feel awful. What a shame.
Great value for money. Great flavours too
Great mix of flavours , great and rapid delivery . Great effective product
Used many times, good release of enery can be had without water. Highly recommended
Great! Love your products. My only sad point is that I want more! Thank you SIS! :)
Good gels, easy to slot in the pocket. Quick and easy energy.
Nice gels, good way to try different flavours.
Does what is says on the box love it xx
Difficult to say as I haven't used them yet
Good value for money and good sample selection of different flavours. They are not always exactly what is in the description, so don't expect exactly those flavours.
SIN SER PRINGOSOS Y PESADOS
Great flavours ideal for the gym after work
Great bundle though I'll be avoiding the Vanilla gels on long runs!
Really good to have a selection for my first try of gels. It allows me to find out what I do and don't like and what works for me without ending up with loads of something I don't like