Produkt Code
sis-go-isotonic-energy-gel-60ml
SiS GO Isotonic Energy Gel - 60ml
KOSTENLOSES HYDRO BEI BESTELLUNGEN ÜBER €50
Produkt informationen
Das SiS GO Isotonic Energy Gel war das weltweit erste isotonisches Gel, das eine leicht verdauliche und schnelle Zufuhr an energiereichen Kohlenhydraten während des Trainings liefert.
Das Gel wurde speziell zum Verzehr ohne Wasser entworfen und minimiert das Risiko eines Völlegefühls, das gelegentlich auftritt, wenn zu viel Flüssigkeit getrunken wird.
Eine Gelpackung liefert 22 Gramm Kohlenhydrate.
Hauptmerkmale:
Echte isotonische Formel - kein Wasser notwendig
22 Gramm schnell absorbierbare Kohlenhydrate pro Gelpackung
Praktisches und handliches Format
Aromatisiertes Maltodextrin-Gel mit zusätzlichem Süßstoff.
Für Veganer geeignet.
Mindestens haltbar bis: Mindestens 6 Monate
Produktverwendung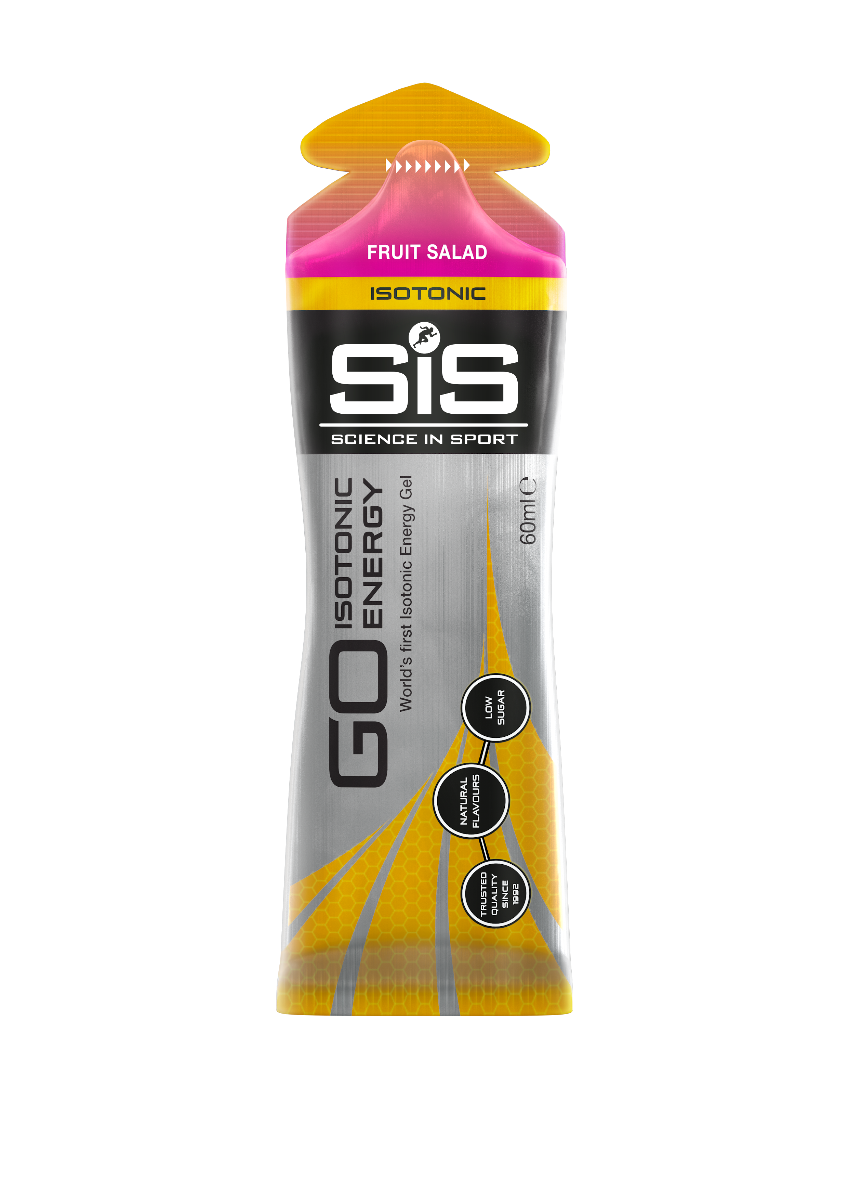 Empfohlene Nutzung
Consume 1-3 gels per hour to deliver approximately 60 grams of carbohydrate and maximize carbohydrate utilization rates. Where hydration is also important, SiS GO Isotonic Gels can also be consumed with SiS GO Hydro or with SiS GO Electrolyte to ensure a combination of both energy and fluid delivery during exercise.
Directions for Use
Simply tear off the top of the packaging and consume - there is no need to mix with water.
Vorteile
Depleting your carbohydrate stores during exercise is one of the major causes of fatigue. Delivering additional carbohydrate during exercise is known to improve performance, race times and delay the onset of fatigue.
The Isotonic formula allows the gel to empty from the stomach quickly as no fluid needs to be drawn into your stomach to dilute the gel, providing fast energy. SiS GO Isotonic Energy Gels are highly practical and can easily be carried without the requirement for bulky bottles.
Informed Sport Registered
Our complete product range is developed using a world-class approach to banned substance testing, providing assurance for athletes. For more information on Informed Sport & our unique world class approach, click here.
Suitable For: Vegans, Vegetarians, Lactose free, Gluten Free, Wheat Free, Nut Free, Soya Free
Ernährungs Info
Für ernährungswissenschaftliche Informationen zu den einzelnen Geschmacksrichtungen wenden Sie sich bitte an den Kundendienst. Das Beispiel unten ist für den Geschmack Obstsalat.
| Typische Werte | Pro 100ml | Pro Portion 60ml |
| --- | --- | --- |
| Energie | 613kj/144kcal | 388kj/87kcal |
| Fett | 0.1g | 0.0g |
| davon gesättigt | 0.0g | 0.0g |
| Kohlenhydrat | 36g | 22g |
| davon Zucker | 1.0g | 0.6g |
| Protein | 0.0g | 0.0g |
| Salz | 0.01g | 0.01g |
*Referenzuntake eines durchschnittlichen Erwachsenen (8400kj/2000kcal)
Inhaltsstoffe:
Wasser, Maltodextrin (aus Mais) (33%), natürliche Aromastoffe, Geliermittel (Gellan-Gummi, Xanthan-Gummi), Säureregulatoren (Zitronensäure, Natriumcitrat), Konservierungsmittel (Natriumbenzoat, Kaliumsorbat), Süßstoff (Acesulfam K), Natriumchlorid, Antioxidationsmittel (Ascorbinsäure).
Lese mehr
FAQ's
When should I consume these?
Consume 1-3 gels per hour during endurance exercise to maximise carbohydrate utilisation rates. Alternatively, take one halfway through repeated high intensity exercise (such as football or rugby) to rapidly replenish glycogen stores.
When should I have these versus Electrolyte, Caffeine or Immune gels?
These should be consumed when you need a fast, convenient energy boost. During endurance exercise lasting over 90 minutes, these should be the main gels that are used throughout a race. Use in combination with other SiS Energy products e.g 1 x SiS GO Isotonic Energy Gel and 1 x 500ml SiS GO Electrolyte to hit 58 grams of carbohydrate (per hour).
Is this gel Isotonic?
Yes, this gel was the first truly isotonic energy gel.
Are these 'natural'?
SiS GO Isotonic gels contain natural flavourings.
Why are these better than regular foods, for example a banana?
SiS GO Isotonic Energy Gels are designed to be absorbed fast into your gut, providing fast energy. Some solid foods can take a while to digest as there's more fat and fibre in whole foods, which during exercise can cause feelings of bloating and discomfort.
Do these contain aspartame?
No, SiS Gels do not contain aspartame.
Will they fit in my cycle jersey pocket?
Yes! All SiS GO Gels are lightweight, compact and designed to fit in jersey pockets, cycle bags and waist packs. They are pressure tested, so don't worry about the packaging tearing or bursting during exercise.
DAS KÖNNTE DICH AUCH INTERESSIEREN
Verified Reviews
Rated

4.7

out of 5 based on

7

Reviews
Great to use out on the bike
Great product delivered very efficiently
Good stuff and easy on the stomach. Good deals on product.
My favourite gels on the market
could do with more of this flavour!!
Gorgeous flavour ideal product
Best flavour to date. Will be buying more.