REGO Rapid Recovery+ - 1.54kg (Raspberry)
Save 30%
Special Price
A$60.90
Was
A$87.00
Product Code
The all-in-one recovery product
Use after exercise to replenish your energy stores fast
Contains a blend of Carbohydrate, Whey Protein, Vitamins and Minerals
Includes 6g of BCAAs and 5g of L-Glutamine
FREE 6 Pack Gels on orders over $50
Product Information
High GI carbohydrate and whey protein formula to aid rapid recovery after exercise.
24g of protein including 6g BCAAs to promote the rebuilding of muscle tissue
40g of carbohydrate from maltodextrin
Additional 5g of L-Glutamine
Use after exercise to replenish your energy stores fast
Exclusive to www.scienceinsport.com
About REGO Rapid Recovery Plus
REGO Rapid Recovery Plus provides a complete recovery product to be consumed immediately after prolonged or intense exercise when you need to replenish your energy stores and promote muscle recovery.

Contains a blend of Carbohydrate, Whey Protein, BCAAs, L-Glutamine with Vitamins and Minerals.

Rapid replenishment of your glycogen stores and the provision of protein help you to get the most from your training and prepare you for your next session
Benefits of REGO Rapid Recovery Plus

REGO Rapid Recovery Plus contains high quality whey protein concentrate, which has a complete amino acid profile to which we have added an additional 2g of Leucine and 5g of L-Glutamine to support muscle protein synthesis. Leucine is an amino acid which is known to switch on the signalling for muscle protein synthesis and L-Glutamine is known as the one of the most abundant essential amino acids, with anti-catabolic and immune properties. The blend of carbohydrate, protein, L-Glutamine and BCAAs thereby provides a recovery formula that can promote replenishment of muscle glycogen stores, muscle protein synthesis, gut function and rehydration.

REGO Rapid Recovery Plus is formulated to help speed up recovery after exercise so you can train again sooner. Carbohydrate is your muscles main fuel for moderate to high intensity exercise. During training and competition, our bodies can absorb around 60-90g of carbohydrate per hour, meaning that demand will outstrip the supply of energy. This shortfall is met by using your glycogen stores, which must be replenished post exercise so you are able to perform well in your next session.

REGO Rapid Recovery Plus is tested under the Informed Sport Certification program. This approach involves testing every single batch of Science in Sport finished product which leaves the Company's factory, screened against the 2017 World Anti-Doping Agency (WADA) list. Banned substances including steroids are tested to the level of 10 Nanograms per gram, and stimulants to 100 Nanograms per gram. Batches (sampled at the beginning, during and end of each product batch) receive the recognised and respected Informed Sport certificate and Science in Sport provides the documentation to athletes on request.
Recommended Usage

Consume 1 x 70g serving (3 heaped scoops) of REGO Rapid Recovery Plus within 30 minutes of completing your tough training session/competition. Mix with 500ml of water, mixing it with milk will slow down the absorption rate.


Product Uses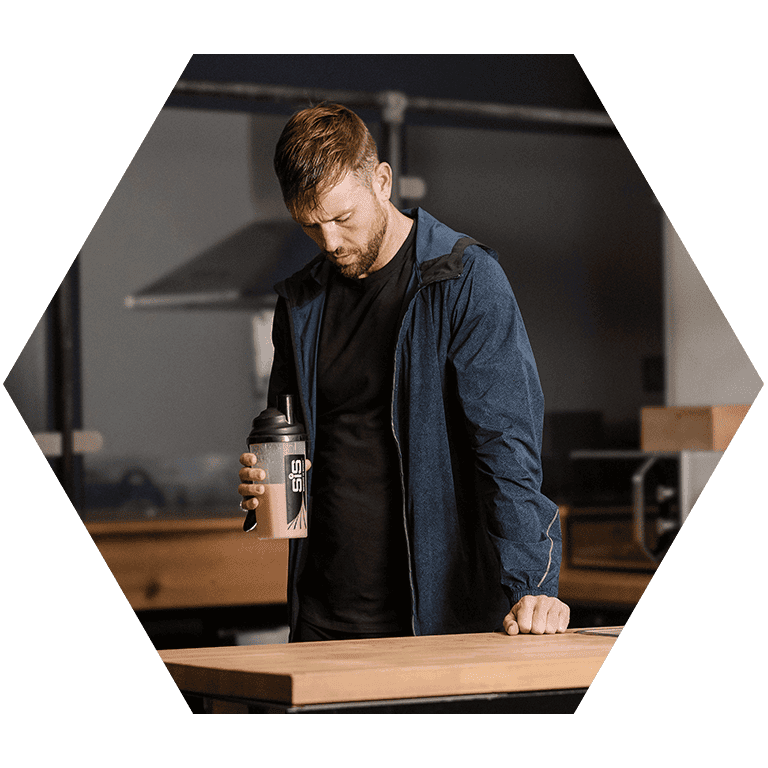 Nutritional Info
| Typical Values | Per Serving (70g) | Per 100g |
| --- | --- | --- |
| Energy | 1124kj/265kcal | 1650kj/379kcal |
| Protein | 24g | 34g |
| Carbohydrate | 40g | 57g |
| of which sugars | 2.3g | 3.3g |
| Fat | 2.1g | 3.1g |
| of which saturates | 1.3g | 1.8g |
| Salt | 0.29g | 0.41g |
| Branched Chain Amino Acids (BCAAs) | 6g | 8.6g |
| - L Leucine | 4g | 5.7g |
| - L Isoleucine | 1g | 1.4g |
| - L Valine | 1g | 1.4g |
| L Glutamine | 5g | 7g |
| Vitamin D | 1.0mcg (20%) | 1.43mcg (29%) |
| Vitamin E | 2.8mg (23%) | 4mg (33%) |
| Vitamin C | 24mg (30%) | 34mg (43%) |
| Thiamin | 0.5mg (45%) | 0.7mg (64%) |
| Riboflavin | 0.6mg (42%) | 0.8mg (60%) |
| Niacin | 7.3mg (45%) | 10.4mg (64%) |
| Vitamin B6 | 0.8mg (57%) | 1.1mg (81%) |
| Folic Acid | 50mcg (25%) | 71mcg (35%) |
| Vitamin B12 | 0.4mcg (16%) | 0.6mcg (23%) |
| Biotin | 18mcg (36%) | 25mcg (51%) |
| Pantothenic Acid | 1.5mg (25%) | 2.1mg (36%) |
| Iron | 2.4mg (17%) | 3.4mg (24%) |
| Zinc | 2.0mg (20%) | 2.9mg (29%) |
| Iodine | 23mcg (15%) | 33mcg (21%) |
Ingredients:
Maltodextrin (from Maize) (56%), Whey Protein Concentrate (31%) (Milk, Soy), L-Glutamine, L Leucine, Natural Flavouring (2%), Thickener (Xanthan Gum), Natural Coloring (Beetroot Red), Vitamins and Minerals (Ascorbic Acid, Nicotinamide, Alpha Tocopheryl Acetate, Ferric Pyrophosphate, Zinc Sulphate, Calcium Pantothenate, Pyridoxine Hydrochloride, Riboflavin, Thiamin Mononitrate, Calcium Citrate, Folic Acid, Potassium Iodine, Biotin, Cyanocobalamin), Sweetener (Sucralose).
For allergens, please see ingredients in bold
Read More
FAQ's
When should I take this?
REGO Rapid Recovery Plus should be taken within 30 minutes of finishing exercising. It should be taken after high intensity or prolonged training sessions and competition where you have depleted your carbohydrate energy stores. It is highly relevant for those athletes who need to recover quickly in order to prepare for another training session or competition period.
What is the difference between REGO Rapid Recovery Plus and REGO Rapid Recovery?
REGO Rapid Recovery Plus provides all of the benefits of REGO Rapid Recovery, but with increased carbohydrate content, use of whey protein and inclusion of additional Leucine and L-Glutamine. REGO Rapid Recovery Plus should be considered by athletes who are looking for an 'all in one' product to facilitate recovery after intense exercise by simultaneously promoting muscle glycogen re-synthesis, muscle protein synthesis and rehydration. It is relevant for both endurance and team sport athletes.
What is L-Glutamine?
L-Glutamine is the most abundant non-essential amino acid found in muscle tissue. During periods of prolonged and intense exercise, both blood and muscle stores of glutamine can become depleted and remain reduced in the post-exercise recovery period. Glutamine is also an important energy source for immune and gut cells.
What does L-Glutamine do?
L-Glutamine supplementation can help replenish the diminished Glutamine stores post-exercise. Glutamine supplementation before and after exercise may therefore improve muscle (promoted muscle recovery), immune and gut function.
What are the benefits of added Leucine?
Leucine is the main BCAA that is used to produce energy during exercise and is also the key amino acid that stimulates muscle protein synthesis in the post-exercise recovery period.
What is the difference between REGO Rapid Recovery Plus and Whey Protein?
Use REGO Rapid Recovery Plus when the aim is to quickly replenish your carbohydrate energy stores alongside promoting muscle recovery by also consuming protein. If your goal or activity does not deplete energy stores but you are still aiming to maintain muscle mass and promote muscle recovery by stimulating protein synthesis, then Whey Protein may be a better option.
What type of protein does this use?
REGO Rapid Recovery Plus uses whey protein concentrate, which is a high quality protein source that is rich in BCAAs and absorbs faster than Soy Protein.
Why isn't it suitable for vegans?
REGO Rapid Recovery Plus contains milk (whey protein concentrate) and is unsuitable for vegans.
How many scoops per serving:
Add 70g (approximately 3 scoops) to 500ml of water and mix well.
How much protein is there per serving?
REGO Rapid Recovery Plus contains 24g of protein in total
Does it mix/shake well?
Yes, but for best results, mix with an SiS shaker
You may also like
We found other products you might like!

Verified Reviews
Rated

0

out of 5 based on

0

Reviews