Mini GO Energy + Caffeine Bars - 30 Pack (Red Berry)
Produkt Code
High energy, carbohydrate bar with caffeine to help fuel before & during exercise
Each bar contains 75mg of caffeine and added b-vitamins
25 grams of carbohydrate packed into each bar
Made from natural fruit ingredients
KOSTENLOSE LIEFERUNG ÜBER 40€
Produkt informationen
About SiS GO Energy + Caffeine Bars (Red Berry)

High energy, carbohydrate bar with caffeine to help fuel before & during exercise
Each bar contains 75mg of caffeine and added b-vitamins
25 grams of carbohydrate packed into each bar
Made from natural fruit ingredients
Contains: 30 x 40g GO Energy + Caffeine Bars - Red Berry
SiS GO Energy bars are a nutritious, easily digestible and high carbohydrate based snack made from fruits and wholesome ingredients.The compact (40g) size provides a practical and nutritious approach to provide carbohydrate during exercise and can be combined with the full SiS GO range.

Each bar contains added b-vitamins with 75mg of caffeine, providing a great tasting solution for an athlete looking to use caffeine to benefit performance.
Produktverwendung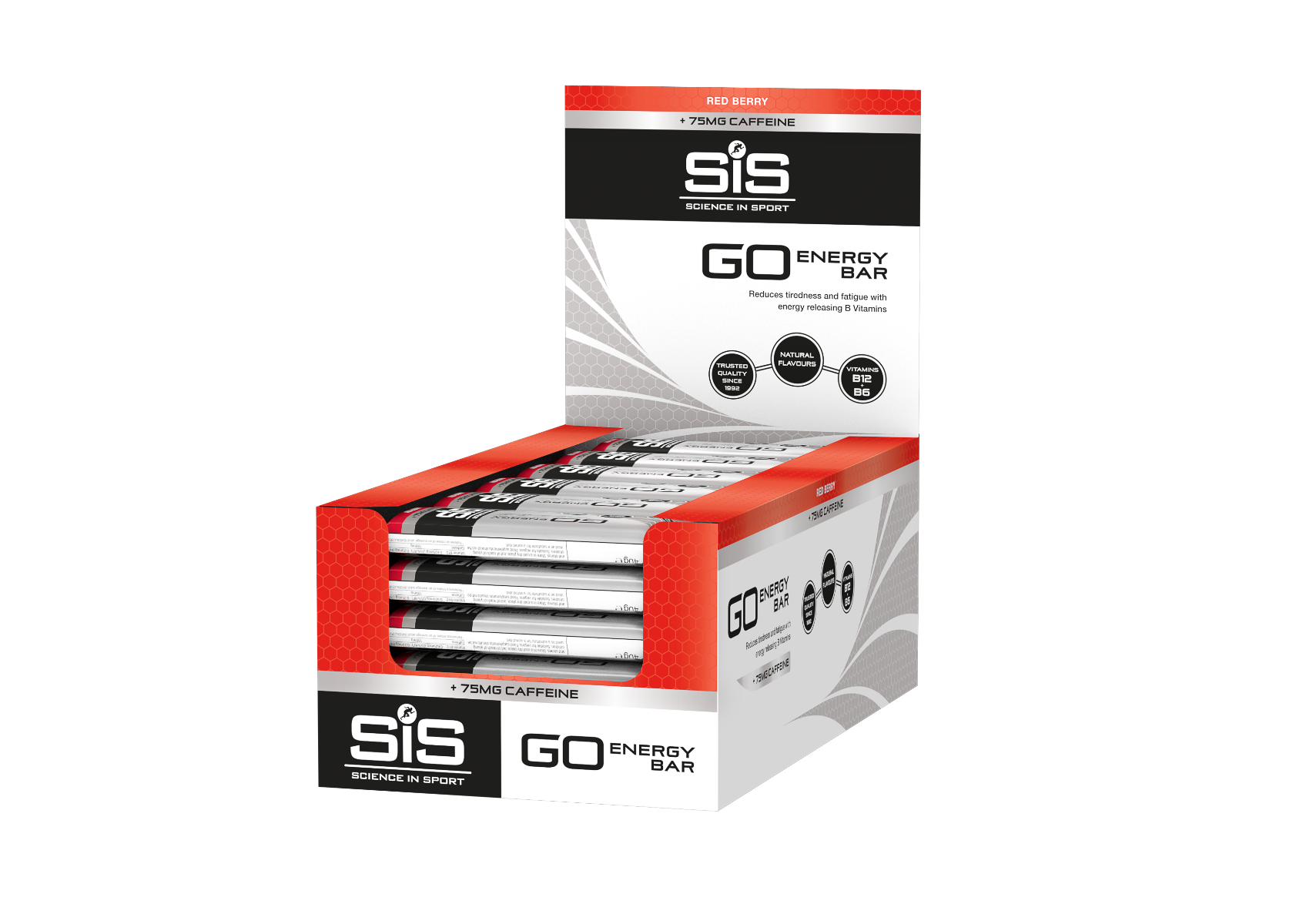 Empfohlene Nutzung
Consume 1 bar, 45-60 minutes before your training session or event. During longer endurance exercise (lasting over 90 minutes), consume 60 minutes before the finish.
Vorteile
Depleting your carbohydrate stores during exercise is one of the major causes of fatigue. Delivering additional carbohydrate and caffeine during exercise is known to improve performance, race times and delay the onset of fatigue.
When pushing yourself hard, your brain helps to control how fatigued you feel. Caffeine acts as a stimulant on the brain to lower your perception of effort, allowing you to keep pushing and maybe stretch yourself a little further.
SiS GO Energy + Caffeine Bars are tested under the Informed Sport Certification program. This approach involves testing every single batch of SIS finished product which leaves the Company's factory, screened against the 2017 World Anti-Doping Agency (WADA) list. Banned substances including steroids are tested to the level of 10 Nanograms per gram, and stimulants to 100 Nanograms per gram. Batches (sampled at the beginning, during and end of each product batch) receive the recognised and respected Informed Sport* certificate and SIS provides the documentation to athletes on request.
Ernährungs Info
| Typical Values | Per Serving 40g | Per 100g |
| --- | --- | --- |
| Energy | 583kj/138kcal | 1456kj/344kcal |
| Protein | 4.6g | 11g |
| Carbohydrate | 25g | 63g |
| of which sugars | 11g | 27g |
| Fat | 2.1g | 5.3g |
| of which saturates | 0.3g | 0.8g |
| Fibre | 0.9g | 2.4g |
| Salt | 0.09g | 0.22g |
| Caffeine | 75mg | 188mg |
| VITAMINS AND MINERALS %RDA | Per Serving 40g | Per 100g |
| Vitamin B6 | 0.5mg (36% RI*) | 1.25mg (90% RI*) |
| Folic Acid | 50mcg (25% RI*) | 125mcg (63% RI*) |
| Vitamin B12 | 0.25mcg (10% RI*) | 0.625 (25% RI*) |
*Reference Intake of an average adult

Ingredients:
Concentrated Grape Juice (30%), Maltodextrin (From Maize), Dates (12%), Concentrated Pineapple Juice (10%), Rice & Soya Crisps (10%) (Rice, Soya, Oats, Salt, Rapeseed Oil), Oats (9%), Soy Protein Isolate, Emulsifier: Soya Lecithin, Raspberry Powder (2%), Cranberry Powder, Natural Flavouring, Caffeine (0.19%), Humectant (Calcium Lactate), B Vitamin Mix (Pyridoxine HCI, Folic Acid, Cyanocobalamin).

For allergens, including cereals containing gluten, see ingredients in bold.
Lese mehr
FAQ's

When should I take these versus any of the SiS gels?
With 25g of fast absorbing carbohydrate (per 40g bar), these are best used before short training sessions or competitions as a pre-exercise snack to increase carbohydrate intake and provide caffeine to help reduce the perception of fatigue.

When should I take these versus the SiS GO Energy Bar?
The SiS GO Energy + Caffeine Bar is based on the great tasting formula of the SiS GO Energy Bar, with additional b-vitamins and 75mg of caffeine. This bar is designed for athletes who are looking to reap the benefits of taking caffeine before or during exercise.

Will caffeine benefit my performance?
The SiS GO Energy + Caffeine Bar is designed to help deliver carbohydrate for energy and help you improve concentration and alertness. You'll be ready to tackle hard sessions and perform at your best, no matter what time of day you're training.

How often should I eat one whilst exercising?
If you're exercising for over 90 mins you should take on additional carbohydrate and consider using caffeine to help reduce the perception of fatigue. This product can be used whenever there is a need for additional energy or when fatigue is high e.g 30-60 minutes before a tough climb or 60 minutes before the end of a race/competition.

What do B-vitamins do?
B-vitamins help to reduce tiredness and fatigue, as well as contributing to a normal energy yielding metabolism. These factors are important during both high intensity and endurance exercise.

Will these upset my stomach?
75mg of caffeine is the equivalent to one cup of coffee or one can of energy drink. However, individuals tolerate caffeine consumption differently to others, so make sure you try it out in training, before use in competition.

Will they fit in my cycle jersey pocket?
Yes! SiS GO Energy Bar + Caffeine is lightweight and compact, designed to fit in jersey pockets, cycle bags and waist packs.

Are these bars gluten free?
SiS GO energy bars are not suitable for coeliac and gluten free diets due to their oat content.

What is the sugar content in these bars?
A 40g SiS GO energy bar contains 11g of naturally occurring sugars from fruit, with no added sugar.
You may also like
Wir haben andere Produkte gefunden, die dir gefallen könnten!

Verified Reviews
Rated

4.3

out of 5 based on

3

Reviews
Provides the cyclist with the energy you need during those demanding rides
Tasted a bit funny, probably the caffeine making the berry taste seem off. Also, quite cloying and left a greasy film on the roof of my mouth
Energy, caffeine and tasty!